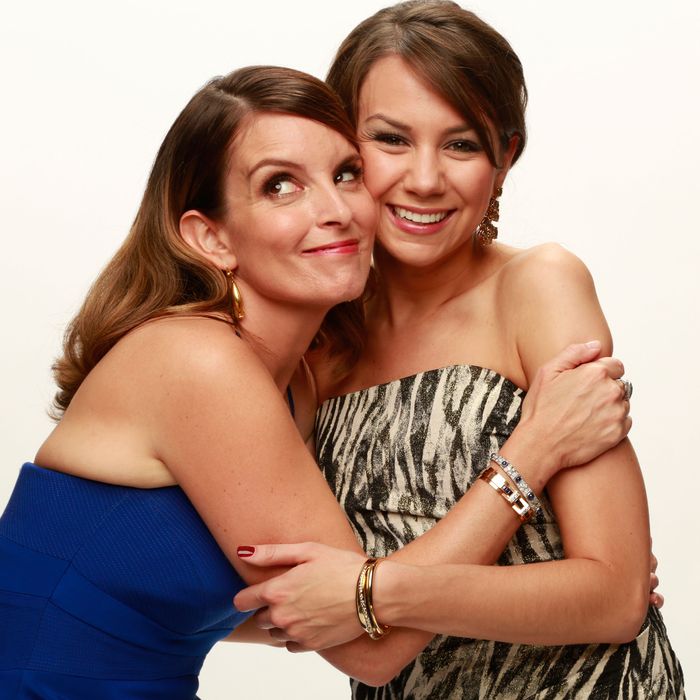 Tracey Wigfield and Tina Fey.
Photo: CBS Photo Archive/Getty Images
"The thing that's going to get more women running shows is women running shows," says Tracey Wigfield. She's speaking from experience. After getting hired as a writer's assistant on 30 Rock when she was 24 years old, under Tina Fey's mentorship Wigfield quickly rose through the ranks: becoming a staff writer, winning an Emmy for co-writing the series finale, then transitioning to be an EP on The Mindy Project. Now it's Tracey's turn to be the boss, on NBC's Great News (premiering tomorrow) — a family-meets-workplace comedy produced by Fey and Robert Carlock, and inspired by Wigfield's relationship with her own mother. The show stars Briga Heelan as Katie, a producer at a dysfunctional daytime-news show whose work life is turned upside down when her overbearing, Chico's-loving mother Carol (SCTV's Andrea Martin, getting her long-deserved breakout) takes an internship at the station, which is torn between the warring generational sensibilities of anchors Chuck (John Michael Higgins) and Portia (Nicole Richie).
Luckily, when Wigfield pitched the show to Fey and Carlock, they already had a pretty good sense of the premise. "My mom used to come to work with me all the time and hang out and watch them shoot for hours, for like way longer than she was welcome," laughs Wigfield. "I think Tina kind of got a kick out of her."

Like 30 Rock, Great News is snappy and joke-centric, full of pop-culture references and broad sight gags. But it's also rooted in a very personal place, mining Wigfield's own loving, overbearing, meddling, dysfunctional mother-daughter relationship as the basis for its comedy. "At its heart is a family show, so my hope is that it feels very different [than 30 Rock]," says Wigfield.
I talked to the newly minted showrunner about working with Tina and Mindy, the legacy of Liz Lemon, and what it felt like turning her mom into a TV character.

How did you come up with the idea to set a mother-daughter-relationship comedy in a newsroom environment?
I have a very close relationship with my mom and she's very much like [Andrea Martin's] character on the show. I was just kind of thinking: for a character like that who's all up in her daughter's shit and super close with her, what is the environment that's particularly embarrassing? My mom was a stay-at-home mom my whole life but she's very weirdly savvy about the business and could have been an agent or a bunch of different things. I wanted to play with the idea of: what if it's not too late? I didn't do it when Mary Tyler Moore did it, but I'm going to do it now alongside [my daughter], even if it means I'm an on-air anchor when I'm 99 years old. In that way, the workplace had to be sort of aspirational. I thought about a couple different things but news seemed fun and had stakes to it; although it wasn't as interesting as it is now. We shot the pilot when Trump wasn't even the Republican nominee, so I wasn't thinking we could do such interesting news commentary, but that's kind of a nice thing that happened and I think for season two I think there's a lot of stories we can tell.
How much effort was there to make Briga's character feel different from Liz Lemon?
I feel like Liz Lemon was such a watershed moment for women on TV. Every female character on TV now tucks their shirt into their underwear and eats meatball subs and is happily messy in the way that 30 Rock sort of pioneered. But Tina and I wanted to make sure it wasn't just a lot of food jokes and to make sure her character feels different; she's very much her mother's daughter, very weak and unsure in a lot of ways, and she also is a little more millennial and thirsty than Liz Lemon and enjoys getting drunk and having sex. Liz was at a different point in her career whereas this is more the feeling like: shit, I'm rounding 30 and I thought I would be further than that.
How did you end up casting Nicole Richie and what was she like to work with?
Nicole came in and read for the part. She came into the room to test and was wearing like a beautiful white suit like with no shirt on underneath and was so naturally high-status and watchable. It was so easy to write for her. She never comes off as bitchy or mean because she's coming from a happy, open place; she's just naturally so much more high-status than everyone around her. She's also a mom and she has chickens and cooks and she's really game in kind of a fun, unexpected way. I organized for all the writers to go to Halloween Horror Night at Universal where they'll literally cattle call criminals to come be ghosts and jump out at you, and she was like: we're coming! And her and her husband came and were really down-to-earth and cool.
I went in kind of expecting Briga to be the lead, but Carol ends up having equal or more screen time — which is unusual, because there aren't a lot of older women on TV.
Andrea is a 70-year-old woman, and she's so fucking funny every single episode, and she's kind of getting to do insane weird things and it's sort of fun to watch. Briga is sort of the way in to the show and Carol is sort of the Michael Scott; she's the dementoid that Briga's always trying to pull back and put in a closet.
There aren't a ton of woman showrunners your age. Have you felt yourself push up against the limitations of the industry?
I come from it from a sort of unique perspective in that I've only worked on shows run by women. I started at 30 Rock when I was 23 or 24 and worked there for six years, then I worked for Mindy for three years, so there's kind of always been a woman boss.
What's going to get more women running shows is women running shows; like Kay Cannon, who also worked on 30 Rock, her show Girlboss is coming out. When I'm hiring people, obviously, in my mind, it's like: Let's make sure we hire as many women as we do men. We had like seven female directors and three guys, and about half and half writers, and it was just kind of a no-brainer. Whereas I know a lot of people who have worked on shows that are all male, and I don't know if it's intentional sexism, it may just be — giving them the benefit of the doubt — like, oh gee we forgot, looks good to me.

What was the difference in leadership styles between Tina and Mindy?
Tina's very soft-spoken and quiet and Mindy is louder. One of the things that was so great working for Tina when I was 24 and quiet and scared is that Tina comes from an improv background and is very good at hearing quiet people. Mindy is very confident and decisive in a great way that I try to be like but am not. She knows what she wants in a way I never have, either in running a show or in my life. She can decorate a house that way, she can pick out an outfit that way, like, I want that. She just sees it.
To what extent was Tina a mentor for you?
I feel like I get asked a lot like, "What is the most important piece of advice Tina ever gave you?" But she was always so busy running the show. You know that show So Cosmo? Joanna Coles just had like an hour to take the young millennial girl into her office and give her advice about life. I was like: Why do they have the time to this? Someone should be making the magazine. It wasn't like that. Tina never took me into her office and gave me advice on being a woman in comedy, it's more like absorbing what you're around and seeing the way she interacted with her staff and what a good leader she was. Working on 30 Rock was like the best six-year grad degree in television writing you could have.
Tina's just a very warm, sweet person and a very down-to-earth person. She and her family were going on vacation to Disneyland the year after we finished 30 Rock and she just invited me and my mom to come with her. My mom used to come to work with me all the time and hang out and watch them shoot for hours, and I think Tina just kind of liked her — she's kind of down-to-earth and authentic, a real New Jersey mom. And I think she kind of got a kick out of her so she invited to come on vacation with us.
What was that like?
Demented. My mom is just very much who she is and doesn't alter her behavior around anyone.
So the character really is a close analogue.
Oh it's plagiarism. It's words stolen from her mouth. I mean obviously it's heightened for television, but a lot of the impulses — the fierce love of her daughters and the [feeling that] your body is my body so I can just touch your thyroid and lick your face, and the snooping on your ex-boyfriend — it's all kind of built from truth.
Has she met Andrea Martin?
Yeah, she actually has a cameo in the pilot. She met her then and has hung out with her a bunch of times. They actually did an interview together and they were wearing almost exactly the same shirt. But Andrea's cool, she doesn't dress like the character, she wears cool jeans and nice leather pants. So Andrea's like, to my mother: "Do you ever wear dresses or long pants?" And my mom's like: "No, just Chico's and Capris."
What does your mom think of the show?
She saw the first couple of episodes. As of right now she's so excited and so proud of me, but it will be interesting to see what ends up bumping her — like, I would never do that. I think it will be more like if someone online writes like "Carol's a bitch." She's really bad about reading the internet. Back when I was a PA on this ABC show called Knights of Prosperity she had the screenname "ILoveKnights" and to everyone who said something shitty about it, she would write things like "this show's actually really good and it's made by great people!" She reads A.V. Club, and she'll call me and be like, "You got a C."
You have a small part in the show as a weather reporter, but was there any thought to casting yourself as the lead?
I like to act and so it was important to me that I write a part for myself, but I don't think I was at a point in my acting career where it was like "It's time for a Tracey Wigfield vehicle." Although my mother very clearly does not like that I look weird in the show. The idea of it was like, oh you seem like a sexy weather girl but a lot of meteorologists are kind of just weird scientists, so isn't it funny if she's just a weird nerd. And my mom kept saying to me, "Maybe next season Carol can give your character a makeover and you get to wear cute clothes." I think she just wants me to be the star of Sex and the City.