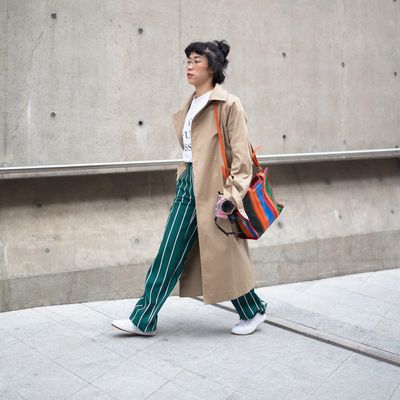 One of the many stylish women in Seoul wearing a trench coat.
Photo: © Matthew Sperzel Photography 2016
Two weeks ago I was in South Korea for Hera Seoul Fashion Week. It's a city where streetwear dominates — nearly every stylish person hanging around Dongdaemun Design Plaza (where the shows are) was clad in some vaguely Hypebeast-inspired mashup of Vetements, Supreme, Off White and more. Sweatshirts, dad hats, plus a cool black air-pollution mask worn over the face were the norm. But also in the mix? Incredibly well-dressed girls in trench coats. It was a trend that caught my eye and soon turned into a full-blown quest to find one that was perfect for me.
My obsession started off innocuously enough. On my first day, I met up with Karen Ma and Lisa Tahk, the two founders of Closer, a Los Angeles–based showroom and site that brings Korean brands to American customers. Karen had on a perfectly rumpled, oversized trench in a shade of beige that complemented her Asian (yellow undertone) skin. Worn over a loose floral blouse and jeans, it was the type of outfit that you could find on a cool woman in any big city, be it New York, Paris, Los Angeles, or Seoul. She mentioned it was from a local Korean brand, Spell, and it cost just under $300. The quality was amazing — it was made with a coated cotton that made it completely water resistant. The material felt heavy and substantial in my hands. This was not some flimsy, disposable fast-fashion item. Plus the cut was ideal for a petite person, like me (I'm 5'2"). It fit correctly in the shoulders, the sleeves grazed her knuckles and the hem landed just below her calf for a slouchy but never overwhelming silhouette. We hit the shop, where I tried it on and fell in love but I paused — it was early on and I needed to make sure I had adequate space (and budget!) for all of the trinkets I promised to bring back home.
Unfortunately for me, the shows only reinforced my desire for a good, oversized trench coat. Pushbutton, one of the biggest brands to come out of the country (you can buy them on Shopbop), featured a male model in an exaggerated version, worn over sweatpants. YCH, a women's label, threw one over a shirtdress and boots, while J Koo included a floor-length green style that swept down the runway dramatically.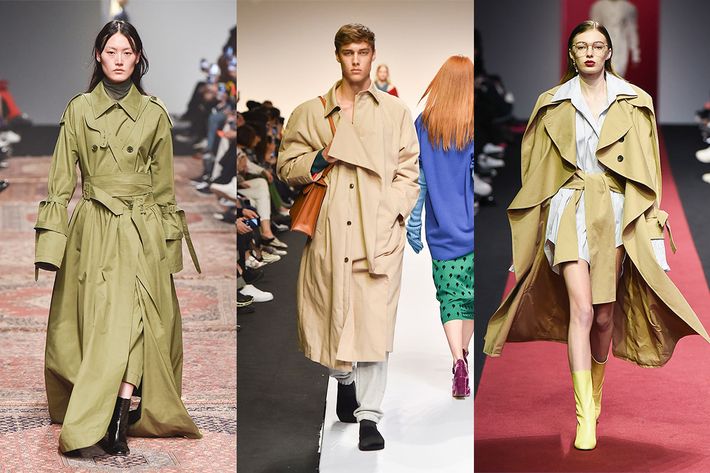 Add to that all the creative ways trench coats were being worn outside of the shows: In the span of one week I saw them layered over sweatshirts, worn with graphic tees and vinyl pants — the options were endless. And if that wasn't enough to haunt me, the venue was located in a prime shopping district with shop after shop featuring a different take on the trench. I couldn't escape them if I tried.
Sadly, time and luggage constraints kept me from going back to Spell to buy that coat. That said, Closer L.A. happens to sell it on their site, along with other cool, affordable brands. Scroll ahead to check out the trench along with other options, if you're looking to spend less.
The Trench That Kicked Off My Obsession
Spell is a small Korean brand best described by a friend on this trip as a cross between A.P.C. and Supreme — i.e., basics that have a cool, streetwear edge. Sizing is "free" which really means this jacket roughly accommodates up to a size 10. It's a bit of a splurge but the finishing and fit are especially flattering for petite women.
More Stylish Options, All Under $150
Between its classic design and affordable price point you can't go wrong with a Uniqlo trench. Size up if you want to try runway-inspired styling.
Here's a trendier, though still versatile, take on the style. Despite the word "bow" in the description, the straps on the arms look best when tied in knots and left to dangle casually.
This rusty-red option has that minimalist-cool aesthetic you see all over Instagram, especially when worn with cropped jeans and grandma pumps.
Can't get enough pink? Then this is the trench for you. If you click through, you'll see that Zara styled it with a dad cap just like they would in Seoul.
Everlane introduced its version of a trench this year and like the brand's other items, it's a big hit. The coat is oversized, so the company recommends sizing down if you want a fitted look.
Yes, the belt makes it more preppy than the other styles but if you work in a fairly conservative environment, this is a smart, office-friendly option.
If you buy something through our links, New York may earn an affiliate commission.