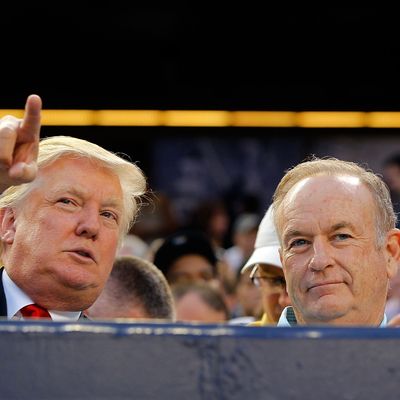 Donald Trump and Bill O'Reilly go way back.
Photo: Jim McIsaac/Getty Images
Almost a year ago, then-candidate Donald Trump defended his longtime friend Roger Ailes from sexual-harassment allegations, calling him "a very very good person" and blaming his victims for "complaining." But the sheer volume of claims against Ailes ultimately lead to his removal and a federal investigation into the network.
Now, months later, another prominent Fox employee – Bill O'Reilly – is embroiled in a similar scandal. The New York Times recently revealed that O'Reilly and Fox News paid a combined $13 million to women who accused O'Reilly of harassment; they received the payouts on the condition that they not pursue litigation or make their accusations public. And just like in Ailes's case, Trump jumped to O'Reilly's defense — this time as the President of the United States.
While discussing Susan Rice, a former Obama adviser who's been accused of using U.S. intelligence for political gain, the President praised O'Reilly and Fox News for giving the scandal what he deemed appropriate coverage. He went on to defend O'Reilly with the exact same phrase he used to back up Ailes all those months ago:
I think he's a person I know well — he is a good person," said Mr. Trump, who during the interview was surrounded at his desk by a half-dozen of his highest-ranking aides, including the economic adviser Gary Cohn and Chief of Staff Reince Priebus, along with Vice President Mike Pence."I think he shouldn't have settled; personally I think he shouldn't have settled," said Mr. Trump. "Because you should have taken it all the way. I don't think Bill did anything wrong."
Despite making settlements on his behalf, Fox News recently renewed O'Reilly's contract, which was set to expire this year; that's not really surprising, considering The O'Reilly Factor recently drew a record 4 million viewers. But O'Reilly is proving less of a draw for advertisers; so far more than 20 companies have pulled their spots from the show thanks to the allegations against its host.
After the Times published President Trump's comments, at least one lawmaker chimed in to suggest that maybe he could've let the O'Reilly thing go.
All around, a great way to kick off Sexual Assault Awareness and Prevention Month.