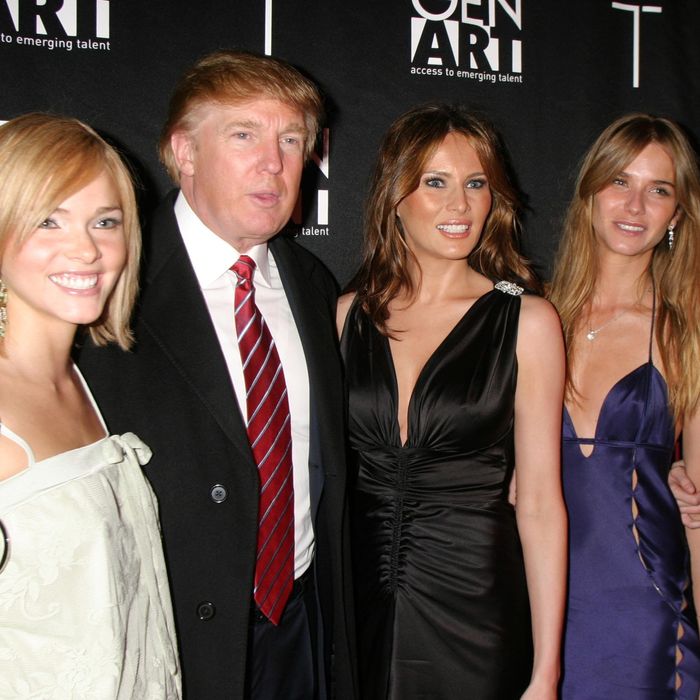 Trump Models has gone the way of Trump Steaks.
Photo: M. Von Holden/FilmMagic/Getty Images
Following news that Trump Models was "hemorrhaging" both models and managers, Mother Jones reports that Trump Models is officially going the way of Trump Steaks, Trump University, and Trump Magazine.
An internal email obtained by the magazine from Corinne Nicolas, president of Trump Models, informed colleagues that, "on the heels of the recent sale of the Miss Universe Organization … the Trump Organization is choosing to exit the modeling industry." (The Trump Organization sold Miss Universe to WME-IMG talent agency shortly after his remarks about Mexican immigrants.)
Donald Trump founded the agency in 1999 and still owns an 85 percent stake in the company, according to a recent financial disclosure. But two sources told Mother Jones last week that his campaign and short time in office have "tainted" the "once-glamorous Trump brand," ultimately leading to the agency's closure.
Models have been defecting from the agency since before the election — in November, Maggie Rizer announced on Instagram that, "as a woman, a mother, an American, and a human being, I cannot wake up Wednesday morning being the least bit related to the Trump brand."
After Rizer left, another former Trump Models manager, Gabriel Ruas Santos-Rocha, left the agency to start his own, which launched last month. And before that another staffer, Patty Sicular, departed to start her own agency as well.
A spokesperson for the Trump Organization told the New York Post that "while we enjoyed many years of success, we are focused on our core businesses in the real estate and golf industries and the rapid expansion of our hospitality division" — because that's going well.
The Cut has reached out to Trump Models for comment.