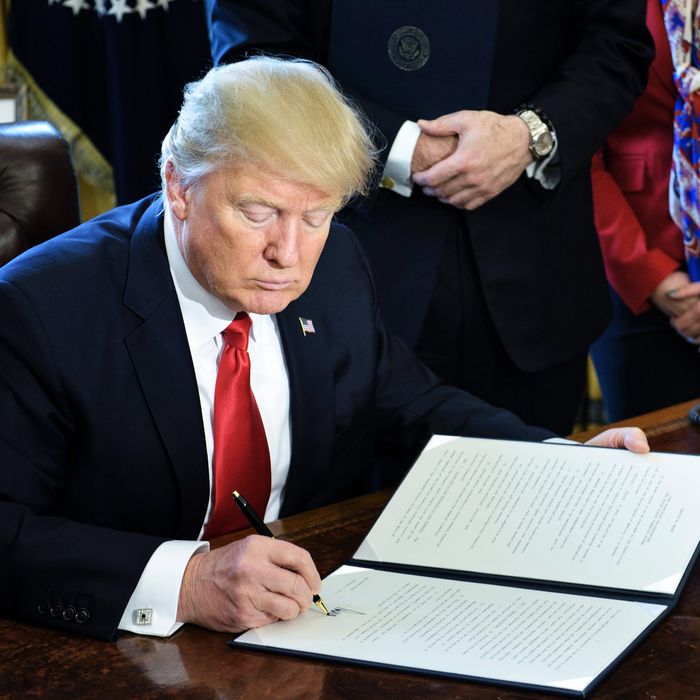 President Trump loves signing things.
Photo: BRENDAN SMIALOWSKI/AFP/Getty Images
On Thursday, President Trump signed a bill into law that repeals the last rule proposed by the Obama administration: a rule that prevents states from withholding Title X family-planning money from health-care providers that offer abortion. The bill narrowly passed in the Senate last month; Vice-President Mike Pence had to be called in to cast the deciding vote, sending the measure through 51-50, Reuters reported.
The Title X program provides close to 4 million low-income Americans with basic health and family-planning services, such as cancer screenings, birth control, and STI screenings — because of the Hyde amendment, no Title X money goes toward abortions or abortion research. But Republicans want to see the power to distribute Title X money returned to the states, meaning state governments can choose which providers are funded and which aren't.
The measure is widely seen as an attack on Planned Parenthood, which said in a statement last month that it "could have far-reaching implications for people's access to health care through the Title X family-planning program across the board, and could embolden states to discriminate against family-planning health-care providers, both Planned Parenthood health centers and independent clinics."
It's a sign of the repeal measure's unpopularity that it almost died before it could be passed — last month, Pence and GOP Senator Johnny Isakson (who was literally wheeled to and from the Senate chamber due to a recent back surgery) were called in to cast tie-breaking votes that allowed the measure to proceed. And because the vote took place under the Congressional Review Act, which allows regulations to be overturned by a simple majority, there was no chance for dissenting lawmakers to filibuster.
Two Republican senators initially voted against the measure, and one — Senator Susan Collins — pointed out that it was pretty redundant. "It's important to recognize that there is already a bar against using federal funds for abortion, and that bar stays in effect," she told Politico. She added, "We're talking about federal family-planning funds and I don't think that those funds should be subjected to state restrictions."