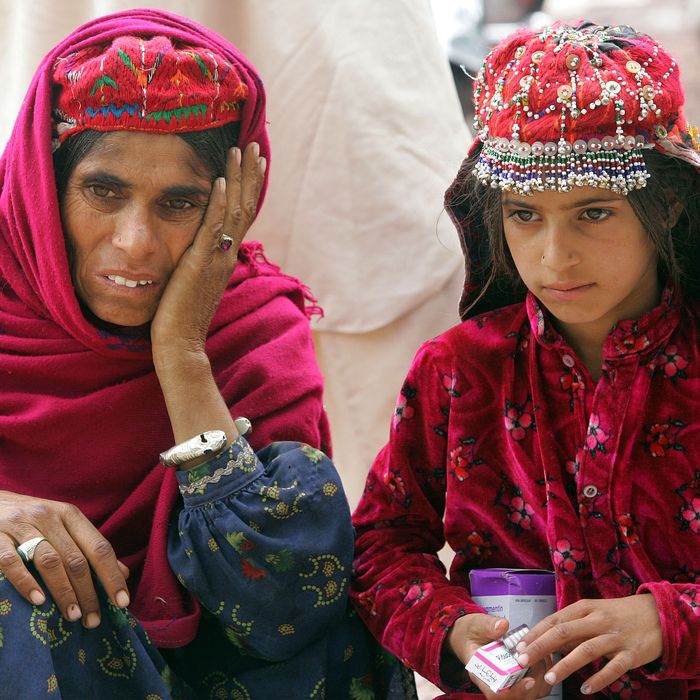 Kashmiri earthquake survivors wait for free medicine at a temporary hospital.
Photo: FREDERIC J. BROWN/AFP/Getty Images
On the third day of Donald Trump's presidency, he reinstated a rule that will affect women's health worldwide; the Global Gag Rule bans federal funding for international nongovernmental organizations that offer (or even discuss) abortions. Then, on Monday, his administration announced it will put yet another dent in funding for women's health care — according to the New York Times, it will strip all U.S. funding from the United Nations Population Fund (UNFPA).
The fund provides family-planning and reproductive-health services to women and girls in more than 150 countries. The U.S. is its fourth-largest donor; without U.S. funding, it will lose $32.5 million from the 2017 budget, the State Department said.
Trump's administration is justifying the move by claiming that funding UNFPA violates the 1985 Kemp-Kasten Amendment, which bars the U.S. from giving money to organizations that participate in forced sterilization or abortions. In a memo, the State Department said the UNFPA "partners with China's National Health and Family Planning Commission, responsible for overseeing China's 'two-child policy' — a loosened version of the notorious 'one-child policy' in place from 1979 to 2015."
But a statement on the UNFPA's website refutes the claim, and that same State Department memo goes on to say that there's "no evidence of U.N. support for forced abortions or sterilization in China" to back it up.
As is the case with the Global Gag Rule, it's pretty much tradition for incoming Republican presidents to strip the UNFPA of U.S. funding, and for incoming Democrats to reinstate it. When George W. Bush's administration blocked the organization's funding (also by citing the Kemp-Kasten Amendment), a Guardian op-ed estimated it would result in 2 million unintended pregnancies and the deaths of 77,000 children.
"Last year, UNFPA used funding from the U.S. government to reach 9 million people in crisis situations with HIV/AIDS-prevention services, domestic-violence counseling, pregnancy checkups, safe childbirth, and other critical services," a UNFPA spokesperson said in an email. "Eliminating this funding will have dire consequences for women and families globally."