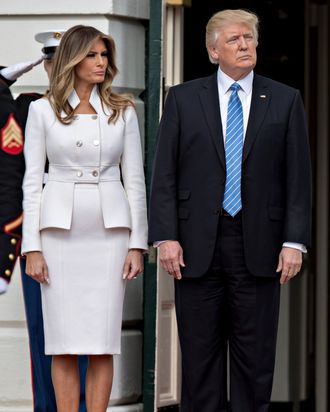 Happy Easter from the Trumps!
Photo: Pool/Getty Images
After struggling to pull together a coherent plan for things like overhauling the nation's health care and reforming its tax system, President Trump's administration is set to fall short when it comes to yet another crucial milestone: the annual White House Easter Egg Roll. Insiders told the New York Times on Tuesday that the event will likely be much smaller and less impressive than in previous years, mostly due to poor organization and planning.
For starters, the White House didn't confirm the roll was on until early March, about a month before it was scheduled to take place. And the numbers reflect the last-minute planning: Insiders say this year's roll will probably draw 20,000 people (last year's hosted 37,000) and be staffed by 200 volunteers — one-fifth of the usual number, according to the Times. The White House has only ordered 40,000 commemorative wooden eggs (less than half the number ordered last year), of which just 18,000 will be given away at the event.
The Easter Egg Roll is normally planned by the director of the White House Visitors Office — a position the First Lady has yet to fill. Stephanie Grisham, Melania's communications director, told the Times that plans were "well underway" and that it was "just not accurate" to report that the event had been scaled back, but she declined to give additional information about numbers or plans.
What's more, a number of companies and organizations say Trump's administration has yet to get it together in one way or another, whether it's ordering commemorative eggs or sending tickets to military families and members of Congress or hiring costumed characters from PBS Kids. (There will only be one this year, as opposed to the full cast of Sesame Street in years past.) Maybe Sean Spicer can step in to pick up the slack.