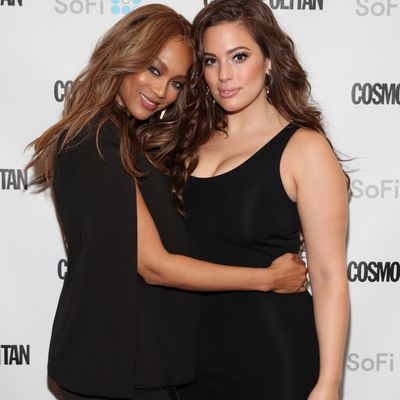 Tyra Banks and Ashley Graham
Photo: Cindy Ord/Getty Images for Cosmopolitan
Yesterday Time released its list of the 100 most influential people, where one famous or exceedingly accomplished person fawns over another. This year, Meryl Streep waxed poetic about Viola Davis, Tina Fey praised Donald Glover, Naomi Campbell celebrated Rupaul — you get the picture.
Among the tiny tributes is a sweet blurb dedicated to Ashley Graham, penned by Tyra Banks. In it, she talks about how Graham's embrace of her own body has encouraged other women to do the same, mentions that she's in awe of Graham's power, and, at the end, anoints Graham as the beauty industry's new queen, writing:
It is time for everyone to bow down to the fashion industry's — no, make that beauty's — new queen.
Queen Ashley does have a pleasant ring to it.