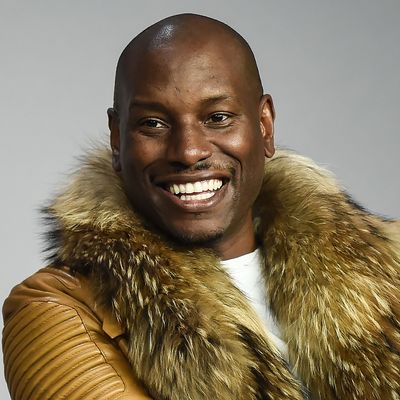 Photo: Daniel Zuchnik/WireImage
Tyrese Gibson's BET interview earlier this week went viral for all the wrong reasons, and he took to Instagram to issue a lengthy, lengthy apology. During a video clip, The Fate of the Furious actor went on a rant about women, specifically "sluts, skeezers, hoes, tramps, and overly aggressive, promiscuous women" who, according to the model/actor, are "never without a man" because they don't have standards.
"You have women that are active out in these streets, they're going to lunches and dinners every night. Private planes, mega yachts, it's cracking. They're never without. However, it comes with a cost. You're gonna put a lot of miles on yourself down there. Come on," he said, in what's got to be one of the stranger ways to promote a franchise about car racing. Because miles, get it?
Anyway, the backlash on social media from fans was swift and unsparing for Tyrese. Here's what Wendy Williams had to say about the matter.
Tyrese wrote in part, "This is not just a regular IG post for me. I want to truly say that I'm sorry, I'm not APOLOGIZING in an effort to be politically correct, I apologize as a man first for the things that I've recently said about choices women have the right to make, for the terms that I've used and the way I've come across. I was raised to think and feel certain ways, and I'm learning new things that combat those messages. I am not perfect or all knowing, nor am I the one to claim to be. I've learned things through experience which I share, and through these last couple of weeks, I've learned a lot through this well deserved internet dragging…… This is about a man owning up to his actions, taking responsibility, recognizing how to do better, and actually doing better. Ladies you deserve better."