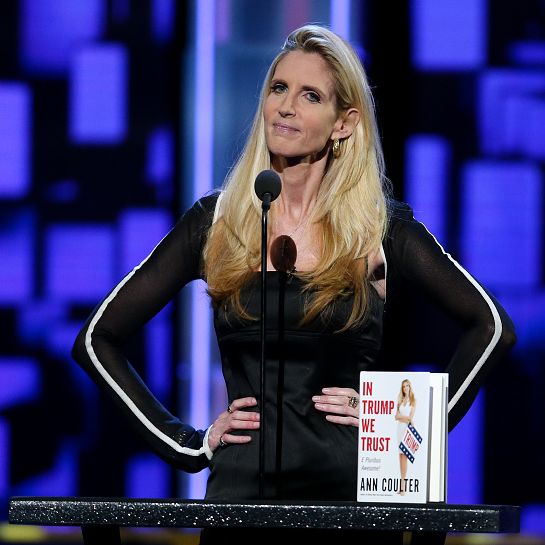 Coulter still plans to speak.
Photo: Mark Davis/WireImage
On Wednesday afternoon, the University of California, Berkeley, announced it was canceling an event with Ann Coulter due to safety concerns, marking the second cancellation of its kind since February. But later that evening, Coulter told Tucker Carlson that she was still planning to speak, saying, "What are they going to do, arrest me?" An event organizer told NPR, "she is definitely going to speak" and confirmed they are looking into other venues.
Vice-chancellors of the university canceled the event, saying in a letter to College Republicans it was "not possible to assure that the event could be held successfully — or that the safety of Ms. Coulter, the event sponsors, audience, and bystanders could be adequately protected."
Coulter tweeted yesterday that she would speak on April 27, but not before calling the San Fransisco Chronicle "FAKE NEWS!" for reporting that the event was canceled.
She later instructed the College Republicans to "spare no expense" for her speech.
She told Carlson the school "kept piling on requirements and ruses" for her to speak, such as time and location restrictions. After noting it was a taxpayer-funded institution, Coulter said, "Attorney General Jeff Sessions should be looking into this."
The New York Times reports that both the campus and the surrounding town have had violent incidents between right-wing and anarchist groups. When noted troll Milo Yiannopoulos came to speak at UC Berkeley, the event was also canceled after student protesters started fires in "violent demonstrations."
President Trump tweeted in February that a solution to the Yiannopoulos situation would be "NO FEDERAL FUNDS." Maybe we'll be spared his opinion this time.
Update: The university has reversed its decision, saying it has found a new venue for May 2. The Washington Post reports, however, that a student leader intends to reject the "strict conditions" placed on the event.