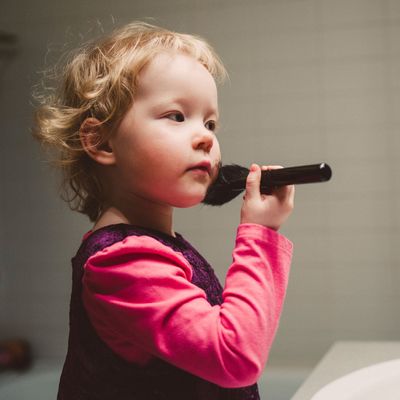 Photo: Oscar Bjarnason/Getty Images/Cultura RF
Last February, a cutesy Kickstarter story rode the fleeting wave of internet fame. Glamour Dolls, an indie makeup company whose cosmetics crop includes a "Kitty Kisses" lip balm and a "Sperm Whale" eye-shadow brush, was seeking money for an exciting opportunity. "We want to put Lisa Frank's iconic artwork on our high quality & cruelty-free makeup!" their Kickstarter campaign page read. "Help bring this collab to life!"
"This collab" targeted at adults included a blush brush stamped with a kaleidoscope of unicorns, a three-piece nail-polish set, several eye-shadow palettes, and in the words of Glamour Dolls, a "sparkly, twinkling, blinding powder highlighter." The company needed $30,000 to launch the line, and in three days, backers had pledged more than $90,000. By the campaign's end, nearly 6,000 people had given $370,000 to propel the glittery project from idea to certainty.
Glamour Dolls is cashing in on the gleefully invasive trend to make a woman's quest for makeup a childish pursuit. In the bloated market of blushes, eye shadows, lipsticks, and highlighters, the newest launches aimed at women are decorated with the cloying glint of childhood. Within the past year, the industry has aggressively injected unicorn and mermaid-inspired makeup brushes, Mickey Mouse– and Winnie the Pooh–universe primers and foundations, and unicorn nail polishes into the makeup zeitgeist. When I wrongfully hoped the trend had peaked last month, I wrote: "if I read about one more unicorn-themed cosmetic directed at adults I will gouge out my eyeballs with a tiny bedazzled pony brush."
Of course Big Makeup's engine has long guzzled the glut of opportune kiddie partnerships. Disney began licensing its animations to cosmetic bigwigs decades ago. In the '90s, one could purchase a Toy Story lip gloss in any one of the House of Mouse's stores. In those days the cartoonish makeup was directed at little girls. More recent collaborations like the L'Oréal Beauty and the Beast launch and the M.A.C. x Cinderella capsule collection, with their muted shade ranges, appear more attuned to meet the needs of women. Both, however, carry a whiff of indelicacy.
The algebra of Too Faced's marketing delivers an especially mystifying incongruity. Amid the brand's puerile Chocolate Bar eye-shadow palettes, heart-shaped highlighters, and Unicorn Tears lipstick, lies Too Faced's coquettish Better Than Sex mascara, Naughty Kisses and Sweet Cheeks lip set, and the Mr. Right powder brush. The marketing tactic makes you wonder who exactly Too Faced's target customer is. In a way, the brand has capitalized on and marketed the sexist binary that posits women as both infantile and provocative; silly and conniving; girly and sexy.
An argument in support of the babying of makeup is that the collections — like the Lisa Frank Kickstarter, for example — drum up the cheery embrace of nostalgia. As a dweeb with shelves of books puckered with fuzzy, faintly smelly, and holographic stickers, I understand the call to remember when Lisa Frank felt good and right. She still does. But it's one thing to create makeup dedicated to Lisa Frank, and something entirely different to create makeup dedicated to Lisa Frank that is marketed with language formulated for the green mind of a child. For the Lisa Frank "Unicorn Lippie," Glamour Dolls writes in the description box: "We believe in unicorns do you? Where does the color come from? The myths and legends say its belly … and we've heard there is even glitter."
I'm not saying that makeup and women can't be fun, silly, glitzy, or sparkly. After all, the swish of a brush across a woman's face generates such a glorious element of utility and escapism. It's the framing of some makeup that gives me pause. The way products are marketed to different members of society is telling of how we value them. And the packages lined on the shiny shelves in Sephora suggest that society has determined women possess the mental acuity and stunted interests of a small child.
The success of fairy-themed beauty trends and their ilk suggests that there is a clear market for this genre of makeup. But are women truly aware of the patronizing contradiction they're supporting?