When Lyon Porter, owner of Williamsburg's Urban Cowboy B&B, pulls out a few of his favorite pieces of clothing to try on for us, our stylist coos, asking where he acquired each artfully worn-in item — an attractive waxed worker's vest, a beautifully made leather jacket, a vintage round-brim hat pierced by an antique letter opener. The creator of the Cowboy dresses exactly how you might imagine based on only pictures of the townhouse turned Western-styled oasis.
In partnership with Frye, we're here to study the witting cowboy-in-the-city look Porter and his partner, Jersey Banks, have built an enthusiastic brand and tribe around. It was Porter who renovated the property into his dream house, a stylish upstate-style home with an auxiliary mini-cabin, hot tub, and sauna disguised as a wooden outhouse out back. A 2013 trip to Nicaragua's bohemian Maderas Village inspired the idea of their own communal haven in Brooklyn. (The couple met when Jersey dabbled as a sales agent at the real estate company where Porter worked.)
Thanks to some early press, "all these amazing people started showing up," Porter says. "Because we live here, we started sharing our lives with people who've changed our life and become real friends." Three years after opening in Brooklyn, the couple just celebrated the year anniversary of their second location, an eight-bedroom Victorian mansion in Nashville. Run by a staff of 20, the outpost features a bar-restaurant, outdoor bar, and a music parlor with 25 free-to-use instruments.
As the business expands ("We'll see where's next," says Porter), Banks manages operations. Porter, still a broker in New York, is the design visionary. When we visit, they're readying for an L.A. trip to meet with television networks interested in their story. Welcoming us into their modern lodge, our hosts shared their taste for American heritage, integrity of craft, and thoughtful design. Plus, we talked style ideology and their unique mix of cross-country influences.
For a fairly efficient overall space, the master closet is very impressive.*
Lyon: I have another one downstairs. I'm a clothes horse. I mix in things that are very old, like this is my dad's army jacket from the '60s. Then I'll throw on sneakers I've had for 10 years. Jersey looks good in anything, which is very annoying, because my clothes look better on her. We've morphed into a similar style because she wears all my things. She can also dress things up ridiculously well, but we live with people that visit us and we're working all the time, so it has to be comfortable. But then she throws a tweak in, some crazy thing that wouldn't work on anyone else.
*Editor's note: It's a wall's length, with barn doors and two impeccable hanging rows; there's another massive one in the master bath.
[To Jersey] Has New York played a part in developing that creativity?
Jersey: New York changed my style immediately. I moved from Denver when I was 18 to pursue a career as a dancer. I wasn't a girly ballerina type. I was more rugged and a pretty aggressive athlete. My whole life was sweats and rehearsal. In 2008, the market crash was very real, so I did personal training, modeling, bottle service. In New York, fashion is your identity. To make an impression — to be seen at an audition or in a dance class — you have to stand out, because everyone is so good.
You also walk a lot, so shoes are important. I worked at the Gap when I first moved here. Then I thought I needed to look very professional and sleek all the time. But then I was like, no, I'm very outgoing, I want to stand out and not look so business-y. You have to find your own style that you can do on a daily basis. And when you're as young I was, things have to be affordable. You find knock-off trend stuff at stores called, like, 'Extravaganza,' for 20 bucks. And you're like, score.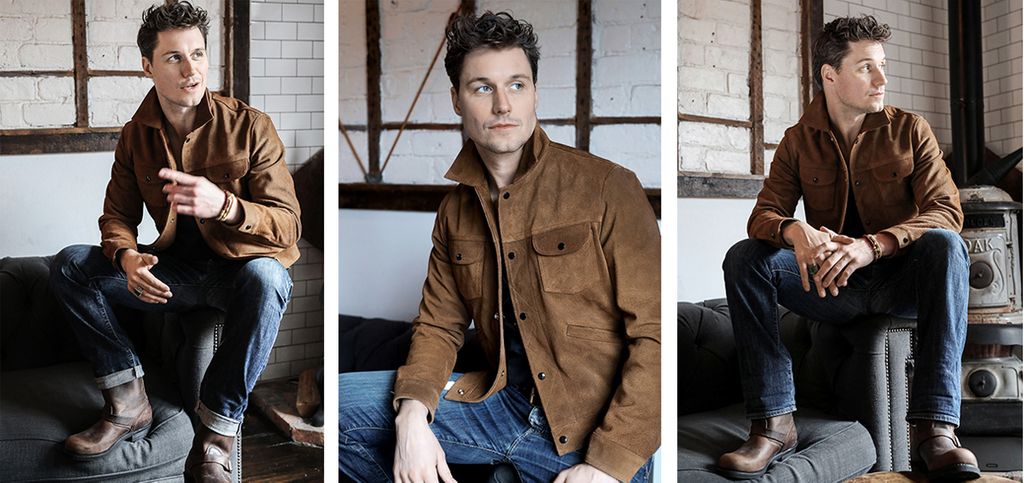 To Lyon's point that you steal his clothes, he has a distinct look. Did you adopt it deliberately?
Jersey: It's an aesthetic I've always kind of liked. I have broad shoulders, so I like a man's top. I like his button-ups. He has a good pattern game. I remember my interview for his then-real estate company, he was wearing a full Canadian tuxedo. He's adopted this style more since the Cowboy, but I think even his style has morphed quite a bit, from the three-piece, very suited-up real estate guy.
Lyon: Well, there's both worlds. You gotta know your audience. I have a lot of amazing suits and custom pieces that are really 'pop'-y. Glen check and plaids, and I got an amazing three-piece tweed by the guy who did all the suits for The Royal Tenenbaums. I love weird, quirky, eclectic scenes. Even if I'm going all the way dressy, I'm still wearing a top hat with it. Mick Jagger says in this Rolling Stones doc, he says people ask, 'are you dressing like a character?' And he's like, 'you play the same character because it's you, but it's you at different times, so it's never the same character.' Who was that amazing photographer who rode the bike around?
Bill Cunningham?
Lyon: Yeah, Bill Cunningham. I think he said that clothes are the armor with which you protect yourself from the harsh realities of the world. In New York, if you have a flash blazer on and you're crisp and wearing an ascot, you know you're going to get a look. Or wearing a cowboy hat and a duster and cowboy boots down Fifth Avenue. There's an armor and a peacocking aspect to it, but more so it's fun. I'll get on a train wearing 19 different colors and patterns, and every single person is wearing head-to-toe black. So it's fun to say, 'I'm not going to wear the New York uniform.'

Has Nashville given you an opportunity to play around with your style?
Lyon: A lot of people think we started there. Six months after opening in Brooklyn, everyone was saying, 'Nashville next.' I had never been, she had never been, and I had like West Texas in my head, or honky tonk. Which it is, but it's not, it's very much music. So we took a vacation and we fell in love with Nashville. We've gotten like 10 more tattoos in the past two years down there. East Nashville reminds me a lot of Williamsburg 15 years ago. There's this energy and the people are very present and they're all doing interesting things. Everyone is stylish, but they take pride in their own little twang. Like the cowboy hats on the back of the head.
Jersey: With the bangs out.
Lyon: We were looking around, like, what is this? Oh, everyone wears their hat like that. Like 50 percent of people are wearing cowboy hats. So it's definitely got its own style and I think that's influenced us a lot. It's a little like Brooklyn with a twang.
Jersey: The people are so wonderful. Nashville is a really special place right now.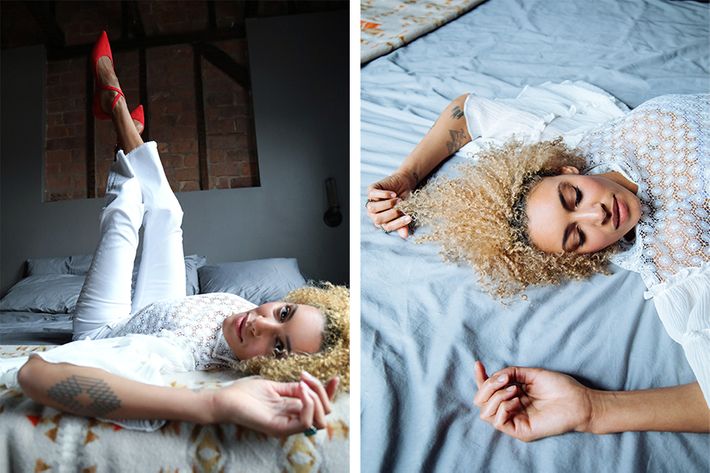 Speaking of special things, tell us about furnishing both places yourself.
Lyon: Jersey and I will drive all over the country picking through antique shops and old little thrift places. The Cowboy is filled with pieces I'd grown up with or that meant something to me, mixed in with new pieces I've picked. I used to antique with my mom when I was 5. I loved finding something so cool in the middle of Ohio.
What else from your background has informed your current lifestyle?
Lyon: Growing up, we had a cabin in southern Ohio, and a farm. I used to dress up as Indiana Jones and wear Davy Crockett hats at 4. I left home at 16 to play pro hockey and subsequently lived in 15 cities in 10 years. I grew up in Cleveland, but I also lived in Omaha, in a teepee in Wyoming, and played in Canada for a few years. Fifteen years ago, I did a summer in Williamsburg while interning. It was so amazing then. My friends used to have this 'Ohio party,' where hundreds of people originially from Ohio and the Midwest would come dance to funk/soul and '90s hip-hop in Greenpoint. As soon as I could, I hung up the skates and came right back.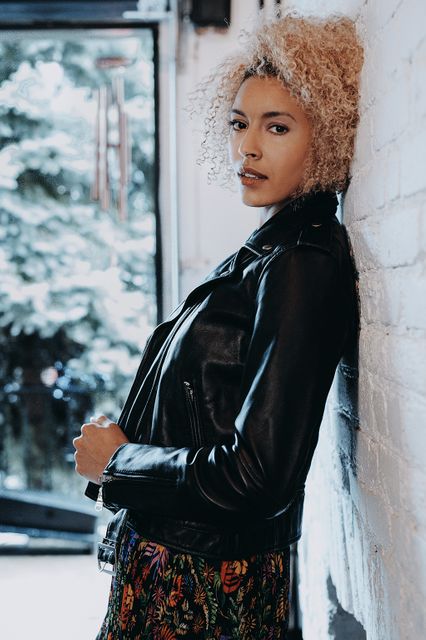 It seems like your shared style sensibility has some longevity by nature. Do you see this aesthetic being your signature forever?
Jersey: I think it will be a version of this. To me, the way that this space is or the way that I dress isn't so much a period. It does have history and tradition. It's something I gravitate towards and the inspiration behind it is classic and timeless.
Lyon: A lot of the pieces in here are classic Americana, there's a romance to them. As I get fatter and older and balder, I'll probably wear more hats and vests and less heels on the boots because of my knee. But I like wearing things that look better the more you beat them up, things where you can chop wood, you could go show a 20-million-dollar apartment, or you can be driving around your Wagoneer. You spill a little whiskey on it, it's not too precious. But you can also dress up. We'll work all day and wear the same thing we're wearing to the party we're throwing that night. So it's a mixture. We work hard, we play hard, and we need to feel comfortable doing that.
Photography by Aysia Marotta; Styling by Ryan Davis; Hair and Makeup by Sae-Ryun Song at De Facto