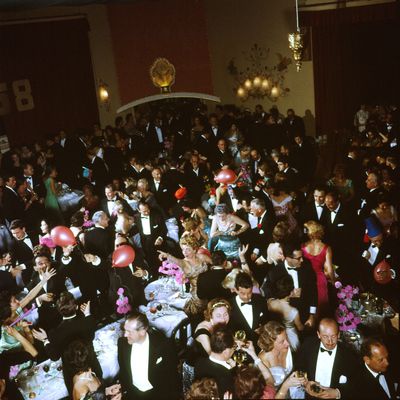 Fancy!
Photo: LOOMIS DEAN/Getty Images/The LIFE Picture Co
Every year since 1940, Vanity Fair has sent out a poll to members of the fashion elite (someone let me see theirs out of pity) asking for official votes on who should make it onto this year's international best-dressed list. Using names from the list's "suggestions for consideration," here are some works of micro-fiction.
H.M. Queen Mathilde of Belgium was wearing a quotidian peach-hued cloche when she ran into the Countess of Snowdon at the Whole Foods. "Your emerald brooch reminds me of my mother," Mathilde said, as they stonily locked eyes in the grain aisle.
Emma Stone, Jeff Koons, and Marcus Samuelsson walked into a bar. "Why the long face?" the bartender asked, sopping up beer spills and peanut shells with a gray rag. Nodding wordlessly to each other, they agreed to find another bar. On the way out, Stone tripped over the train of her gown.
Red-faced and nearly spilling over, Prince Konstantin-Assen of Vidin threatened to delete Snapchat from his phone if Miranda Kerr and Evan Spiegel were voted as the international best-dressed couple over himself and María Garcia de La Rasilla. "That man is a millennial and he only owns loose white T-shirts! I will not be defeated by this nuisance neophyte!" In the other room, María Garcia de La Rasilla posed with the deer filter.
Jaden Smith Is Pleased To Be Considered But Does Not Recognize Lists As A Method For Sorting Or Understanding Our Human Society
Though it might be surprising to some, there was nothing unnatural for the King of Bhutan, the Earl of March and Kinrara, and Luke Evans to be in a racquetball league together. They met at a different court monthly in different countries around the world and hit a few balls, for polite competition. Luke Evans, who always wore a gingham suit while playing, was the weakest link and never, ever won.
At H.S.H. Princess Angela of Liechtenstein's birthday party, Sienna Miller caused something of a scene. "I did not expect H.M. Queen Letizia of Spain to be here!" Bill Nighy, the much beloved English character actor you might remember from Love Actually, stepped in to calm her down. "Should we go have a tipple?" he asked, motioning to a side table stocked with gin punch and cordials. The DJ began playing a classic song from Irish folklore, as is tradition at royal birthday parties, and Miller's face softened.
"No offense," Matt Lauer said, smoking a womanly cigarette, "but how did H.R.H. Prince Carl Philip of Sweden make it onto this list?"
Russell Wilson sent Colin and Livia Firth a Blu-Ray DVD of Spring Breakers. When the Firths opened the package, they were more pleased than confused. "I really, really love this film," Colin said. "Let's pop it in."
Tom Hardy, in character as Tom Hardy, said something inappropriate to Selena Gomez. H.S.H. Prince Christian zu Fürstenberg overheard and his face glowed the color of Campari. "My word," he whispered. "How devilish."