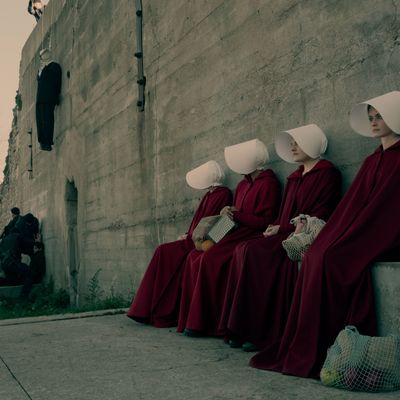 A scene from Hulu's The Handmaid's Tale.
Photo: George Kraychyk/Hulu
The blood-red robes and white bonnets the handmaids in The Handmaid's Tale are forced to don are one of the most striking elements of Hulu's TV-series adaptation of Margaret Atwood's novel, premiering today. And who better than politically charged up-and-coming design collective Vaquera, whose New York Fashion Week show this September riffed on American flag, workwear, and capitalist motifs, to translate the look of the show?
While the dystopian subject matter may not lend itself to the kind of fashion collaborations that tamer blockbusters like Beauty and the Beast have produced, this project promises not to be just your garden-variety linkup of brands. The designers created looks like a red jacket emblazoned with "Maidez" that riff on the story's themes of state oppression and the curtailment of women's rights. In June, the brand will host an experiential performance in New York, at an as-yet-undisclosed location, featuring the pieces from the collection. It certainly promises to pack more ideological punch than your typical fashion show.