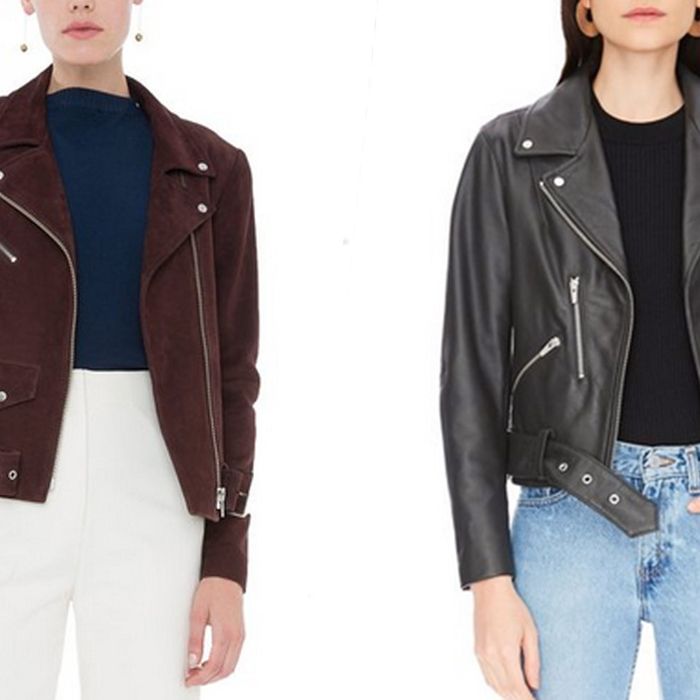 Asking a fashion editor to choose which brand they love is a matter of subjectivity. You have those who despise anything trendy and will always go for the classics. And then there are the ones who won't touch a piece of clothing unless it's certified Instagram bait. Veda is one of those few brands that both parties love and own, thanks to the brand's buttery-soft leather jackets. Other labels try to dabble in the leather market, but few rival the cool factor of Veda's pieces. Because of that, it's rare that any of their items go on sale, but luckily for those of us who can't shell out almost a grand on a leather jacket, Veda is hosting their warehouse sale through Sunday.
Items will also include both sample and hard-to-find archival pieces with discounts from 50 to 90 percent off. It'll still be some time before the transition to bare-shoulders weather so a cool leather jacket is a useful light layer to have in your arsenal. For shoppers in the city, you can also visit their physical showroom at 271 Canal Street to get in on the promotion, though if you want to avoid mobs of people shopping online is your best bet. Scroll below for our favorite picks before they disappear.
The trick with this jacket: You can remove the shearling collar to lighten it up.

Few people will tell you they adore wearing yellow — it's can be tricky to find a shade that flatters. But this suede jacket is a mustard-meets-cardinal yellow that can breathe life into the most basic look.

White boots are the trend that editors can't seem to get enough of, but what if you want the same fresh feel without looking too stark? Veda named this shade "platinum," so we imagine it has the same brightening effect.

If the fall season was personified in clothing form it would be this jacket. Sure you may not break it out until September, but at over 50 percent off it's worth it to buy it now.

If your uniform consists of jeans, a white T-shirt, and mules, this lace-up number adds a little flair.

Break up your typical classic black moto with a plethora of stripes.

Photo: Joe Laronga/CDFX Studios
Do you absolutely need studs on a leather jacket? For a certain person that would be a resounding "yes," so if you're that girl, get clicking now.

If you buy something through our links, New York may earn an affiliate commission.