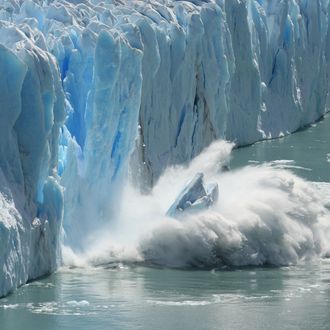 Photo: Bernhard Staehli/Getty Images/iStockphoto
Like any major problem humanity is trying to solve, climate change has a lot to do with psychology. Whether the question is how to get individuals to believe the problem is real and pressing, or why some governments are so much better than others at acting collectively to fight it, psychology is lurking everywhere.
That's why Climate Lab, a new YouTube series by Vox and the University of California that explores the behavioral science of climate change and attempts to mitigate it, is a smart idea for a series. The first of six planned videos went up yesterday:
"I like to say that climate change is the policy problem from hell," says Anthony Leiserowitz, head of Yale University's Program on Climate Change Communication, early in the video. "You almost couldn't design a worse problem as a fit with our underlying psychology, or the ways our institutions make decisions."
The video covers a lot of ground quickly: why doom-and-gloom messaging has the potential to backfire, for example, as well as some of the more interesting ongoing attempts to get people to use less energy. In one experiment, messaging pertaining to the effects of pollution on kids' health was shown to be more effective at decreasing students' energy use than messaging about saving money.
Now, there's an element of PR here: The show's publicity materials note that one of the goals of the series is "exploring global climate change and UC's groundbreaking work to mitigate its effects." But based on the first episode, the creators have drawn on insights from all sorts of different institutions, not just the University of California. So far, Climate Lab looks like a well-put-together and information-rich way to get a bit more informed about the psychology of climate change.