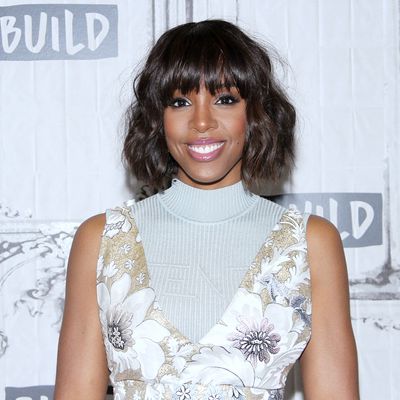 Kelly Rowland, author of Whoa, Baby!
Photo: Donna Ward/Getty Images
One of my favorite sections of Kelly Rowland's new book mentions postpartum night sweats: THE TOWEL, my notes say in all caps, referencing a sleeping tip I learned too late. The towel is so real, just like the book Rowland published earlier this month: Whoa, Baby!, a charming guide for new moms or moms-to-be.
But Whoa, Baby! doesn't position Rowland, mother of 2-year-old Titan, as an expert. Instead, she uses her laid-back, candid voice to detail her experiences and places them alongside advice from experts, including Dr. Bickman, Rowland's beloved ob-gyn and co-author. The short, punchy chapters are frank and — most important to those living in the land of sleep deprivation — informative without being overly dense, on everything from being mindful about motherhood to postpartum incontinence.
Speaking by phone, the singer told the Cut what she'd do differently during a second pregnancy, how she interacts with friends struggling to have kids, and what she never wants people to say about her book.
I have a 1-year-old and wow, I wish I'd been able to read your book when I was pregnant.
Do you mean that? Because I really appreciate that. [When I was pregnant and a brand-new mom], a lot of older moms gave me tips — I even got, "When he starts teething you should put a little bourbon on your finger." And I thought, I don't know that I'll do that.
[Accessing experts for my book] was so important to me. It's so funny — I would encounter people who'd be a little judgmental, in all honesty, about certain celebrity books. They'd say, "What do they know about such and such? Just because they're a celebrity, that doesn't mean this and this and that." I said to myself, I never want anyone to say that about my book.
Because one, I don't know it all, at all. Two, I'm so new to this mother thing. And three, I didn't go to school for this shit. That's why I called Dr. Bickman, that's why I asked my physical therapist, my therapist. I asked for other people who are incredibly gifted in their worlds to participate in this book.
Reading your book, I found myself wishing I had a doctor like Dr. Bickman. Do you have any advice for women looking for their own Dr. Bickman?
Dr. Bickman has been my doctor for 15 years. Over the years, we've developed a friendship — but one thing I've always loved about her is she's right to the point. I like that. I don't like any gray area. Just tell me exactly what's going on. She's funny, a little sarcastic and witty. She makes me feel very comfortable.
I remember talking to a girlfriend of mine and she said, I'm just not sure about my doctor. And I told her, Then you have to start looking for a new doctor. You want to find the right person to help you bring a new life into this world. You have to be completely comfortable and relaxed. If you're not, that experience is going to be a little more stressful for you and your baby and you don't want that. This is advice I got from about four separate moms, actually.
That sounds like it connects to the section in your book about being very conscious about motherhood and reflecting on it beforehand.
For me, I was so excited. But I think next to excitement, I kind of treated the experience of having my baby like a show. I know that sounds crazy. But I wanted to have the right coaches, like I was getting ready for a tournament or a track meet. I got my coaches in place. I had an amazing doula, who helped me connect my body and my mind, and my therapist — who's in the book — helped me ask myself questions about motherhood. I just felt myself getting really prepared and ready.
Now that you're a mom, though, what advice would you give your pre-pregnant self?
Meet your husband earlier! I just wanted to have my baby earlier, in my head. I know I had my baby when I was supposed to have him. But man, if I knew what I know now, I probably would have had him earlier. My husband's great, my kid is so much fun — I just would have done it earlier.
For any future pregnancies, is there anything you'd definitely do differently?
I don't know! Someone just asked me that the other day. I feel like I did everything pretty good the first time. I probably won't … eat as much food. Because I overindulged — I got the best oxtails, rice, and gravy, a burger, fries, chocolate ice cream with peanut butter, cherry pie. I went so crazy. I don't think I'll go that crazy again.
You write about the importance of mom friends. Do you ever find yourself disagreeing with mom friends about parenting decisions?
Hmm — no. I haven't run into that problem yet. Not that it's a problem, I just haven't run into that situation yet.
Your book also mentions hanging out with friends who don't have children. Have you run into the situation where your friends are trying to have a baby and maybe not having success?
Yes. I always suggest talking to a doctor, or someone else who's gone through trying and having trouble — even following certain women on Instagram. I always try to be as supportive as I can. It breaks my heart a little, because you want them to experience that same joy you do as a mom. Sometimes, I just say, "Let's go dancing. Let's go out and try to take a night off from thinking about it." As moms and as women, we sometimes think about it so much and it gets so heavy. We put way too much pressure on ourselves.
But do you ever have trouble knowing what to say to those friends, since you were able to have a child?
Oh my gosh, we have everything to say. We're able to talk about that so openly. I've heard all those conversations and try to be a great friend and support them as much as I can, whether that's meditating together or praying together. Or like I was saying, just going out and having fun. Your job as a friend is to never let them feel alone.
This interview has been edited and condensed.