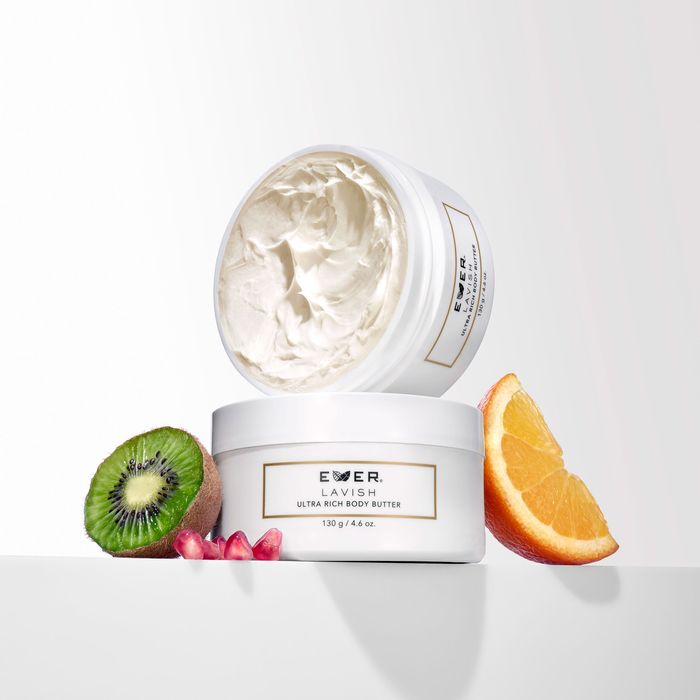 Lotion is an exceptionally dull beauty product. Its most alluring features fall on promises of what it won't make your skin do: it won't flake, it won't feel itchy, it won't look embarrassingly ashy. And since it's needed every day in quantities large enough to cover your body, most lotions aren't terribly expensive, either.
I thought of this when I tried Ever's Lavish Ultra Rich Body Butter for the first time. When it launched in February, the butter promptly sold out. A month later it returned to Ever's online store and within 24 hours, 2,000 units had already been sold. That's abnormal for a new product within a relatively new brand. (Ever, a subsidiary of the direct-sales fashion juggernaut Stella and Dot, was introduced in 2015.) Even more intriguing is the body butter's price: At $42 for a 4.6-ounce tub (think the size of a hummus container), it raised a brow.
Lavish Ultra Rich Body Butter is incredibly thick: like day-old frosting that's beginning to turn hard. A scoop smashed between my palms triggers its softer texture, which spreads easily (and evenly) all over my skin. The butter feels moisturizing — it even glistens a bit — but it's not greasy. The longevity of the cream is noteworthy, too: It keeps skin soft for at least a day, maybe even longer, but I'm not willing to forgo a shower in order to investigate.
Ever is particularly proud of the butter's antioxidant properties, which in theory ought to stall signs of aging such as wrinkles and brown spots. Within each jar, there are oils from antioxidant-rich fruits such as blackberries, cherries, cranberries, and pomegranates. I don't really care about antioxidants, but I'm young. The inclusion of super-moisturizing jojoba oil, cocoa butter, and glycerin is much more meaningful to me, but I'm also black.
The brand promises a "visible reduction in crepe-y skin and winter dryness" after four weeks of use. That's great, but surely something my bottle of Lubriderm could accomplish for a quarter the cost. On another note, Ever's body butter smells strongly of sugar cookies or cake batter, which I don't mind but also don't love.
So why do so many people line up for this expensive lotion? The dainty black-and-white tub probably has something to do with it. Like I said, lotion is boring. Who am I to judge if someone wants to jazz up their vanity with a body butter that looks as pretty in the jar as it does on your skin?