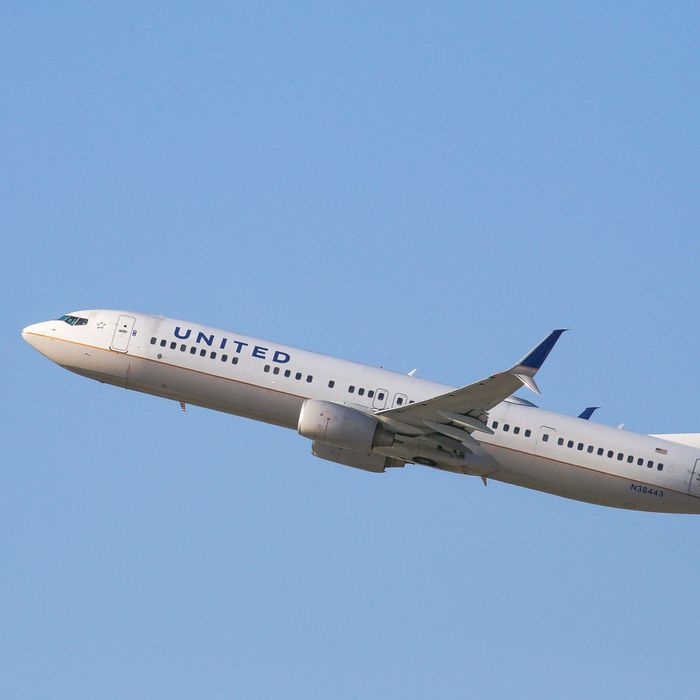 United Airlines.
Photo: FG/Bauer-Griffin/GC Images
A woman says she was groped by a "visibly drunk" man on a United Airlines flight last month and that the flight attendants continued to serve him alcohol after she complained about his behavior, the Huffington Post reports. She later submitted an official complaint, and the airline reportedly responded by sending her four $100 travel vouchers.
Jennifer Rafieyan, 47, and her 12-year-old daughter were on a March flight from Newark, New Jersey, to Phoenix, as an intoxicated man sat in the empty aisle seat next to them. The man was reportedly so inebriated that two flight attendants warned Rafieyan, 47, about him, and pointedly told her to let them know if she needed anything. Per the Huffington Post:
Over the course of the next five and a half hours, Rafieyan says the 64-year-old repeatedly groped her and sexually harassed her. He rubbed her legs, grabbed her knee, kissed her hands, put his head on her shoulder and snatched her pen and notepad to add "PASIONAT NITE XX" to the to-do list she was writing, she said.
Eventually Rafieyan reported the groping to a flight attendant, who reportedly told her, "I'm so sorry. We felt really bad putting him next to you, but there was nothing we could do. He was doing the same kind of stuff to the other flight attendant." However, the flight attendant continued to serve the man three more whiskeys and a small bottle of wine.
He became belligerent, accused several people of stealing his passport, and then refused to sit back down until the flight attendant threatened to divert the plane and land early because of his behavior.
The Warren, New Jersey, resident filed an official complaint over the incident to United Airlines on March 29, and in turn, the airline sent her travel vouchers without acknowledging her accusations. In an email shared with Huffington Post, a customer service representative wrote, "I am sorry for your family's disappointing and uncomfortable flight to Phoenix. As a gesture of goodwill, a separate email with four electronic travel certificates will arrive soon to make amends."
Rafieyan has since reported the incident to the Federal Aviation Administration, the Department of Transportation, and at the DoT's suggestion, the Federal Bureau of Investigations (which she was able to do since she had seen his name on his boarding pass). The DoT told her it would add the incident to its national sexual assault database.