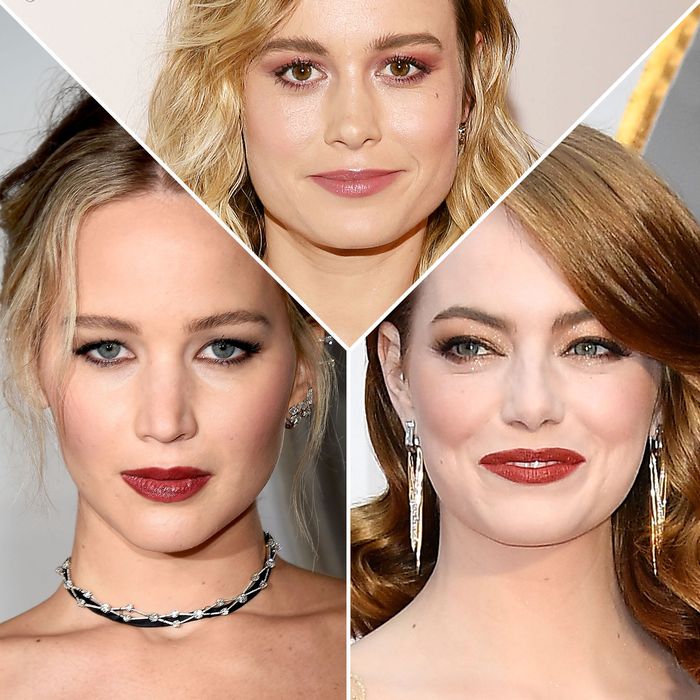 Woody Harrelson, Brie Larson, Jennifer Lawrence, and Emma Stone.
Photo: Getty Images
There's only one person in the entertainment industry who can rival Taylor Swift when it comes to curating an A-list girl squad, and, for some reason, that person is Woody Harrelson.
In a new Vanity Fair profile of Brie Larson, we learn that her Rampart and The Glass Castle co-star Harrelson was responsible for introducing her to friends Jennifer Lawrence and Emma Stone (who he worked with on The Hunger Games and Zombieland, respectively). According to VF, Harrelson "is the Pied Piper of these young women," and he thought "they would all benefit from knowing one another."
"It's hard in this business, especially at that age, to experience celebrity and all the perks and all the temptations of celebrity," Harrelson explains. Thanks to Woody's keen-eyed social-networking skills, Larson, Stone, and Lawrence were able to form "a very tight-knit group who keep them honest and keep their ego in check."
And it didn't end there:
"Emma wrote this beautiful e-mail out of nowhere [while Larson was promoting Room] and then one day Jen sent me a text message after she saw Room, and we started talking," Larson recalls. The note morphed into a text chain with Lena Dunham and Amy Schumer chiming in with words of support. "That [group of friends] saved my life," Larson says.
Rising Hollywood ingenues, please call Cheers star Woody Harrelson for all your squad-formation needs.