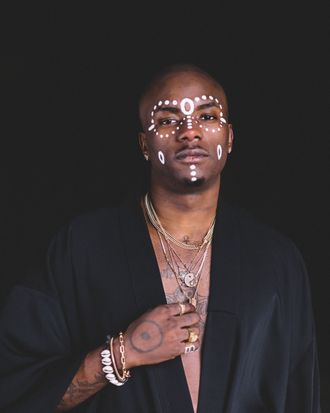 Young Paris.
Photo: Bryan Derballa
I meet Young Paris (né Milandou Badila) on an early morning in March — coincidentally, the same day his sophomore album, Afrobeats, premieres. Despite the 7 a.m. call time, he shows up energized and excited to talk about his newest passion project. Good news, because since releasing his first EP, African Vogue, on the FADER last year, fans have been wondering what's next. The last couple of months have been a whirlwind; he was signed to Jay Z's music label Roc Nation late last year and to modeling agency Next in January, and has since made numerous front-row appearances at shows for Gypsy Sport, Jeremy Scott, and Public School. "I've been working hard for this moment, and I'm ready to show people who I am," he says.
Within minutes of meeting Paris, you realize a lot of who he is stems from his family. He speaks fondly of his mother and holds his father's legacy dear. "I was raised in a super-artistic family — my father was a performer, and my mother was a playwright," he says. "I was born in Paris and moved to New York when I was 7. I lived in a very family-oriented, crazy household, with ten siblings running around all the time. We didn't grow up thinking we needed to be doctors or lawyers or go into business. I had a very liberal childhood."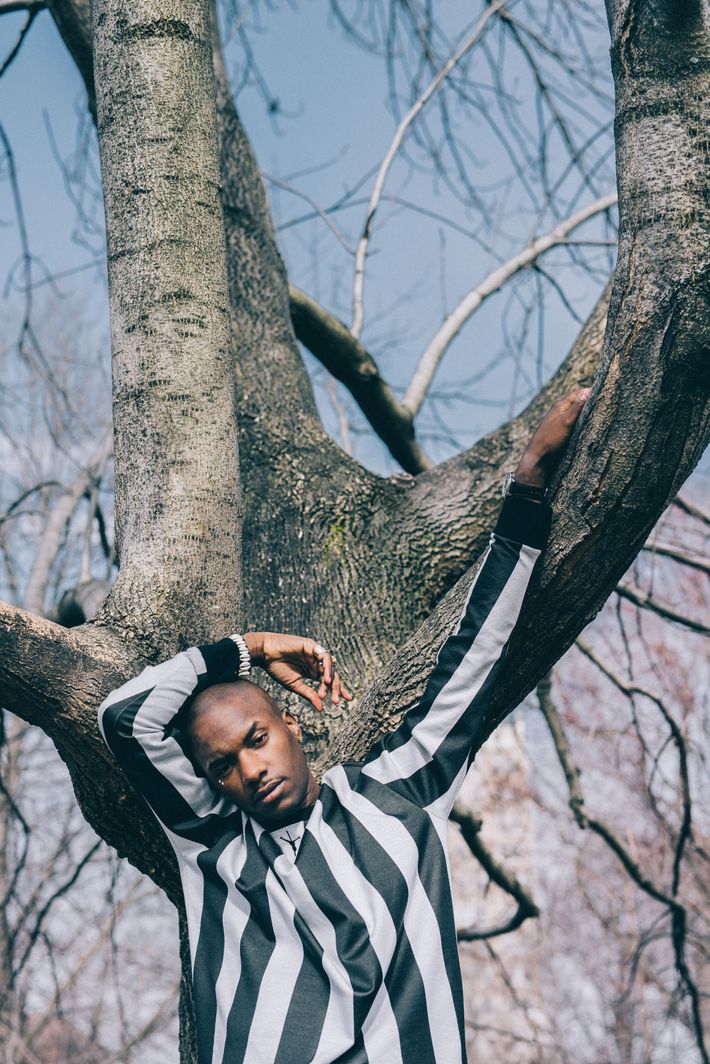 Alexander Wang shirt, price upon request at Alexander Wang.
His father, Elombe Badila, was one of the founders of the National Ballet in the Congo. He was only 13 years old when he joined, touring internationally with other dancers from various villages while developing a professional career. Dancing has always been something that came naturally to Young Paris (he spent most of his childhood watching his father in dance studios), but music came into the picture when his family moved to New York in the '90s and he was introduced to hip-hop. "I really became interested in music because all my friends were into rapping," he explains. "At 18, I took on the name Paris" — in homage to his birthplace — "and started pursuing a career as a recording artist. I didn't take it seriously until I was 21. At that point I really got into writing and fine-tuning my sound and figuring out how to incorporate all my talents." Those talents including rapping, dancing, fashion, and modeling.
And it just so happened that when Young Paris got serious about music, A&R managers from Roc Nation started attending his shows. His brand Melanin, a burgeoning social-media phenomenon where he posts about embracing black beauty and culture, provided a viral platform. "I didn't know at the time what label they were from — I just knew they were liking a lot of the things I was doing in music and fashion, and seemed interested in the way that I incorporate talking about people of color and culture into everything I do," he says. "And after I dropped my first EP, I was signed to Roc Nation within a few weeks. It all happened very fast."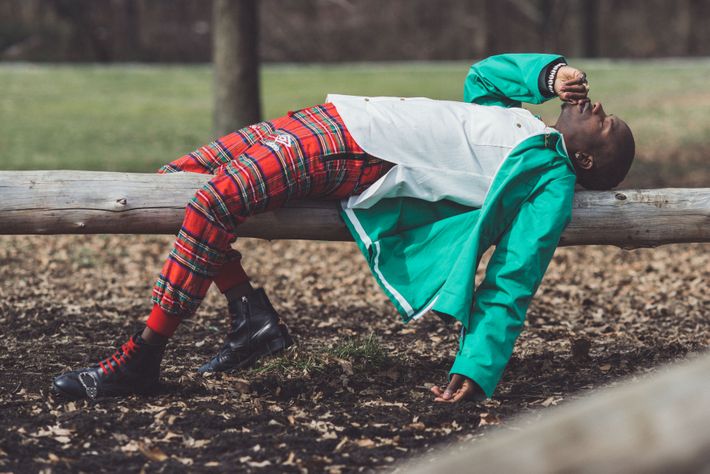 Acne Studios jacket, price upon request at Acne Studios; Stella McCartney shirt, $340 at Stella McCartney; Off White pants, $1,220 at Off White; Gucci boots, $1,490 at Gucci.
Young Paris's new EP, Afrobeats, is a mashup of modern African music that's equal parts R&B, EDM, and hip-hop, taking listeners on what he calls "a go-around the diaspora of Afrobeats."
"I worked on this album for six months, and though I work with producers all around the world, I wrote every song," he says. "I make music really fast; I was making this record around Fashion Week time, and I did some of my best writing when I would listen to a beat in the morning and, by the end of the day, late that night, I'd come back to the studio and finish the song. I'm very hands-on with my music."
Along with his music and dancing, style — particularly that which celebrates his Congolese heritage — is very much a part of Paris's ethos. Though he had been signed to a modeling agency as a teenager, he says he wasn't ready to pose for the camera until now. "I have much more to offer now," he says. "I want to bring more of my influences to the fashion world and help make models of color a larger part of the conversation."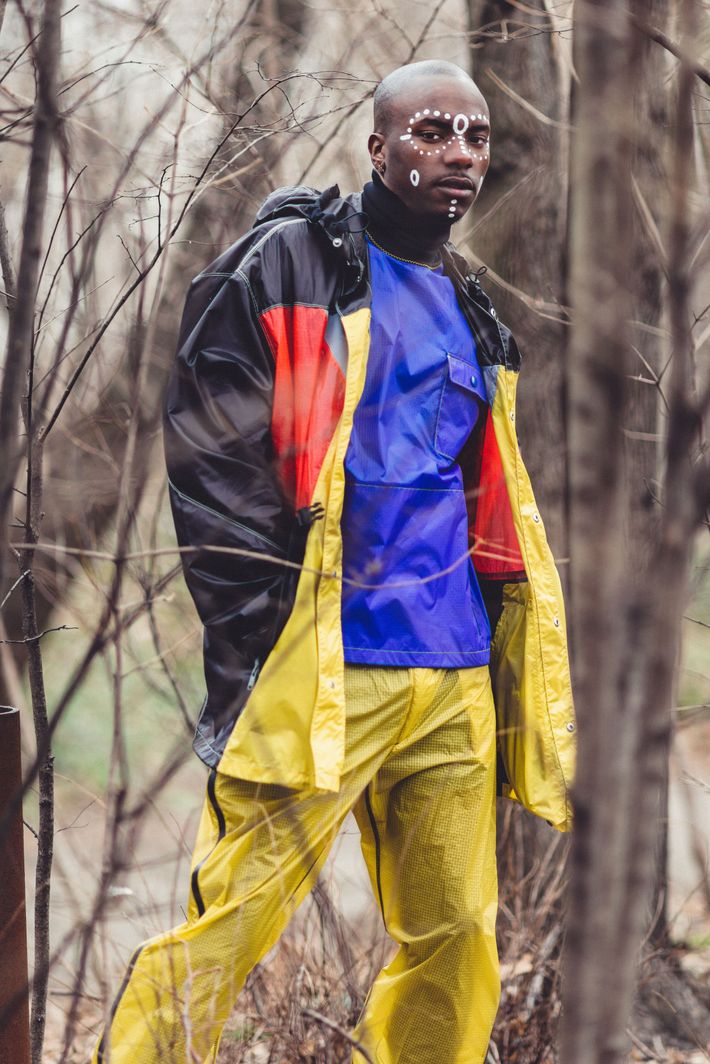 Prada Jacket, $1,400; Prada Knit, $640; Prada Pants, $640 all at Select Prada Boutiques Nationwide.
Paris's uncles were sapeurs, Congolese men known for their amazingly tailored three-piece suits, silk socks, and fedoras. These dapper looks have long been part of Congolese culture, despite extreme poverty in the country. Paris describes it best by telling me an old Congolese saying: "There are two things a Congolese man never lacks: style and grace."
Paris has translated that sense of elegance into his own edgy style by mixing traditional, sometimes sentimental pieces with contemporary elements. He came to our shoot with two different versions of the maquillage — traditional face paint — his father wore during his days with the National Ballet. "I used to only wear maquillage for special occasions or celebrations, but after my father died in 2012, I decided to wear it every day in homage to him," Paris says. "It's my way of keeping him with me wherever I go. I have a very strong culture dynamic, so my goal is continue to instill that self-love in people of color."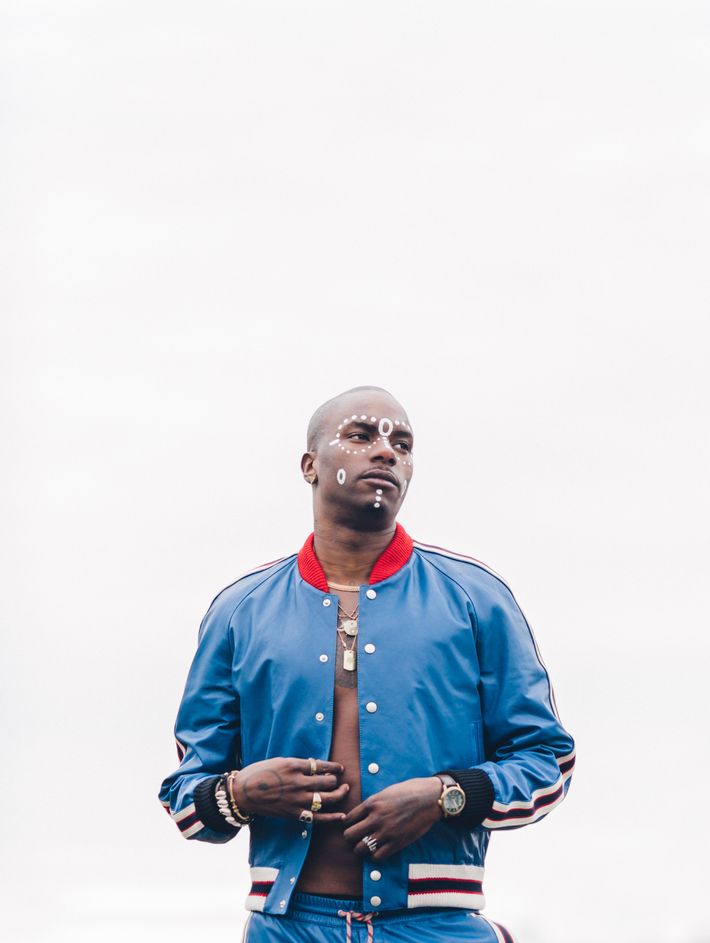 Gucci leather bomber and pants, price upon request at Gucci.
"I like clothing that either pops or is very subdued — I love the fabrics, but also bit of edge that designers like Alexander McQueen, Vivienne Westwood, and DSquared have created," he says. "I'm attracted to clothing that I can move in and feels fluent, and I love a full matching top and bottom look, like the Gucci I wore for this shoot. So fresh."
He just finished seven back-to-back shows in Paris, and spoke at a conference in Dubai on the future of Africa, so it's safe to say he isn't slowing down anytime soon. "I'm just trying to tap into different areas. For me, Africa is the remaining subject that has such a raw, untouched authenticity, and it's unchallenged," he says. "These days, people want what's real."
Lead image credits: Marcelo Burlon County of Milan robe, price upon request at Marcel Burlon County of Milan; Cartier Santos de Cartier bracelet, $3,150 at Cartier; Cartier Ecrou de Cartier bracelet, $6,600 at Cartier.