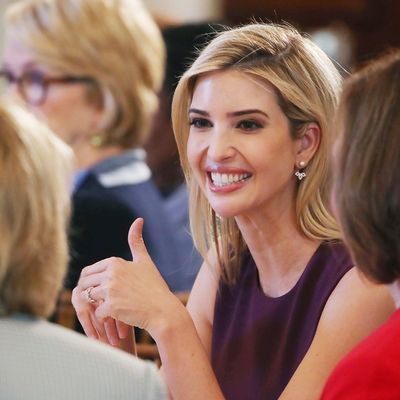 Women in China see Ivanka as a role model.
Photo: Mark Wilson/Getty Images
After the election, companies in China filed hundreds of trademark applications on the word "Ivanka," which might strike U.S. consumers as odd; the First Daughter is a somewhat controversial figure in the States. But the move makes perfect sense in a Chinese market, where some young women idolize Ivanka Trump and are modeling their lives after hers, according to a New York Times report.
"She's pretty, she has her own career, she's hardworking, and she has a beautiful family," said 26-year-old Wang Ge, a Chinese business student. "She inspires me." Wang apparently "keeps photos of Ms. Trump on her iPad … counsels burned-out friends to read Ms. Trump's self-help tips … and models her day on Ms. Trump's, waking at 6 a.m. to increase productivity and setting aside at least a half-hour to read."
Wang isn't the only one who's into Ivanka's self-help mantras — young businesswomen and working mothers reportedly swap translations of her guides online. Her tips on work-life balance "have found a large audience." And many Chinese women said they've mimicked Ivanka "as they confront chauvinism and stereotypes in the workplace and in family life."
Wang Jiabao, a 28-year-old reality-television producer in Beijing, told the Times she admires Ivanka's independence. "She represents what we're looking for — to marry into a decent family, to look good, and to also have your own career," she said.
Ivanka's popularity in China has done a lot to ease tensions with that country, even as her father criticizes it. Her visit to the Chinese Embassy on Chinese New Year was largely seen as an olive branch, and she's recently made other subtle nods to Chinese culture through her children.
One woman even told the Times that "a lot of people think Ivanka is the real president," to which we say: unlikely. But even if she is, we'll never know.