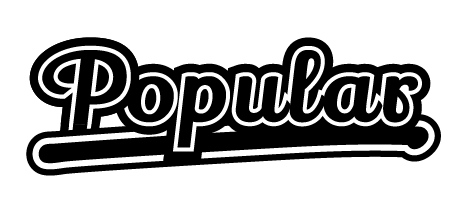 Have you seen the one where Lele Pons farts in front of her crush?

The 30-second video got over 11 million views on Instagram a few weeks ago. It goes like this: Lele walks out of an apartment building with this gorgeous guy and then — pffrrt — she lets one rip. Nightmare. The guy totally hears it, but Lele says she did not do it, and then she points to her girlfriend across the way, who starts beatboxing fart sounds. Suddenly, a whole crew of Lele's friends shows up, rapping and dancing along to a defiant chorus of "she didn't pass gas." The guy starts dancing, too. Lele is saved. But then, caught up in the flatulent celebration, the guy farts. LOL! Eww.
"How to save yourself when farting in front of your crush" is exactly the kind of comedy tweens want to watch online: universal, physical, and complete with a twist ending. Lele — a bleached-blonde social-media sensation with cheerleader looks and an unending willingness to make goofy faces — is a master of the form. She is gorgeous (but approachable), funny (in the broadest possible way), and skilled at telegraphing "relatable" teen woe. Though she is now 20 years old, most of her videos deal with middle- and high-school problems: crazy cliques, cheating boyfriends, math.
Lele's skills were honed on Vine, where she became the "most looped" user of all time, and she has since brought them to Instagram and YouTube. She has found millions of rabid fans ages 13 to 24 on every social platform she's tried, but especially on Instagram, where she has gained 4 million followers this year alone. Her command of the coveted Gen Z audience has made her a star: In the last year, she has walked in the Dolce & Gabbana show in Milan alongside fellow influencers like Sofia Richie and Lucky Blue Smith, landed a CoverGirl contract ("a slap in the face to the haters"), and won a Teen Choice Award. In 2015, she visited Michelle Obama at the White House. She graciously offered the First Lady the chance to appear in one of her Vines.
The Best Vines from Lele Pons
In real life, Lele spends her days creating content in a luxury Hollywood apartment complex; online, she's still trying to get through third period without landing a detention. Fittingly, she describes her own high-school experience as formative. She immigrated from Venezuela with her parents at age 5, and when she enrolled in a private Miami high school, she had trouble making friends. To ingratiate herself with her classmates, she performed IRL stunts: "I would get hurt to make them laugh." Then, in a turn of events that could only be authored by God himself, she hit puberty at the exact same time Vine launched in 2013. Suddenly, Lele's weird-girl antics and secondary-sex characteristics made her both funny and hot. She became popular, in school and online. (Last year, she novelized her swan-like transformation in a 272-page tome titled Surviving High School, which chronicles the life of an unpopular girl — "Lele Pons" — who becomes a "gorgeous, sexy, cool, breezy blonde" social-media star.)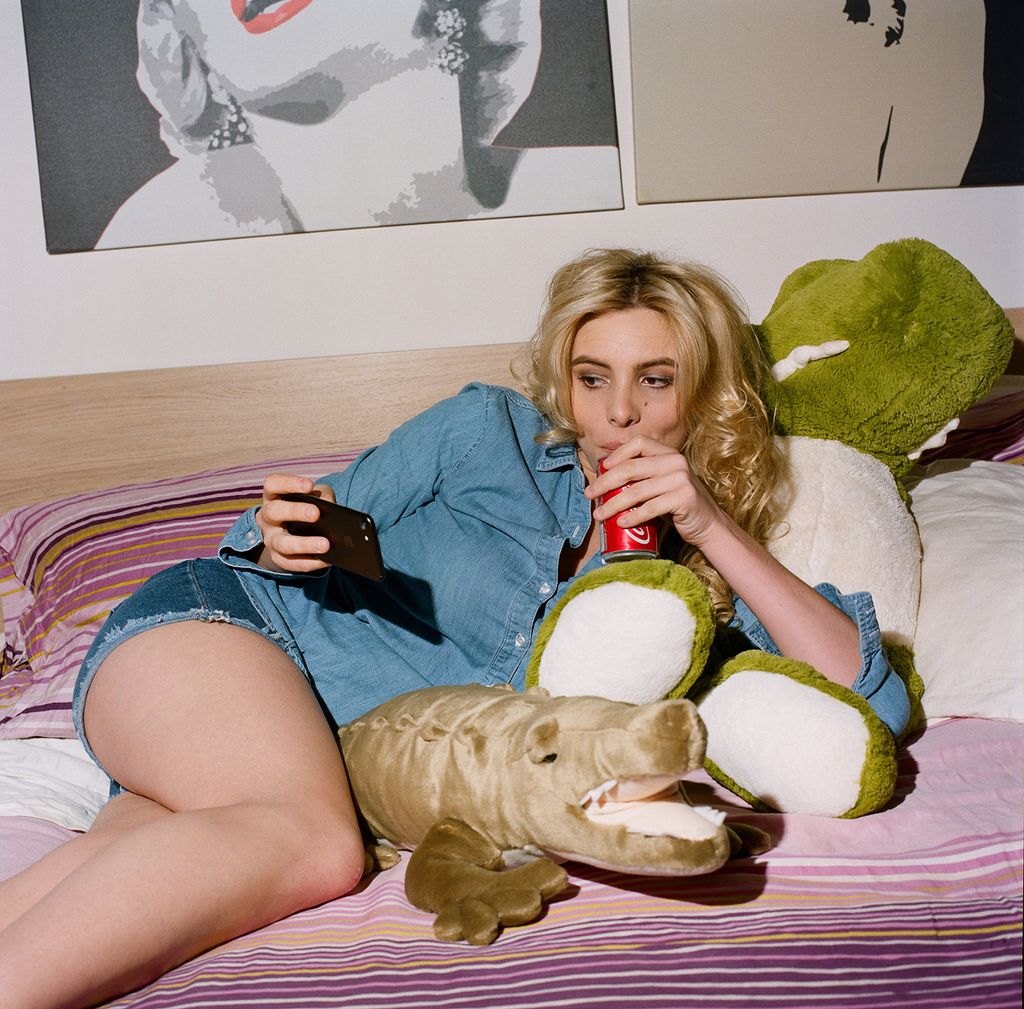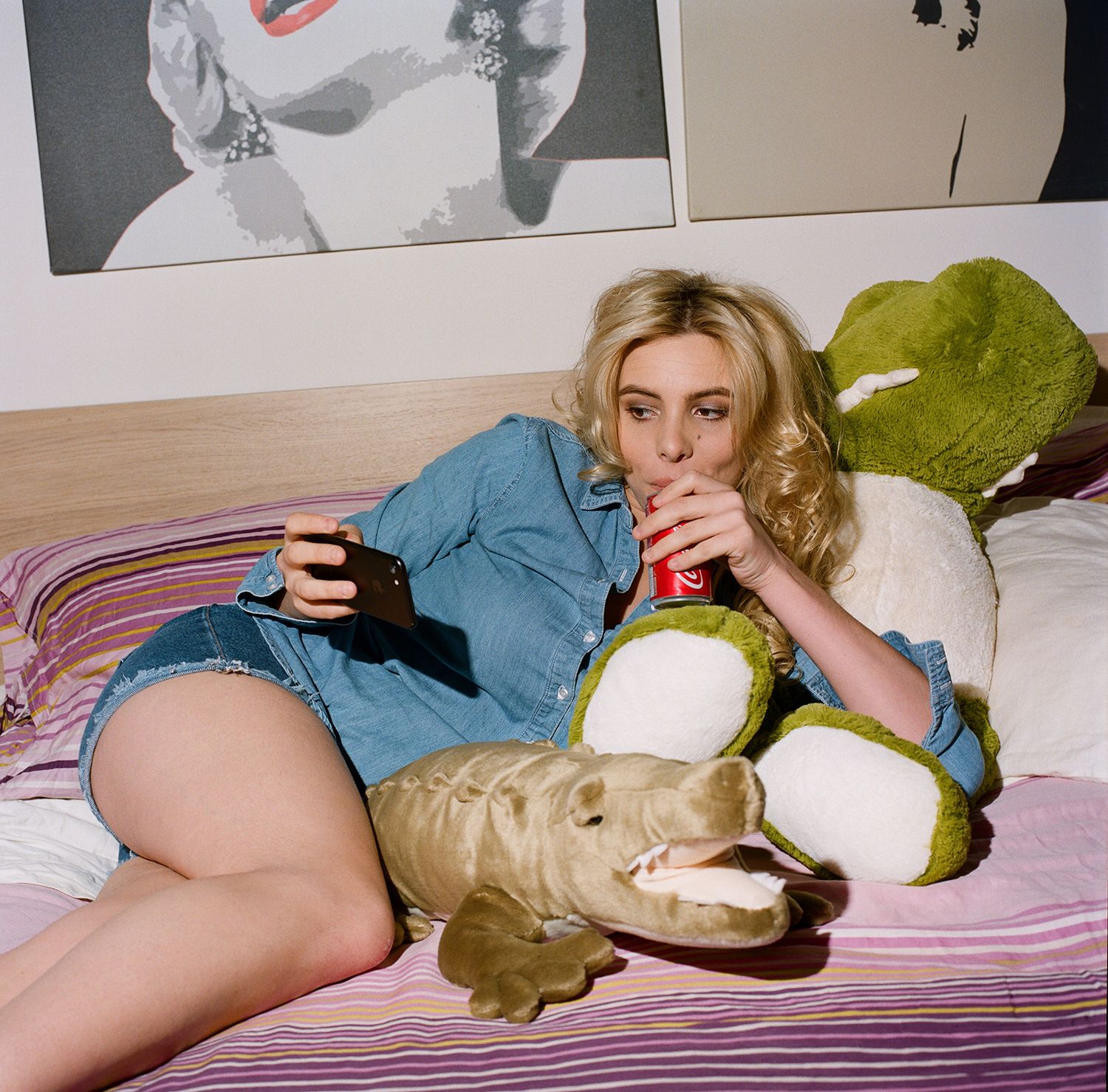 Lele and her friends have a running gag on Instagram where they posts before-and-after photos of themselves with captions like "Puberty hit her like …" and "Two ugly ducklings that hit puberty together." But she's also forthright about the extra help she got along the way. Two years ago, Lele shared with her 1 million Twitter followers that she had to take a break from posting videos because "I did get a nose job #dowhatmakesyouhappy." She thanked Dr. Ramtin Kassir, a plastic surgeon who's appeared on The Real Housewives of New Jersey, for the experience. "This is something I always wanted to do," Lele explained. "The important thing is that you don't change who you are inside!"
We can thank Vine, puberty, Dr. Kassir, and America for bringing us all here today.
I first meet Lele at the sunny three-bedroom loft she shares with her mother, Ana, smack-dab in the middle of Hollywood. The pair moved to Los Angeles almost two years ago, after Lele turned 19 and became the first user to hit 1 billion loops on Vine. Wearing a cream-colored Eileen Fisher ensemble and enormous, round sunglasses that she never takes off, Ana greets me at the door and shows me around the living room, which is littered with orchids and people.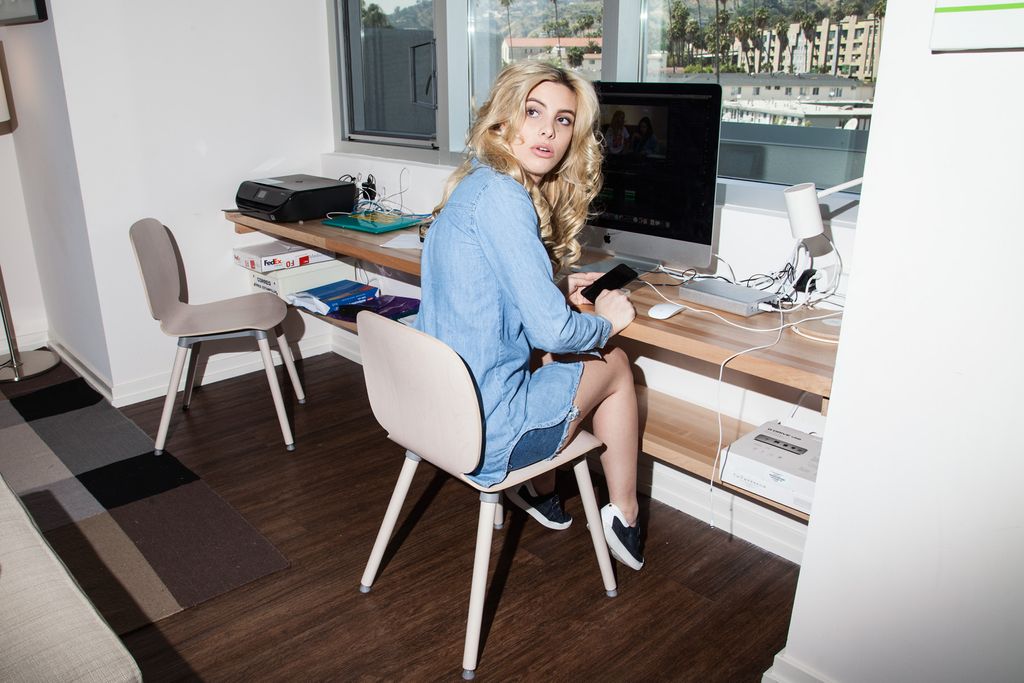 Today Lele is filming a branded video for CoverGirl, and she has assembled a crew of seven to help bring her vision to life: two makeup artists, two stylists, a cameraman, an assistant director, and a sound woman. Lele's recently hired personal assistant Daniel is also hanging around; he is in charge of ordering Ubers and food when necessary. After I greet the team, Lele skips out of her bedroom in bright-blue pajamas and turns on Shakira.
You have no freaking idea how much Lele loves Shakira. This is the first thing she tells me, in her slight Venezuelan accent: "I love Shakira!"
Lele is inspired by other Latina stars — like Sofía Vergara (who has appeared in one of her YouTube videos) and the telenovela actress Gaby Espino (whose perfect nose served as inspiration for Lele's surgery) — but her one true idol is Shakira, and it drives her absolutely nuts that Shakira does not seem to know who she is. "Where is she living, in a rock?" Lele asks later, frustrated that she cannot get the 40-year-old pop star's attention. "I have more followers than her, and I tweet her every damn day." (Lele has 1.12 million Twitter followers; Shakira has 44.4 million.) Lele's publicist promises that she is trying to set up a meeting.
The priority for today, however, is getting this CoverGirl video in the can. Lele will spend almost 12 hours shooting the four-minute spot, which is unlike any advertisement I have seen before in my life. It took Lele several minutes to explain the plot to me; what follows is the best summary I can offer.
We open at Lele's apartment, where Lele has just discovered her boyfriend is cheating on her. She enlists her two best friends to help her exact revenge on his sidepiece. They all apply CoverGirl products and head to a Coachella party (why not) to seek out this girl. In the end, Lele confronts her cheating boyfriend, only to find out that he has proposed to his sidepiece. And they are moving to Africa? In the final scene, Lele and her BFFs serve as unwitting bridesmaids in the wedding.
CoverGirl did not come up with this concept, Lele assures me. She maintains complete creative control over her videos, doing the casting, directing, and editing herself. The most important element, she says, is the ending. Viewers love a twist or surprise. When I ask why she thinks that is, she cites Titanic as an example.
Today, fellow YouTube stars Hannah Stocking and Inanna Sarkis are playing the roles of Lele's best friends. All three girls are represented by the same management company, Shots Studios, so they often appear in each other's videos. This kind of cross-promotion helps everyone gain followers, and the girls seem to genuinely like working together.
You may remember the name Shots from 2013, when it was founded as a selfie-sharing app with investment from Justin Bieber. As a former YouTube star himself, Bieber has been supportive of the company's new direction and Lele specifically. (He's friends with her manager.)
"He tries to be normal," Lele says of Bieber. She has hung out with him a bunch, and each time he does his best to socialize in an authentic way. "Sometimes he tries to talk, but he doesn't know how to talk to you," she explains. "He's like, 'I like your skirt.' You know? Not really a conversation, but he tries … He's a really nice boy."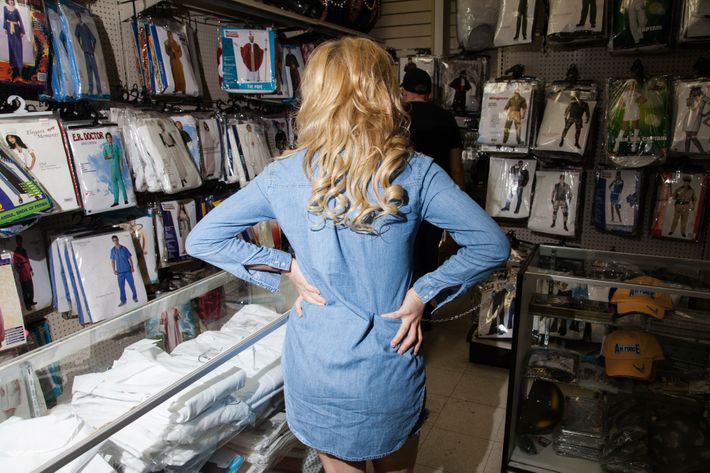 At Lele's apartment, the girls take turns getting their makeup done — with CoverGirl's Katy Perry–branded Katy Kat line — and picking out Coachella-chic outfits. Hannah chooses a backless baby-doll dress and light-up cat ears decorated with daisies. A blank-eyed bombshell, she is Gen Z's answer to the lovably ditzy Karen from Mean Girls. Her signature skill: crossing her eyes.
Inanna, the smaller, scrappier sidekick, picks a red velour slip dress and classic black cat ears. The vampy look reflects the more dramatic characters she likes to play. In her last YouTube video, she murdered two people.
Lele throws on a denim jumpsuit, a shaggy fur coat, and wide-brimmed hat, to great applause from the other girls. You look soo good, they tell her. Lele has more followers than Hannah and Inanna combined, and while nobody ever mentions this, the reality of it always seems to be hanging around in the air.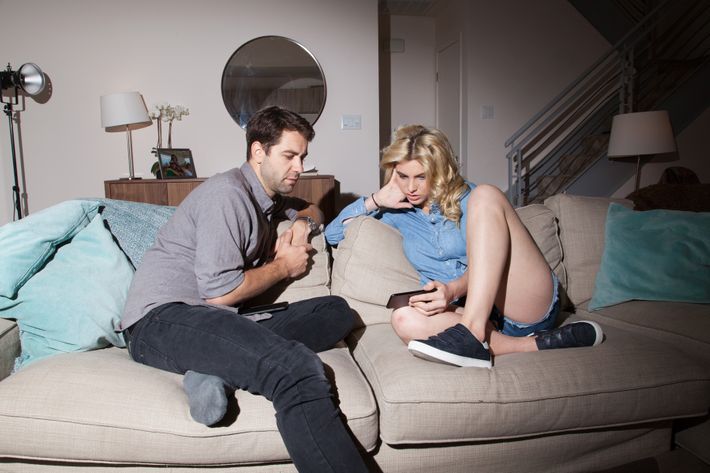 Followers are currency in the world of social-media stars, and sometimes, mixing friends and money does not work out. Last year, Lele went through a public breakup with her best friend and fellow Vine star Amanda Cerny, after Amanda told the gossip site the Dirty that Lele was a social-media saboteur. Lele had been covertly accessing Amanda's Instagram and YouTube accounts, Amanda claimed, in order to delete the most popular posts. Lele never addressed the accusation, and when I ask about it today, her publicist assures me she never will. Lele says only that she is now committed to working with "positive people."
Like Hannah and Inanna. After each girl gets outfit approval from the stylists, the four of us hop in an Uber to go to the shoot location (a friend's house with a backyard that sort of looks like a field you might see at Coachella).
In the car, the stars praise each other for my benefit.
Hannah is the most creative, they all agree. Inanna is a real acting talent. But Lele — Lele is a social-media mastermind.
"She can edit a whole entire video in one day," Hannah explains. "It takes me and Inanna like, a few days."
Lele confirms this to me later. Editing is her favorite part of the process; she will not let anyone help her. "I really like doing it by myself. I'm OCD with that," she says. "It's putting your masterpiece, what is in your head, inside a computer!" According to Lele, she's one of the few female YouTubers to oversee the entire production process. Hannah and Inanna do edit their videos; it just takes them longer, and sometimes they have help.
As we pull up to the party house, Lele starts singing along — well, screaming wordlessly along — to the pulsing rock song on the radio. She does not even know what it is, she says, she just likes the sound.
"It's Nirvana," the Uber driver says.
Actually, it's Coachella, and we're going into the party now.
Lele is a commanding, energetic director. As soon as we arrive at the house, she scouts the backyard for where she wants to shoot each scene, and then she promptly informs the crew. The cameraman and the assistant director, two stubbly, young professionals in matching black jeans, defer to Lele at every turn. The young people assembled to play extras at the party are quietly in awe of her.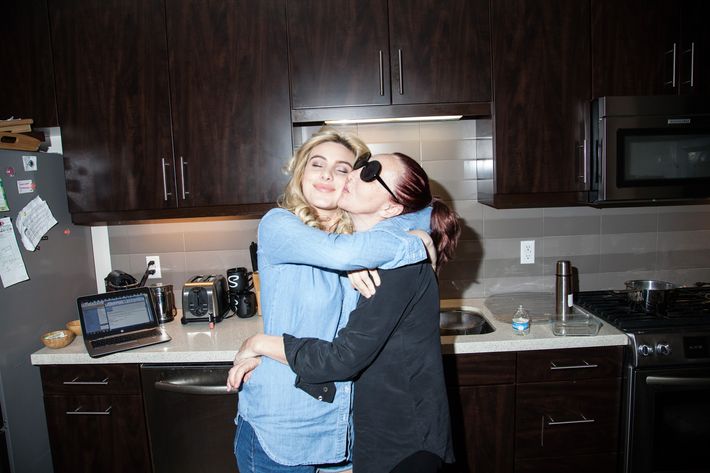 Here's the thing about Lele's videos: Everybody wants to be in them. Fifteen aspiring actors and social-media stars show up to play small, background roles in this one, and none of them get paid. They all do it "for the exposure," one of the girls tells me. Not only does appearing in a Lele video help you gain more followers, it helps you gain the right followers. One time, she says, a TV casting director contacted her after he saw her in a Lele skit.
Lele is aware of this dynamic. When I ask if friends beg her to be in her videos, though, she says no. "Some people kind of are afraid of me," she reasons. "L.A. people want to make it big, so if they look needy, they know that I'm the type of person that's going to be like, no." She casts performers based mostly on talent. "You know, 'cause I can't put everybody in it," she sighs. "I've done that before and the videos don't turn out as good. 'Cause they don't know what they're doing really, and then I have to go, take at least an hour, and try to tell him or her how I want them to act."
This is how Lele directs: She tells the performers how she wants them to act, and then the cameraman starts rolling. She never writes scripts; instead, everyone ad-libs their lines and she chooses the best ones later, when she edits. Dialogue really is not that important on YouTube, anyway.
Lele's manager, Shots CEO and co-founder John Shahidi, told me in a phone call that young viewers prefer unscripted videos that seem "relatable." They don't want to see highly developed characters, "they just want to see Lele."
When Lele acts, she does not worry about the kinds of things a mainstream TV actress might: enunciating, hitting her marks, landing jokes. Instead, she pulls funny faces, throws her body around, and tries out all kinds of lines. Sometimes she screams them; sometimes she sings. "Some people don't understand like, what's going on," she says of her filming process. But it all comes together in the end. "I'm like, wait for the edit," she says. "You'll get it. Trust me."
According to Shahidi, Lele's method gets results. "What's really important to her are engagement numbers and audience retention," he said. "She has a 78 percent watch-through rate on her YouTube videos. So whoever watches her YouTube videos, 78 percent of people watch the videos to the end, because she is such a great storyteller."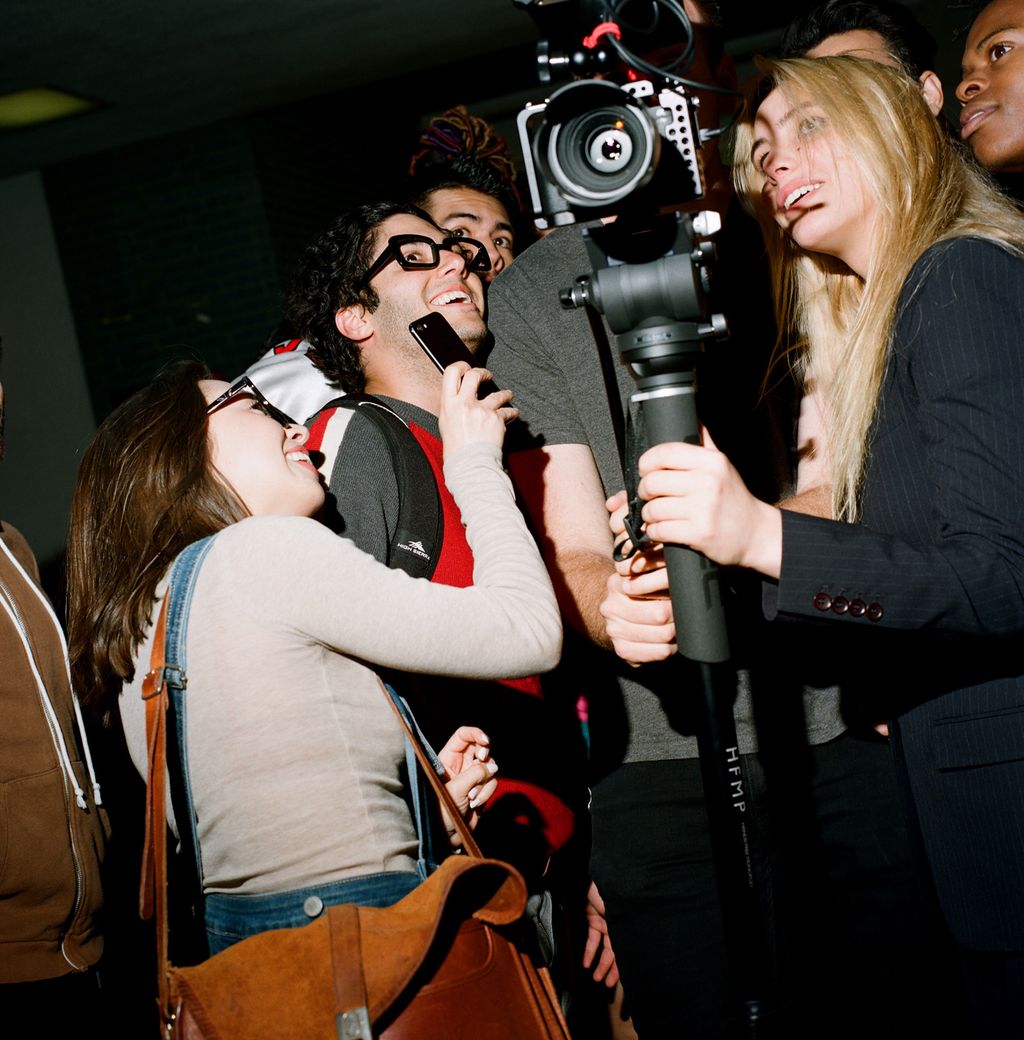 Every performer at the party shoot seems to have his or her own unique social-media strategy. I ask one baby-faced teen with a sleeve of tattoos if he is a YouTuber, and he says he is more of a "live broadcaster." He has a popular presence on YouNow, a livestreaming app. He has also picked up quite a few followers on Musical.ly, a lip-syncing app, because he followed a bunch of people that former Vine star Cameron Dallas follows, and somehow (algorithmically?) that propelled him to the leaderboard. I wish him luck in his endeavors and start chatting with three other extras, who make up the rap group WAV3POP. One of them shows me their recent music video on his phone. It features a girl named Hana Giraldo, who is popular on Instagram, and who also happens to be Pat Benatar's daughter. She's here today, too.
Later, I meet the YouTuber Bryant Wood, who plays Lele's cheating boyfriend in the video. Bryant — "with a T" — is wearing a black shirt, black jeans, and a black harness, the purpose of which never becomes clear. He has the face of a multiplatinum boy-band member and the affected style of a motorcycle enthusiast. Under his arm, he has tucked a paperback copy of On the Road. ("By Jack Kerouac.")
Halfway through the day, a muscular guy in a baby-blue tank top and cream-colored sweats shows up to the party house on a motorized scooter. "Hey man!" says everybody. His name is Ray Diaz, and he is a real working actor — you can catch him on Lopez, the new George Lopez show, on TV Land, Wednesdays at 10:30/9:30 CT. In the kitchen, I ask him what part he is here to play. "I'm just the guy behind the scenes," he says, and chuckles.
Later, after a covert Google on my iPhone, I realize that there are several instagram accounts dedicated to "shipping" Ray and Lele. They are an item! At least, thousands of fans would like to believe they are an item, because they look so cute together. The fans call them RayPons. When I catch Ray planting a kiss on Lele's shoulder during a break in shooting, everything clicks.
Then I discover that a separate sect of fans has created several other instagram accounts dedicated to "shipping" Lele with another YouTuber: Juanpa Zurita. In this crazed corner of the internet, ZuriPons is the cutest (unconfirmed) couple of all time. The two factions are not warring, exactly; it seems both sides choose to ignore the other's existence. It is impossible to quantify exactly how many of the world's tweens are invested in believing that Lele is dating one of these guys, but together ZuriPons and RayPons fan accounts have hundreds of thousands of followers.
So who is Lele really dating? She does not like to say, even though she accidentally tells me as soon as I ask. To protect the innocent fans who are so invested in her imagined personal life, she asks me not to repeat it here. Both Juanpa and Ray are very special friends, she says, and she will keep posting pictures with both of them, for the fans.
Keeping her relationship status vague on social media helps her be sure of guys' intentions, too. If a guy doesn't need to be publicly known as her boyfriend, "it just proves to you that he doesn't care about the followers," she reasons. Lele has more Instagram followers than Juanpa and Ray combined. Even though Ray is a TV actor, she is technically much more famous than he is.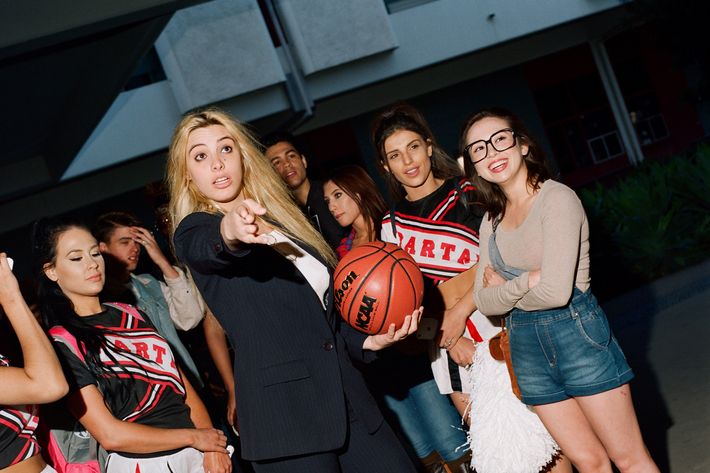 After several hours directing wannabe Musical.ly stars at the party house, Lele is still not finished with the video. She returns to her apartment with the camera crew in the late evening to shoot a few more scenes, including one where she sobs and sings along to Celine Dion in her bathtub. She started her day at 8 a.m. with hair and makeup, and when she finally wraps the shoot at 7 p.m., she has to talk to me, a stranger, while she is sporting wet hair and a fluffy white bathrobe from the bathtub scene. All she wants to do is eat pizza and go to bed. (She plows through three slices in silence before we begin our interview.)
What's it like living with your Mom? I ask her, once we are safely ensconced in her bedroom, which has bright pink and purple bedding and pop-art portraits of Audrey Hepburn and Marilyn Monroe hanging on the walls.
"She gets into my business too much," Lele groans. "But I love her, obviously, and she wants the best for me. She's being a mom but like, I've never lived without her. And that's a problem, because I'm never going to learn how to be responsible for myself."
Life has moved fast for Lele, and it seems like she cannot quite make sense of her current station in it. She barely even remembers how her social-media stardom began. When I ask about her early success on Vine, she says, "It happened so naturally." She tries to remember how she put videos together back then, but "It's literally like, going to the bathroom, like you don't remember which day of the bathroom you went. You know what I'm saying?"
In a few years, Lele will be officially too old to cosplay high-school life for her legion of tween fans. The hope is, of course, that they will follow her as she tries to act in mainstream TV and movies. She has had mild success in this arena already: a small part on MTV's Scream series, a leading role in a romantic comedy released on YouTube's premium-streaming service. Lele is convinced that her following will help her land more roles. "The more followers you have, the more you can promote your movie. You know? It's all like, a business thing," she says. Few social-media stars have been able to fully transition into mainstream work, however. Big names like Logan Paul and Lilly Singh still operate within a kind of Hollywood shadow industry, acting in heavily produced TV shows and movies that only exist online.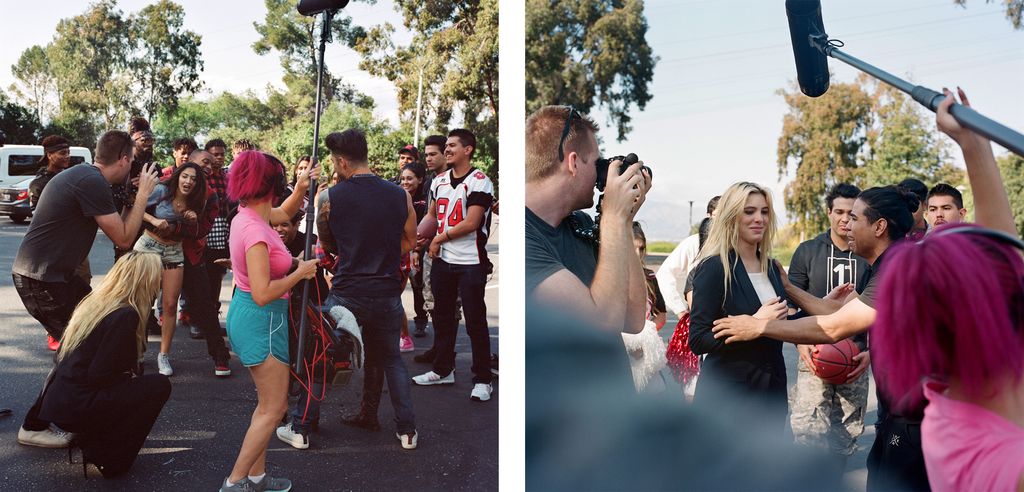 Lele's manager is confident she will find success outside of YouTube. "She's learning how to create longer-form content," he said. So far, she has worked her way up from six-second Vine videos to six-minute YouTube videos. "If you see the evolution from 6 seconds to 6 minutes," he reasoned, "eventually [her content is] going to be 22 minutes. And that's going to be a TV show."
What Lele would really like to do, of course, is direct. "Acting first," she tells me. "It's like Angelina Jolie. She acted, and then she directed a movie." One day, Lele hopes to win an Academy Award for best director; on a shelf in her bedroom, she has displayed a small, plastic Oscar.
For tonight, though, Lele is tired, and she is ready for me to get out of her room.
*The original version of this article incorrectly stated that Hailey Baldwin walked in the same Dolce & Gabbana show as Lele Pons.