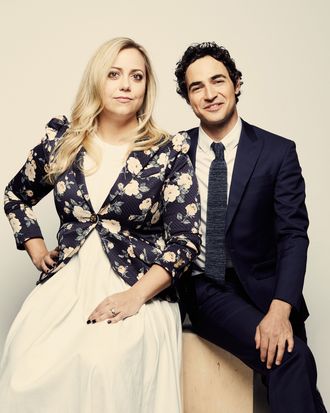 House of Z director Sandy Chronopoulos and Zac Posen at the Tribeca Film Festival.
Photo: Erik Tanner/Getty Images
In 2003, at age 23, fashion designer Zac Posen was something of a wunderkind — he'd launched his own label and won a CFDA award in a matter of two years. A year later, Sean Combs (then Puff Daddy) became one of his largest investors. Then his success shockingly unraveled, in 2010, when he lost a prime-time spot at New York Fashion Week (the fashion-world equivalent of having your desk moved to the basement) and unceremoniously left NYFW.
It happened after what many saw as years of ostentatious behavior — sniping at editors, publicly decrying fashion's business model, and wearing capes. The Times called him a "showman trying to project a sense of grandness." So the designer packed up his runway show and went to Paris, sparking more criticism in the media.
Now, in the documentary House of Z, which premiered at the Tribeca Film Festival last weekend, director Sandy Chronopoulos offers a candid look into Posen's early days, tracing his stratospheric rise in the fashion industry up to what the press called his fall from grace, and his comeback.
Featuring home videos and interviews with friends and family — including Naomi Campbell, Sean Combs, and André Leon Talley — the film shows Posen recalibrate after his ominous show in Paris: He refocuses his approach, ignores critics' opinions, and starts making big, old-school ball gowns again. We watch him expand the company and maintain his current atelier in New York, take on an additional role as creative director of Brooks Brothers women's, and redesign the uniforms for Delta Air Lines (a more recent project).
The Cut sat down with Posen to discuss the film, fashion's "dark side," and advice Anna Wintour gave him after that fateful Paris show.
The film opens with a foreboding line: "Fashion has a dark side." What is that dark side?
The rhythm today is quite intense. You have to be very prepared for it. I don't foresee it slowing down. Beyond fashion I think that culture has a side where they love to shoot you up like a clay pigeon and then take out their rifles. I lived that, and I got to see the perspective from up in the sky. At the same time, I had a very real refocus in my life and career. When I entered fashion a lot of people were in it for a lifestyle. And I realized at my core that is not who I was, and why I entered into fashion. It was a real transition from working to live to living your work.
In the film, there are some people who offer theories of what they think might have happened to you, and what explains the "fall" for lack of a better word. What do you think happened?
There are a lot of components to it. I think that I was so driven myself, and the pressures were so extreme of what needed to be reached that it was just not feasible. I think internally I pushed teams too hard and was too ambitious. There are a lot of internal industry politics that come into play. I think exposure is a huge element of it, and not having the payback.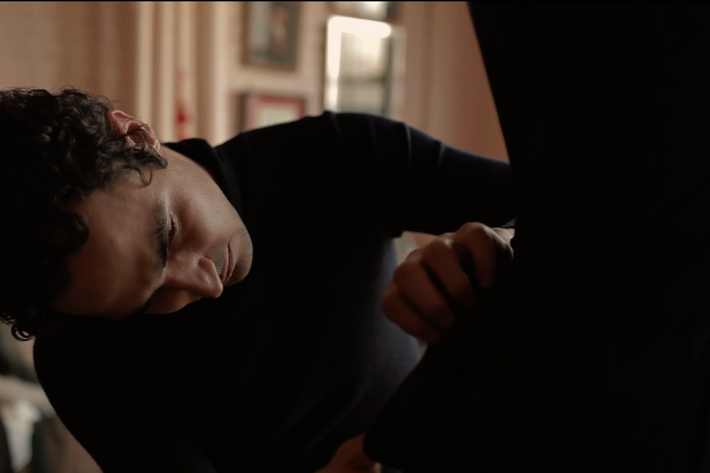 What do you mean?
Fashion is a pay-to-play game, this is an industry. At a certain point, you must bridge a gap where you are supporting the reviewer, the publication, and that is very real. Now that it has gone digital it is changing a little bit, but there are paid advertisers from fashion that the people who are supposed to be the critics are beholden to. But today I have a level of humility, I am very happy in my world, and the competition between different designers doesn't bother me. I try to be the best that I can be, and the best to the people that work for me.
Following your 2010 Paris show, your mother and sister left the company, and you started having very focused conversations with your new company president. What did you decide you wanted to do?
I have really good perspective on it now. We had our time slot kind of bumped out, and we had to react to that. We took this time slot, and it was really early. It wasn't one show, it was a year of shows that we kept up in New York, and that meant a 4:30 call time. But we went to Paris, and it was an incredible transitional moment. I had the perspective on who I was as a creator; what that represented to American fashion; the industry I had been raised in; a different level of partnership with my retailers; and what kind of clothing my work and craft lent itself to. That is a level of compromise to some degree, but it is very liberating. I have to give credit to Anna Wintour, she was very formative in that moment and helpful in our coming back to New York.
What did Anna Wintour tell you?
I can't quote her — but we talked about the American tradition of great social dressing, the high day and evening business, the gown business, and the tradition of the great Oscar de la Renta, James Galanos, and Charles James.
So much of this story is about resilience, what did you figure out as you grew up?
How to be a leader. At this point, we do over 16 collections a year, and you have to learn how to be a leader and collaborate. Collaboration is king, trust, delegation, knowing when your hand and eye comes into a process. I haven't seen that in a lot of fashion documentaries, and to me, in this crazy time we are living in, that is so important.