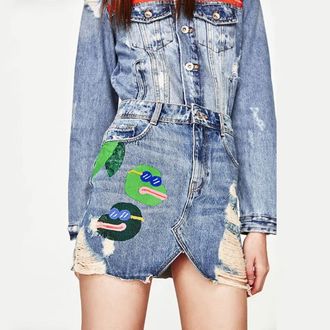 Maybe they've never heard of Pepe the Frog in Spain?
Photo: Courtesy of Zara
When it comes to offensive actions, Zara hasn't had the best track record. Back in 2014 there was that unfortunate decision to put a yellow star on a striped T-shirt, which drew comparisons to what Jewish citizens were forced to wear during Nazi occupation. Then in 2015, employees were fired for asking a woman to remove her headscarf before entering a store outside of Paris. Today, some keen-eyed shoppers noticed another peculiar symbol on the fast-fashion website: Pepe the Frog.
Zara added the design on a shredded denim skirt, as a part of its "Festival Edition" that also featured a jean jacket with a peacock and overalls with a cougar among other designs. Perhaps they didn't realize that the smug cartoon frog has become a synonym for the alt-right and the Anti-Defamation League declared it a hate symbol last year? It's since been pulled from the site but it goes to show — no good ever comes out of shopping the festival-fashion section.