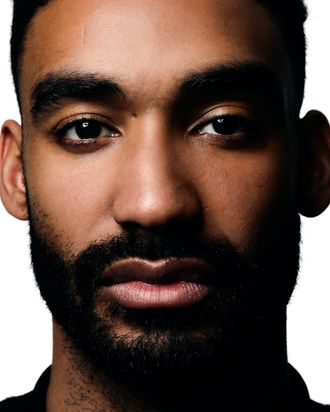 Zeke Thomas.
Photo: Bobby Doherty/New York Magazine
A year ago in February, Josh "Zeke" Thomas, the 28-year-old musician son of NBA legend Isiah Thomas, was raped, in his own apartment, by a man he met on Grindr. The experience came as close as any in his in many ways pretty charmed life to destroying him. "No one ever talks about this," he says. "Especially men — gay men. It's like, is it real, did it happen, is it believable?" He takes a deep breath.
I've known Thomas for a few years now through my boyfriend. They met at a party after Thomas took it upon himself to push aside a DJ who was doing a lame job; my boyfriend went up and thanked him for doing so. I've never not seen him in a state of wide-eyed, tongue-out (an oft-deployed Instagram face of his) charismatic bounce. But on this tentatively sunny late-spring New York day — just back from a weekend at Coachella where he'd DJed three gigs and still had his anti-desert-dust filtration bandanna hanging out of his pocket — he was, at least for him, subdued, as he tells me what happened to him and what happened a year ago when he was living in Chicago and making EDM music there.
"We had chatted on Grindr, and I had invited him to come by my studio since he was a singer," he says. "Nothing against Grindr. I've met great people on Grindr, I've had sex with great people on Grindr. I can't blame an app. But you don't know shit about people you meet on it." In any case, they'd not hooked up right away. "He seemed like a great guy. We hung out at the recording studio. And then a couple of days later he said, let's go to Boys Town," the gayborhood in Chicago, "for a drink."
He felt safe there: He'd had DJ gigs there. He knew bartenders. But by the time he realized something was wrong it was too late. "All I remember is … getting in the cab. I know that I got drugged. I knew probably the moment that it happened because something didn't taste right. But I didn't think about it. I just didn't think about it." The next thing he knew it was the next morning. "It was literally like with Bill Cosby. When those women were like: 'I woke up and he was fixing me breakfast or whatever.'" He pauses for a while, and then continues, quietly. "I woke up and he was handing me a glass of water and saying, 'That was great let's hang out again.'" He noticed that his dog was shut outside on his balcony, barking. And the guy leaves.
"My ass was destroyed. Destroyed. I'm bleeding," Thomas recalls. "And I'm just like — terrified. I can't move. I didn't move from my apartment for two days. I didn't move. I didn't talk to anybody. I froze." When he went to find the guy on Grindr, he either had blocked him or removed himself from the app.
Afterward, Thomas went a little bit crazy: not wanting to be alone, feeling manic. I asked Thomas if he told anyone, and when. He lowers his voice to a near-whisper. "I started getting into drugs and I started telling people when I was high. But they're high too. They don't want to talk about this shit." Eventually, while high on mushrooms, he told his parents, who flew him back to New York (his dad is part owner and president of the WNBA team New York Liberty), and got him to a doctor and into therapy.
That led him to write about it in song: He has a single, called "Dealin' With It," out next month, which, obliquely anyway, deals with it:
"I'm not beggin for forgiveness
But this time I've come undone
Let my spirit leave this palace
I can't find the strength to run."
It's not an easy thing to talk about directly. There is an attitude among gay men, or at least about gay men and in turn then internalized by gay men, that, as Thomas remembers straight friends saying, "'Oh, you guys are always down. You're always having sex anyway. You have Grindr; it's so easy.' And it's like — really? All guys? And even guys who are promiscuous have a choice."
Eventually, when he was not high, he began talking to his close friends about it. "Men and women. And they said: 'This happened to me.' Two of them said this happened to me multiple times."
And gay men don't talk about it — but they do often make jokes infused with a kind of casual self-hating gay bravado, about how you "can't rape the willing." The fact is, when I was younger, something very close to what happened to Thomas happened to me often enough that, when I think back on it, I realize that I'd come to think that it didn't count as forced sex if I'd managed to get the guy to put a condom on. This was before the age of Truvada, and I have friends who tested positive after not managing to do that, often because they were in blackouts, sometimes suspiciously so. And terrifyingly, although he was on PrEP, Thomas tested positive himself afterward, though it turned out to be a false positive when he was retested.
Until this, Thomas — who was born in Detroit while his father, the Hall of Fame player, was with the Pistons — was pretty lucky from the start. "I was born on the only off day he had to see me during the 1988 NBA finals against the Lakers," he says. His Instagram is one of those that gives off a casual feeling of a fortunate life, with happy friends and cameos ranging from Shaq to President Obama, not to mention his cute little dog Zeus.
His mother was a teacher, and he and his little sister were raised in the tony near-suburb of Bloomfield Hills and went to private school. Thomas is built like an athlete: One of the first things you notice about him is how long his arms and legs are. They seem to be everywhere at once; it's part of what gives him his physical exuberance.
"My arms and legs were always too big for my body!" he says. "My cousins always used to say: 'Josh, get it together.' But I mean once my body caught up, I could do all those things." He ran track and played basketball.
He says his father never pushed him to pursue athletics, though; he only asked that he "honor the family name. Respect the family name." The family was originally from Mississippi and moved north to find a better life, and as the civil-rights movement progressed, their opportunities increased, but it was never easy. His father grew up poor in Chicago, the youngest of nine children — "they all got out, my dad in a big way," Thomas says. In 1989, Disney made a TV movie about Isiah's childhood called A Mother's Courage: The Mary Thomas Story.
His parents have had friends who were gay — in fact, he remembers asking his parents what the word "gay" meant after he first heard it from a cousin. "You know, they love each other," his parents explained about a close-to-the-family same-sex couple at the time. "But they didn't go into the birds and the bees."
In the meantime, young Thomas was a Michael Jackson superfan (well, grown-up Thomas is too). "I used to perform full-on productions," of Jackson's music, he says, laughing raucously. "Set up chairs. Give tickets away." And, when he was in sixth grade, Queer As Folk was on TV, and he'd stay up late watching it.
When he was 12, an older cousin got a DJ mixer, and Thomas became obsessed with it, begging his father to buy him one too. But that same summer, something else happened: a "dick-showing" contest in the back of the van on the way back from a tournament turned into an assault. "All of a sudden my head was being jammed down," he recalls, on the other boys' penises. "I don't want to criminalize or demonize the perpetrators … But it wasn't something I wanted in the moment."
Shortly afterward his father got a job as the coach of the Indiana Pacers and the family moved. "I got away," he says now.
But in other ways Indiana was hardly an escape. "I remember my dad had to have a police escort to games because he had death threats for his being a black coach."
Then his dad was hired by the Knicks in 2004, and they moved to New York. He was in high school, and he suddenly felt like a Kardashian. "I didn't realize how big a star my dad was until we moved to New York." Tabloid journalists followed him, and everyone had an opinion about how his dad was doing. (As it turned out, he didn't oversee a particularly successful run, adding to the pressure.) And young Thomas became a bit of a club kid.
He returned to Indiana for college, though. Bloomington lacked clubs, but had Klansmen. In 2008, when Obama was elected, he remembers the Ku Klux Klan marching by his apartment in Bloomington in protest.
"You are dealing with two roads of hate in a sense: You're dealing with the fact that you're black and that you're gay," he says. "Your parents teach you how to talk to the police, this is what to say, these are the numbers to call if something happens," he says. But being gay is different. What do you do when someone calls you a "purse-carrying faggot" for carrying a too-fashionable bag on the subway?
I ask him why he likes being a DJ: It seems to be one place where he feels completely in control. "I compare it to being a puppeteer," he says. Behind the turntables, he can survey the room: "It's literally, dance, dance puppet. It's so much fun."
When he was 22, and living in Harlem and DJing in places like GoldBar and 1 Oak, he had a friend choke to death on his own vomit one night. That was the first time he made a song with a message: It's called "Regret."
The video for it is surprisingly slick, and it gives a sense of his life at that moment, handsome and young with other good-looking, well-polished, well-connected friends. They filmed it at the Thompson Hotel; Amanda Lepore and Taryn Manning appear, along with "a bunch of Mob Wives," he remembers. (As in, from the reality-TV show.) And while the message is to party responsibly, its good intentions are undermined somewhat by the fact that its debauchery is so glamorously presented.
In 2015, he released a song called "Blackness," with Chuck D and Pittsburgh poet and "RAPtivist" Jasiri X, both of whom he'd met through Sankofa, the networking organization started by Harry Belafonte. The video for it mixes iconic images from the civil-rights movement with, among other things, images of Thomas onstage in whiteface, intended as a kind of protest for the minstrelsy mainstream culture often requires of black artists in order for them to succeed. The tone is at times a bit unfocused but still powerful; Paper magazine called it a "civil-rights anthem for the EDM generation."
Thomas was once told by a manager that he wouldn't make it as a DJ if he didn't "tone down the gay." But he isn't interested in toning anything down, and his new song is part of that. Last year, he'd been planning on going to London to record, but his manager thought all the songs he made were just somehow off, distanced. He advised him: "'Write about you,'" Thomas recalls. "Which isn't the same as writing about sexual assault."
He arrived in London almost a year to the day after the assault (on that day itself he had to excuse himself from a photo shoot to go outside and scream for a while). Then he wrote "Dealin' With It."
And he sings on it — a first for him. "Way more exposing," he admits.
"Cut the strings and cut me loose
I got some things I need to do.
I'm dealing with it."
To help others do the same, he's become the first male ambassador for the National Sexual Violence Resource Center. But mostly he's just happy that he is, in fact, honoring his family name.
"You look at my dad and Magic [Johnson, whose son EJ is also gay]. You have strong black men, whose sons are gay and are also strong black men, who are living their truth and expressing their truth," he says. "I want every young black, brown, white gay kid to know that we're going to breathe. We're going to keep going. We're going to keep marching."