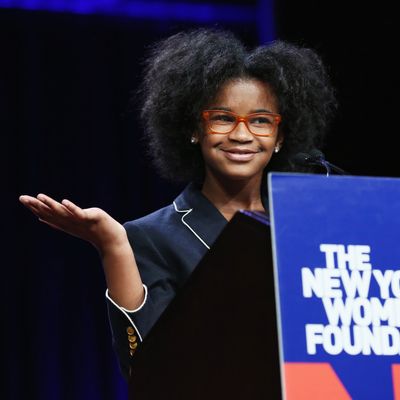 Marley Dias at the New York Women's Foundation breakfast.
Photo: Monica Schipper/Getty Images for The New York Women's Foundation
When she was only 11 years old, Marley Dias started a book drive — #1000BlackGirlBooks — to collect books that had black girls as the main characters. Now, at age 12, Dias has collected more than 9,000 books to donate to communities across the country — and she's also writing a book of her own (set to be released in January). Last year, the Cut named Dias one of the few things actually worth celebrating in an otherwise dreary 2016, so we jumped at the chance to chat with her at the New York Women's Foundation's Celebrating Women Breakfast on Thursday. Dias filled us in on the latest with her campaign and her own book, and also showed us what she was carrying in her Star Wars R2-D2 purse (it was, obviously, a book).
Can you tell me a bit about the book you're writing?
Marley Dias Gets It Done — And So Can You is a book about how girls who are 10 and up — and everyone who is 10 and up, basically — can use their gifts and talents to help the world in a way that's unique to them. So I've been able to use the #1000BlackGirlBooks campaign to promote diversity, because I saw a problem that I resonated with. I want to be able to show other kids how they can do that, and it's not as difficult as it seems.
What sort of tips are you including in your book?
I talk about how to use social media, why I don't Google myself, and how to use your community resources — like if your mom works this job and there's 200 people in that office, how can your mom contribute to what you want to do. [I want to show people how] to create this web of people who want to support you and how they can help you achieve your goals.
Oh, what are your social-media tips?
I think that hashtags are a very important thing. My campaign is a hashtag, so I try to make sure there's one specific place where you concentrate what people want to look at. So there's one easy place for people who want to find you, which can just be looking up a hashtag, looking up a name, creating an image. If you have a logo that's a tree with a bunch of books on it — that could have been my logo and people would see that and automatically connect that with me. Try to come up with something that's unique to you, that people can obviously create them self or think about easily.
Not Googling yourself sounds like a very healthy idea. Why do you not do that?
I don't want to bring negative energy to myself, and if people feel one way about me, I don't want that changing how I feel or what I believe. Sometimes when you Google yourself, you see what other people believe. If people say my campaign is bad, I don't that to affect the work that I do.
You obviously read a lot. What books have stood out for you this year?
This year, besides Brown Girl Dreaming by Jacqueline Woodson and One Crazy Summer, would have to be The Education of Margot Sanchez and Shadowshaper, which are two very good books and the sequels are coming out this year. I like that they could definitely resonate with everybody. They have issues that were focused on race and gender, but they made up a story that everyone can connect with and show the importance of the issues that the girls saw in the stories.
Are you reading anything right now, or are you too focused on writing?
Actually there is a book in my bag. It is not a black-girl book, but I am reading Harry Potter because I hadn't read that yet and a lot of people have been judging me because I hadn't read that. I like it a lot. I think it's a really good book.
I just noticed that your bag is amazing. Can you tell me about it?
This is my R2-D2 bag. Star Wars is my favorite movie series ever. I like the old ones better than the new ones, but I like all of them. R2-D2 is not my favorite character actually — my dad's is Boba Fett and mine is Padmé Amidala and Han Solo — but he's a cute character, so I got the bag.
How are you juggling writing a book and going to school right now?
It's a lot of work, but it's worth it to me. And once I have new opportunities, I want to show how I can use them and how other kids can use them as well. So I want to make sure that I'm doing this so that I'm able to help others, and if that means I have to take off time from school or I have to do the book before I do my homework, or if I have to go outside and meet people, then I want to do that, because I want to show people that they're able to do both.
Have you seen a change in diversity in books since you started your campaign?
Yes, definitely. In my hometown of West Orange, New Jersey, I've been able to see that the books were changed to black-girl books after my campaign started. That's obviously work I want to do, but I want to be able to do it on a global scale, so I want to be able to help in areas of New York but I also want to be able to help in areas of Thailand, Jamaica, France. I want to make sure it's something that happens everywhere.
In what ways do you hope to inspire other young girls?
I want young girls to know that their passions are important and that they should pursue them, regardless of whether or not they think that they'll be successful in terms of the mainstream. I'm a lucky person to be able to be successful in media and stuff, but I don't think that's something every person should aspire to. I think you can use yourself and your community as a more important resource, and you should use and evaluate and uplift more than just what you see on your phone or what you see on TV.
You've already accomplished so much. So, my last question is, what do you want to be when you grow up?
I want to be a magazine editor for my own magazine or a TV and film producer.
This interview has been edited and condensed.