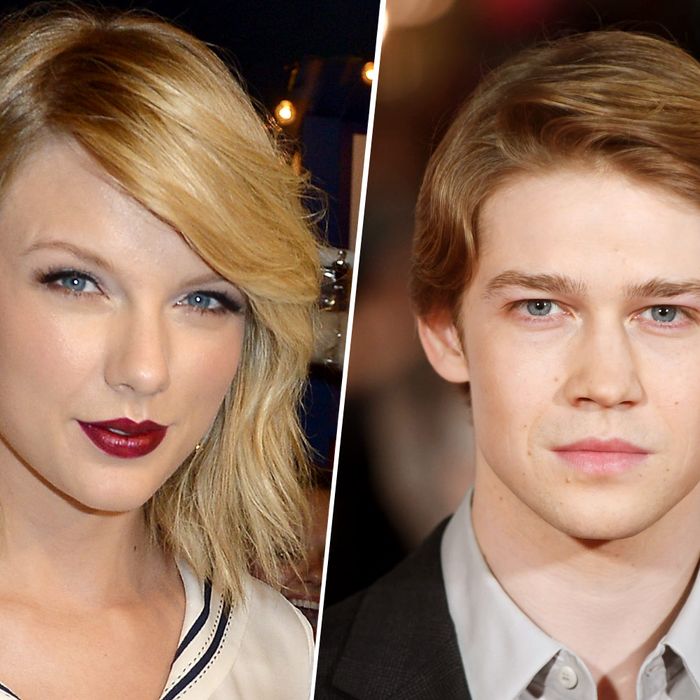 Taylor Swift and Joe Alwyn (?).
Perhaps you've heard that Taylor Swift, the boyfriend girl, has a new boyfriend. He is a 26-year-old British actor named Joe Alwyn, according to an exclusive report from the Sun — the same paper that revealed the existence of Swift's last boyfriend, Tom Hiddleston. Now, let's answer the question on every earth angel's mind: Who is Joe Alwyn?
There are, apparently, a lot of things to know about this relatively unknown man. Us Weekly published "5 Things to Know" about him this morning. So did Entertainment Tonight. E! News went with the slightly more urgent "5 Things You Need to Know," while People came up with a paltry "Four Things to Know." Lucky for you, I read all of these things, plus a few other websites like "Joe Alwyn: Wikipedia" and "Joe Alwyn - IMDB." Here is everything I know, that you might need or want to know, about the man we all have to know now.
1. Joseph Matthew "Joe" Alwyn was born on February 21, 1991. (Pisces.)
2. According to People, he is "family oriented": He developed a love of acting by watching movies and plays with his parents in his hometown of Crouch End, London.
3. According to Us Weekly, he is very family oriented: He still lives with his parents. (Likely not a deal-breaker for Swift, who dated Conor Kennedy when he was a senior in high school.)
4. E News! reveals Alwyn is "kind of a model." He posed for a Vogue photoshoot with Swift's squad member Gigi Hadid in September 2016.
5. He has an iPod. "I still use my iPod all the time," he told Vanity Fair last year.
6. He has blue eyes.
14. His first movie was 2016's Billy Lynn's Long Halftime Walk, a title I have read approximately 43 times now and still cannot remember.
15. He did not vote in the 2016 presidential election in the United States.
17. A source tells the Sun, "Taylor and Joe are the real deal, this is a very serious relationship."
31. According to IMDB, Alwyn surprised someone on the set of that first movie he was in. "His American accent in Billy Lynn's Long Halftime Walk (2016) was so convincing that his co-star Steve Martin had no idea he was from England until a few weeks into production," the website claims.
32. Another source tells the Sun, "This isn't a new couple alert or a secret relationship — the only people this has been a secret to is the media because all of us, Taylor and Joe's closest friends and their families, were aware they have been together for several months and have known each other for a long time."
34. Alwyn is friends with Aaron Paul?
37. According to Us Weekly, he's "wary of fame."
Wow, that was a lot, but now you know it.