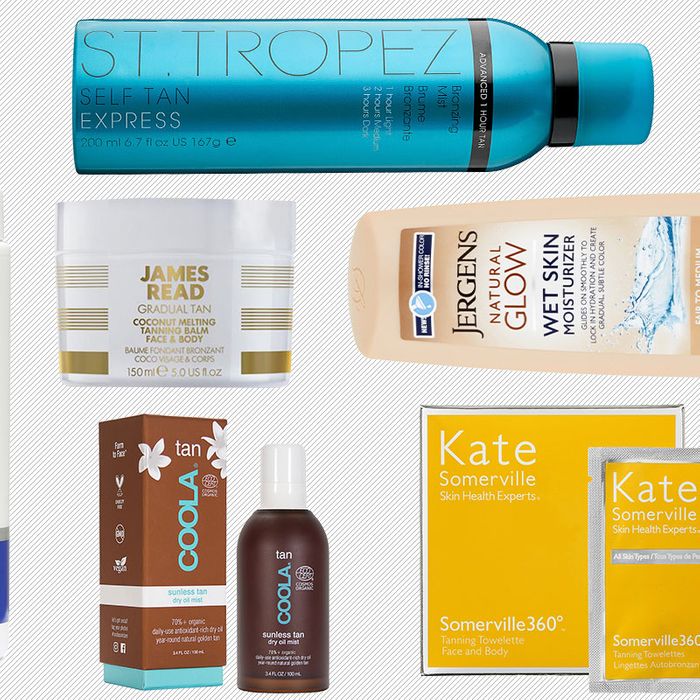 Achieving a fake tan that looks perfectly natural is a guaranteed way to look slimmer, trimmer, and all-around healthier. But, traditionally, the process is time consuming (waiting for it to dry), takes commitment (weekly maintenance), and requires patience (splotches, bad odors, and a general mess are far too common). The latest body tanners, however, promise to absorb fast, to smell better, and to keep your towels, sheets, and bathroom clean in the process.
Intrigued by these claims and in pursuit of transforming my own pasty limbs before summer, I spent the last month exfoliating, spraying, rubbing, and blending formulas both new and old. The bottom line: Most formulas will always have some kind of scent, but I found the drying time to be quick, the color natural, and the application processes pretty seamless. These options deliver (almost) instant sun-kissed skin — UV damage not included.
Disclaimer: Unlike facial tanners, which often contain pricey antiaging ingredients, bronzing the body is about covering surface area; and just as you wouldn't slather an expensive jar of eye cream all over your legs for moisture, the same goes here.
Longest Lasting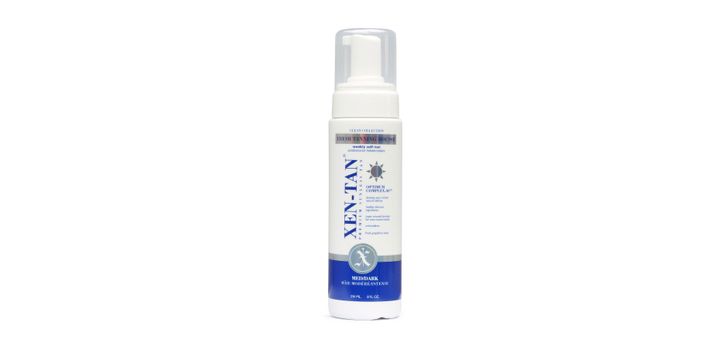 If it's that just-back-from-the-islands glow you're after, consider Xen Tan's mousse. The formula, which is dispensed through a pump, is a wet consistency that is easy to blend with the help of a mitt. The color is white (read: no bronzing color guide) so while there's no worry about the formula transferring onto clothing or sheets as it develops, it also makes it more difficult to see if you missed an area (luckily, I didn't). My only issue was the scent — a bit too fruity and vanilla-y — but it faded after the product absorbed and was still far better than the quintessential gym-sock scent of tanners past. All in all, the color was bronzy yet believable — a beach-y glow that lasted a full week.
Least Smelly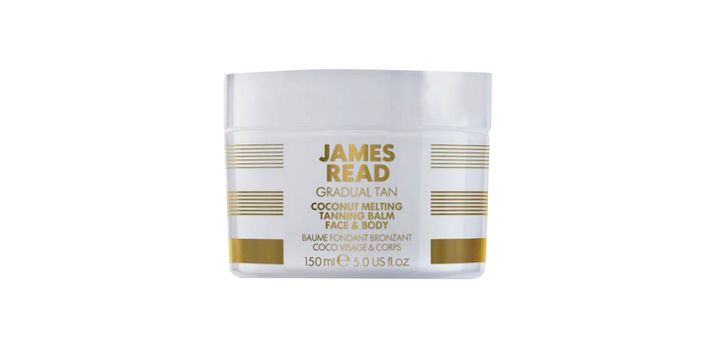 This solid coconut balm smells heavenly by any product standards — let alone a self-tanner — transforming from a thick paste into an oil the moment it hits the skin. Be sure to read the fine print on the tub advising to "apply sparingly" or prepare to become one big greasy surface (I actually had to blot the excess with a damp paper towel before I could get dressed). Aside from my overapplication slipup, this highly hydrating product is quite luxurious to rub onto the skin. While the formula does not contain a bronze color guide, the clear glossy sheen ensures you don't miss a spot. The color took about six hours to show up, and the deeply moisturizing blend left my skin with a supple glow that's usually reserved for vacation.
For an Instant Glow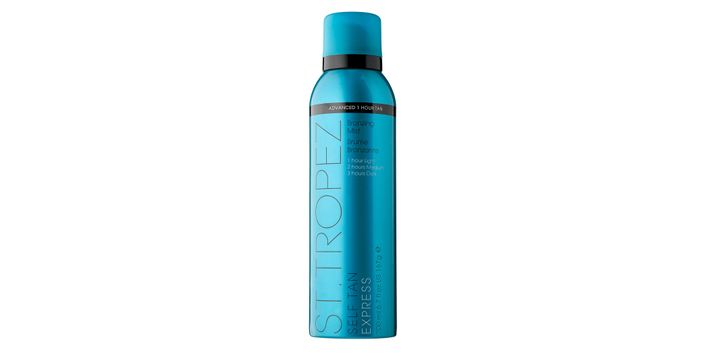 While no self-tanner smells as pleasant as James Read's coconut-infused oil, St. Tropez's new continuous mist is a close second. That's because the company called upon the fragrance noses at Givaudan to create a floral powdery aroma that doesn't make you want to hold your breath until it's time to shower. What's also unique is that after misting and blending it with a mitt, you wait one to three hours before rinsing it off for a light, medium, or dark tan respectively. It dries instantaneously so feeling sticky was never a concern. I waited the full three hours (my see-through limbs needed all the help they could get), showered, and eight hours later my legs looked tan without a single streak — like my own skin, only healthier.
Best All-Around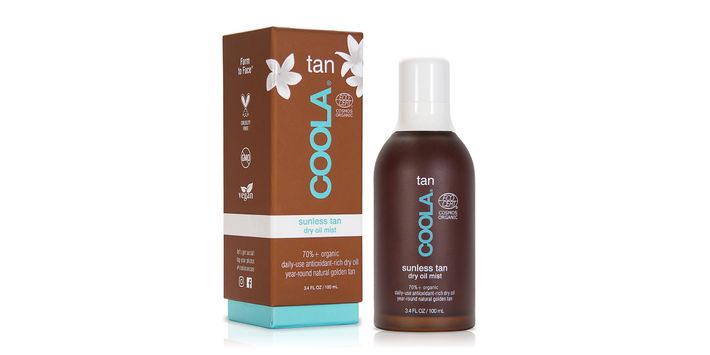 Usually when I apply self-tanner before bed, I'm sprinting to the shower as soon as I wake up. Not the case here. I actually forgot to shower in the morning because it left not even an iota of scent or stickiness behind. Coola's self-tanner checks off all the other boxes, too: zero mess, no streaks, and the color is noticeable and natural after one use. The oil formula is very dry and extremely lightweight so it absorbed quickly without leaving behind a slick coating on my skin. Unlike St. Tropez's continuous mist, this one sprays out in little bursts, but also requires blending in circular motions with a mitt. It's best for a short-lived glow as it only lasts up to three days, but considering the simple application process, the maintenance isn't a deal breaker.
Easiest for Travel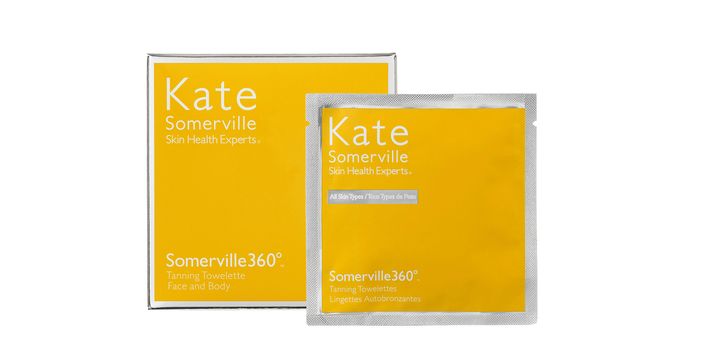 For those who self-tan while traveling, these individual-use wipes won't spill in your suitcase and can be used on the face and body. The color lasts a full week. As far as application processes go, this one is mess-free and quick to dry (I went to bed ten minutes after using them and my skin never felt tacky), and the resulting color gave my body a natural glow sans streaks. The formula also contains tea tree and cucumber extracts to help soothe the skin. There is a DHA scent, however, and you'll want to rinse in the morning before going out. My only difficulty was the large size of wipes; I cut them into smaller pieces to make the fabric easier to maneuver on my skin — problem solved.
Fastest Application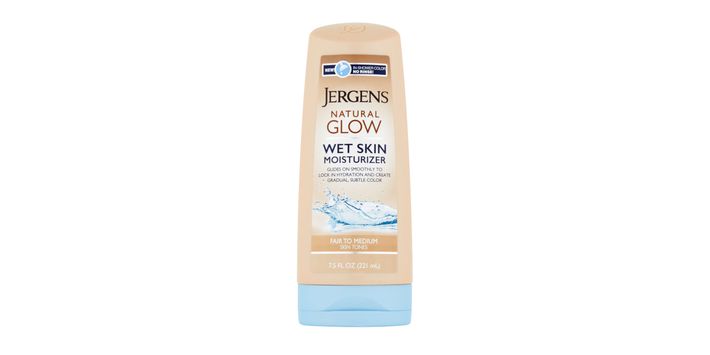 This self-tanner works double duty delivering extremely gradual color and hydration to skin simultaneously. You apply the moisturizer to wet skin post-shower and pre-towel-off, and once it's rubbed in, you can pat dry and you're done. The formula looks like a moisturizer and feels like a moisturizer and you'll recognize the scent if you've used Jergens products before. I didn't notice any color changes on my skin until day three; and to take your body a full shade darker, you'll need to commit to using this daily for one week. Tip: don't forget to clip up your hair before using this one —sopping wet hair + globs of moisturizer don't mix.
If you buy something through our links, New York may earn an affiliate commission.