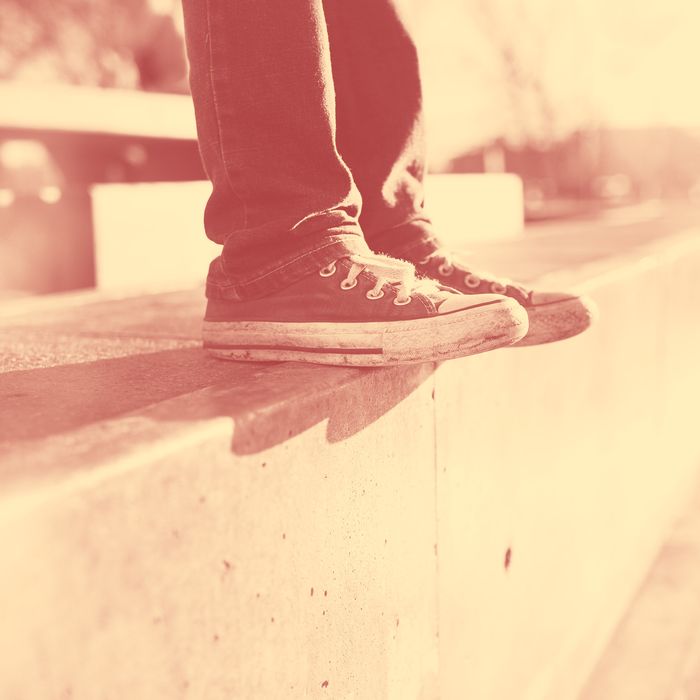 Photo: Nick David/Getty Images
If you've watched Moonlight, you know that the film's central character, Chiron, is bullied and disliked from the first day he sets foot into his kindergarten classroom. This happens to a lot of little kids, and there's a reason it elicits viewers' sympathies — it feels so deeply unfair. After all, the kids don't hate Chiron because of who he is or what he does; they hate him because of how they feel about who he is and what he does.
It's a subtle difference, but when it comes to kindergartners, subtle differences can mean a lot more than you might think. That's the argument of a new study, recently published in the journal Frontiers in Psychology, that explored the reasons why young kids choose to socially reject their peers. Up until now, studies of peer rejection in childhood have looked mostly at the rejected child's behavior, study author Professor Garcia Bacete explained. These have been illuminating, of course, but they've overlooked massively important factors — including the thought process of the kids doing the rejecting.
Bacete and his colleagues interviewed more than 800 kids between the ages of 5 and 7, asking them to describe which of their classmates they disliked the most, and why. Once the researchers had collected all their information, they pooled and compared the data from each kid, allowing distinct categories — and distinct reasons for disliking — to emerge.
Most of the reasons the children gave could be directly traced to the individual child's behavior: They were aggressive, they stole things, they interrupted in class. But the researchers also found that, strictly speaking, these behaviors themselves don't trigger social rejection. More important is how the kids interpreted these behaviors, particularly in their wider social context. The more one child's behavior threatened the security or status of the group, the more likely they were to be shut out by the group members. As Bacete put it: "What actually leads to rejection are the rejecters' interpretations of the child's behavior, and whether they think it will have a negative impact on themselves or their social group."
Focusing on the kids who turned away their peers also allowed the authors to discover two new behavioral categories that previous rejectee-focused studies have overlooked: preference and unfamiliarity. Preference is the ability to discern between likes and dislikes ("I don't like their games"), while unfamiliarity refers to the tendency to choose the familiar over the unknown ("We don't play together," "I don't know him/her.") Both areas are wrapped up in identity and belonging: What you like is who you are, and the same goes for what you know. Together, these two categories made up more than 25 percent of the kids' stated reasons for rejecting a peer.
This study in no way diminishes the importance of kids acting with kindness toward their peers on the playground. However, for kids like Chiron, or others whose negative treatment seemingly comes from out of nowhere, these findings should come as at least a little bit of a relief: If your well-meaning behavior is getting misinterpreted, there's some solace in the knowledge that the problem is with them, not you.