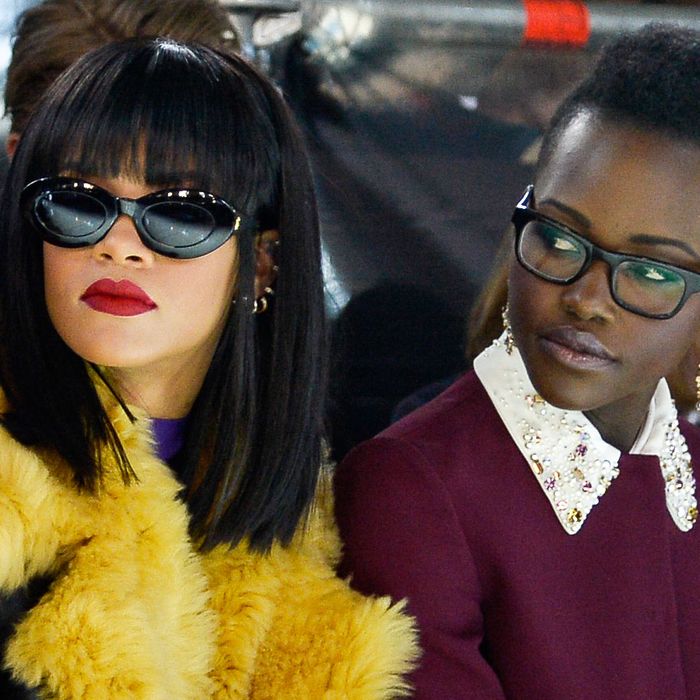 Rihanna and Lupita Nyong'o.
Photo: Getty Images
Twitter may have helped Donald Trump get elected, but you can't say that the microblogging service hasn't done anything good for the world. Today, in what might be the internet hive mind's most remarkable achievement, EW reports the Rihanna/Lupita Nyong'o team-up film that started as a meme is becoming a reality.

In April, a photo of Rihanna and Lupita sitting together at a Miu Miu fashion show went viral after Twitter user @1800SADGAL pointed out that it looked like a still from the world's greatest buddy flick.
Others on Twitter took the idea and ran with it, sharing ideas for the film and clamoring for Ava DuVernay and Issa Rae to join the project. Ultimately, the fan response was so effusive that all four women jumped onboard.
Now, unbelievably, it's actually happening. Per EW, Netflix won the rights to the project in a "very aggressive" bid. Sources say that Rae has started work on the script, with the goal of starting production in 2018, once DuVernay has finished her current film. And it doesn't sound like they'll have much trouble filling out the cast:
We just hope that DuVernay & Co. remember to give credit where credit is due: