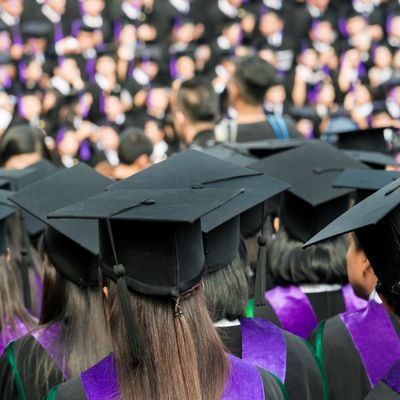 Graduating with debt.
Photo: Prasit photo/Getty Images
Women currently hold two-thirds of the $1.3 trillion in outstanding student-loan debt in the U.S., but because of the gender pay gap, it takes them far longer to pay off their loans than men. A new report illustrates that, as a result, student-loan debt isn't just a national crisis — it's also an issue that disproportionately affects women.
The American Association of University Women's "Deeper in Debt" report found that, of the 44 million borrowers in the U.S. who currently hold outstanding student loans, the majority are women. Of course, part of that stems from the fact that more women enroll in American universities than men — in the fall of 2016, women represented 56 percent of enrolled college students across the country. Nearly 44 percent of female undergraduates take out student loans, as compared to 39 percent of male students, and they also have less disposable income to repay their loans after they graduation.
"Following graduation, women repay their loans more slowly than do men, in part because of the gender pay gap," the report said. "Women working full time with college degrees make 26 percent less than their male counterparts, though the gap is somewhat smaller immediately after college (18 percent one year after graduation and 20 percent four years after graduation)."
The report concludes that policymakers must take steps to support students and reduce or eliminate the need to take out student loans in the first place. For instance, making more need-based grant aid available to students and supporting different repayment approaches may be able to help. "We can do better," the report said. Not if students are considered customers.