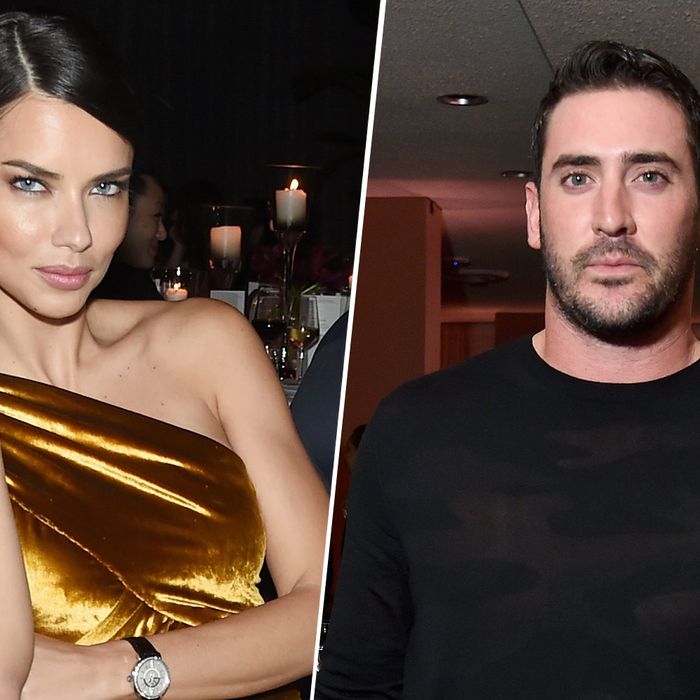 Adriana Lima (left), Matt Harvey (right).
Photo: Getty Images
We live in a crazy time: Teens are showing up to prom in coffins, the Paris Climate Agreement is tearing the Tiffany & Co. Facebook community apart, and now, something complicated and confusing is going on with New York Mets pitcher Matt Harvey. Allow me — a sports fan who is aware that the Toronto Blue Jays won the World Series in both '92 and '93, but who is mostly interested in this because of Adriana Lima — to guide you through this mess.
Okay, so who are the key players?
Well, first of all, there's Matt Harvey. According to MLB.com, he's 28, has been pitching for the baseball team the New York Mets since 2012, and seemingly does not possess the desirable beachy waves of other MLB players. There's also Adriana Lima, a Brazilian-born supermodel who I follow on Instagram, and who casually dated Harvey after breaking up with New England Patriots star Julian Edelman in February.
So, what happened?
Matt Harvey, whose nickname is apparently "The Dark Knight," skipped a Mets game on Saturday. He claimed it was because he had a "migraine," according to the New York Post, but that's also the excuse you give anytime anyone invites you to an improv show, so no one really believed him.
The "top brass" of the team sent Harvey home when he showed up to a game on Sunday, and ended up slapping him with a three-game suspension for going AWOL, according to the Post.
Ah, so were the Mets mad?
Yes! Apparently lots of people were pissed. Mets's top brass? Pissed. Fans? Pissed. Teammates? Pissed. Mets infielder José Reyes — best known for being suspended for 52 games last season for assaulting his wife — even told the Post, "As a grown man, you've got a job to do. You have to understand: If you don't show up, you're going to pay the consequence."
But we get the sense that the plot is about to thicken …
Oh, it is.
Go on.
Turns out, Harvey's "migraine" may have just been a "hangover," as he was spotted at 1 Oak until 4 a.m. on Saturday. At first, "Page Six" reported he was merely "celebrating a late Cinco de Mayo," and then went golfing the next morning. But then, it turned out he wasn't celebrating at all! No, he was actually apparently an "emotional wreck" because … drumroll … of Adriana Lima.
But WHY?
Harvey and Lima were apparently dating for a little while (they were pictured kissing in Miami in March), but Harvey reportedly thought they were serious, while Lima viewed it as more of a casual fling, according to "Page Six." And then, on May 2, Lima was pictured "stepping from a limo and heading into Rihanna's Met Gala afterparty" with Edelman (who, you will remember, is her ex-boyfriend). The model was reportedly "flirty" with Edelman during the event, and then to make matters worse, "Page Six" claims she unfollowed Harvey on Instagram after the event.
Oh no!
Yesssss. Baseball sources (idk) told "Page Six" that Lima "really messed with Matt Harvey's head." On Tuesday, the baseball star apologized during a press conference.
Okay, so what's the latest …
Less than 24 hours after Harvey's apology, Lima seemingly shaded the baseball player through an Instagram post of an inspiring quote about responsibility, according to "Page Six." The quote reads, "He who works with his hands is a laborer. He who works with his hands and his head is a craftsman. He who works with his hands and his head and his heart is an artist. — St. Francis of Assisi." And Lima added, "RESPONSIBILITY EQUALS THE LOVE ON WHAT YOU DO."