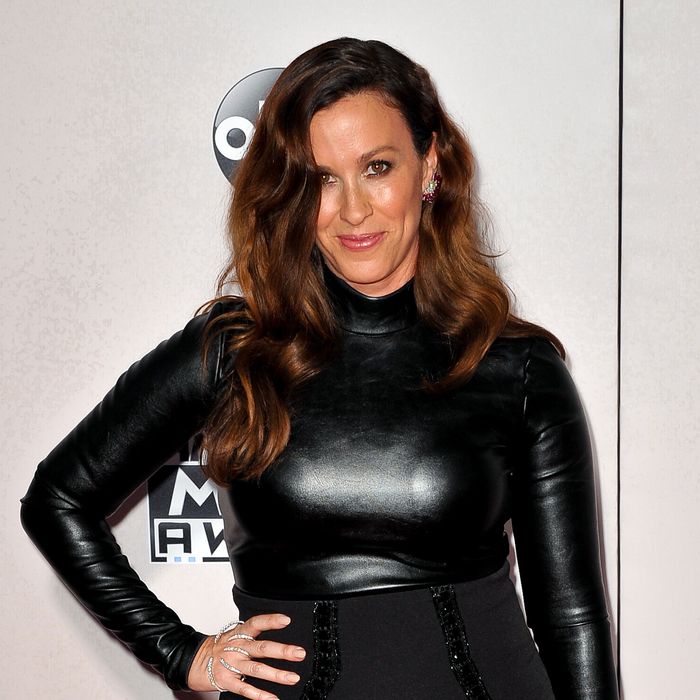 Alanis Morissette.
Photo: Allen Berezovsky/Getty Images for Fashion Media
One of the most influential albums of our angsty teenage years will soon be a musical. That's right, the musical adaptation of Alanis Morissette's 1995 classic Jagged Little Pill — with a book written by Juno scribe Diablo Cody — is set to open in May 2018, much to the delight of those of us who listened to that album on repeat throughout high school and still have lingering feelings of resentment toward Full House star Dave Coulier.
According to a press release, Jagged Little Pill (the musical) will feature all of our favorite tracks from Jagged Little Pill (the album), including "Ironic," "Hand in My Pocket," and of course, "You Oughta Know." The musical will feature a story line written by Cody (and with "close creative consultation" from Morissette) that centers on a "modern and multigenerational family and their complex dynamics," while dealing with race and gender-identity issues. It will premiere at the American Repertory Theater in Cambridge, Massachusetts.
"This team that has come together for this Jagged Little Pill musical is my musical-theatre dream come true," Morissette said in a statement. "The chemistry between all of us is crackling and I feel honored to be diving into these songs again, surrounded by all of this searing talent. Diablo and [director] Diane [Paulus] are already taking these deeply personal songs that are part of my soul's marrow to a whole other level of hope, freedom, and complexity."
Thankfully we all have a full year to grow our hair out long, reread our old teen diaries, and practice singing "I want you to know, that I'm happy for you" in the mirror before the show opens.