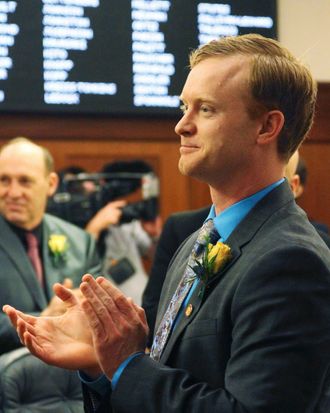 Rep. David Eastman.
Photo: Mark Thiessen/AP
There's no shortage of lawmakers making infuriating, illogical statements about abortion. This year alone, Texas state representative Tony Tinderholt posited that criminalizing abortions would force women to be "more personally responsible." There was Oklahoma's George Faught defending banning abortion in cases of rape or incest because "God can bring beauty from ashes." And the most recent inanity comes straight to you from the state Alaska, where Republican state representative David Eastman is insisting that some women purposely get pregnant so they can get a free abortion vacation. Fun!
Eastman's comments came up in the context of a discussion about an Alaska House resolution meant to raise awareness about child abuse and sexual assault; he added an amendment calling abortion "the ultimate form of child abuse."
"We have folks who try to get pregnant in this state so that they can get a free trip to the city, and we have folks who want to carry their baby past the point of being able to have an abortion in this state so that they can have a free trip to Seattle," he told the Associated Press, in reference to the fact that Medicaid can fund Alaska women's travel to either Anchorage or Seattle (the latter if a woman is in her second trimester) to obtain an abortion.
Because underserved women are absolutely lining up to go through a logistically and potentially emotionally and physically difficult experience if it means they also get to check out the first Starbucks store while they're at it.