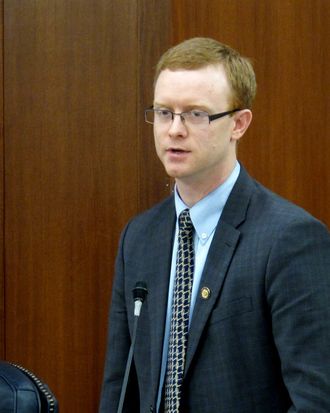 Dave Eastman got in trouble for his comments about abortion.
Photo: AP
Last week, Alaska state representative David Eastman claimed that women got pregnant on purpose so they could travel to Seattle for a "free" vacation and an abortion. His comments led to at least one dramatic dye job and an unusual move from the House of Representatives: on Wednesday, the House voted to censure (i.e., formally reprimand) him.
Before the vote, Eastman took the House floor for 20 minutes, where he apologized for his comments (which he'd repeated several times to media) and asked forgiveness from anyone he had hurt. According to the Alaska Dispatch News, he added that, "We will not solve the true, real problems of our state by finding people to silence." (One of his colleagues called the speech "the worst apology ever.")
The vote to censure Eastman fell along party lines, with most members of the Republican minority voting against it for fear it would restrict members' free speech. This is the first censure Alaska's state legislature has approved since 1994, when it reprimanded Representative George Jacko for soliciting sex from minors.
Eastman made the "free trip" comment during a discussion about a House resolution meant to raise awareness of child abuse and sexual assault; he added an amendment calling abortion "the ultimate form of child abuse."
"We have folks who try to get pregnant in this state so that they can get a free trip to the city, and we have folks who want to carry their baby past the point of being able to have an abortion in this state so that they can have a free trip to Seattle," he said. As a previous Cut post points out, he was referring to the fact that Medicaid can fund an Alaskan woman's trip to either Anchorage or Seattle for an abortion.