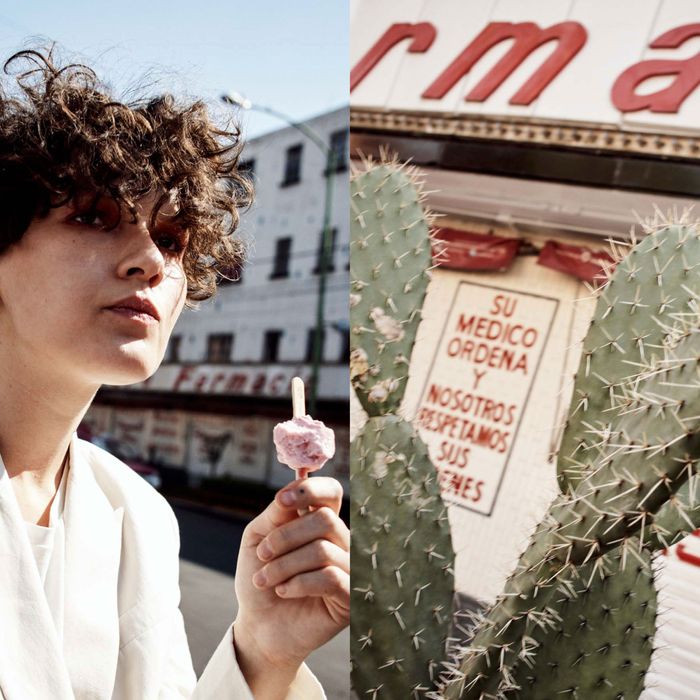 A shot from AllSaints' I Love Mexico City project.
Photo: Courtesy of AllSaints
The DNA of British brand AllSaints is fairly synonymous with that of its creative director, Wil Beedle. Having been with the brand for 14 years after studying at Cambridge and moving to Paris, Beedle is now spearheading "global creative initiatives" in addition to ad campaigns. It's a moniker that only a career creative would think of, but Beedle's premise is fairly simple: Rather than producing a campaign, AllSaints is spotlighting artists in cities around the world through street-cast projects, ranging from photo shoots to short films. As a self-described creative junkie, Beedle told the Cut he was searching for a noncorporate, ungentrified vibe — or he put it, "the real deal" and "f****** chaos."
His vision took the AllSaints team to Mexico City for a week in March. What started off as just a quick trip rapidly expanded into a larger community collaboration to cast, shoot, and print a look book, shoot a film, and throw a party, all in seven days. Over 500 people gathered for the project's launch party at the end of the week, partying to music by local DJs. AllSaints filmed their night together and scenes throughout the city. They left with the brand's new short film, I Love México City, premiering May 18 on its website. The film comes with a look book of images shot by Beedle of the launch event in Mexico City.
Talking to Beedle, it's clear that AllSaints' focus, even possibly above the leather jackets the brand is so well known for, is venturing into new forms of expression. The creative director, who looks like he could have hung around Vivienne Westwood and Malcolm McLaren in 1970s London, says he was immediately taken with Mexico City's authentic creative energy. He recalled meeting with a local artist named Scarlett, who told him that Mexico City is the "modern-day equivalent of downtown Manhattan in the '70 or '80s, that kind of mythical scene that everyone now fetishizes. It's cheap here, there's space to work and live, there's a proper community of us across the city, and it's chaotic and edgy and has spirit. It's like nowhere else in the world.'"
To capture that energy, AllSaints commissioned graphic designers, models, and other broadly classified "creatives" to create the special look book, organize the party, and produce the video set in Mexico City. Beedle credits the quick seven-day turnaround to the amount of help the brand received from Mexico City's artists' network. "Everyone we met was like, 'Oh my roommate can help' or 'My ex-girlfriend knows a graphics designer,'" he says.
While it's not exactly new for designers to look West or to street style for inspiration (see the rise of social-media influencers or Dior Cruise 2018) the look book doesn't feel like a glossy tome. The styles are more muted, the photos more intimate. Casting Polaroids show couples together, tattoos, and attitude.
Click ahead to see photos exclusively shared with the Cut — of melted ice creams, toy cars, and fringed jackets from the look book, previously only seen at the launch party. Watch the trailer of the film below.