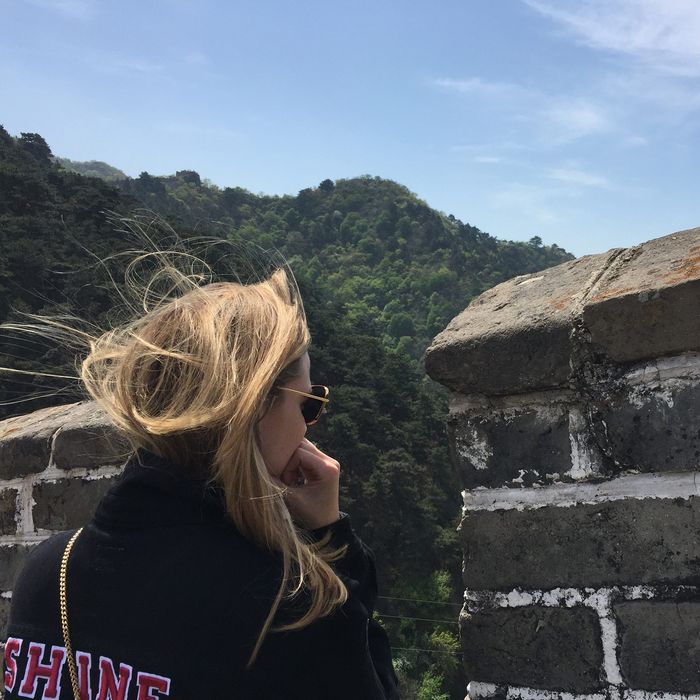 Weekend With is an ongoing Instagram series that features people we like photographing places we'd like to be. Follow @thecut on Instagram to join in, and tag your photos with #weekendwith when you travel somewhere new.
Amanda Shine is the founder of New York–based ceramics company the Setting. What started as a small, handmade pottery company in a Soho studio grew into a handmade pottery and event-planning company in New York. Amanda and her business partner Billur Kazaz have planned parties for Whitney Port, Maman, and some lucky brides.
Shine and Kazaz took a journey through Beijing last week, where they explored the Great Wall, took a look at some very fancy China (like this Hermès set!) and drank plenty of tea. Shine says the highlight of the trip was learning about the ancient arts of porcelain and pottery production from Chinese experts, and bringing home some new information for the Setting.
Production research, walking the Great Wall, and exploring the different neighborhoods of Beijing (and those several hours outside of the city!) were all part of the duo's trip. Wrapping up with visiting the spring peony display in Jingshan Park, Shine and Kazaz returned to New York with suitcases full of Chinese gifts, more knowledge about the art of pottery, and plenty of photos.