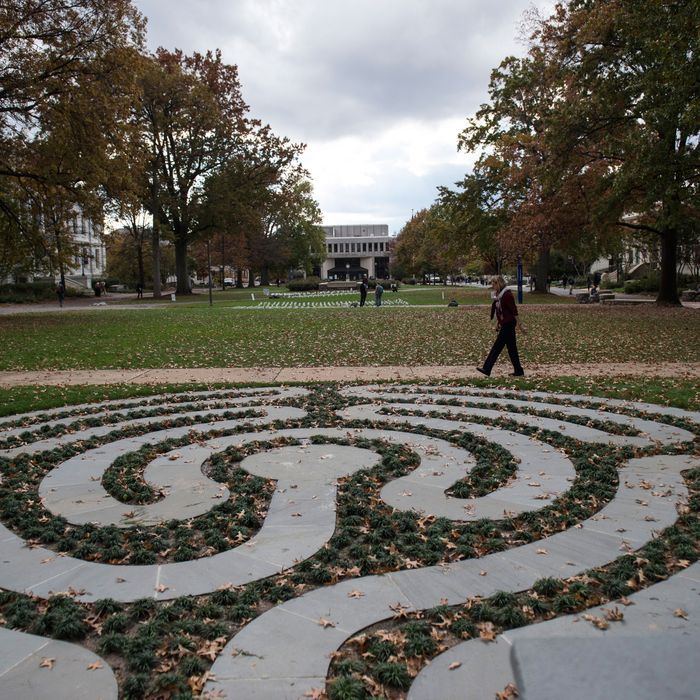 American University.
Photo: The Washington Post/Getty Images
On Monday morning, students at American University woke up to find bananas hanging by nooses around their Washington, D.C., campus, scrawled with either "Harambe bait" or "AKA Free" — the latter referencing the mainly African-American sorority, Alpha Kappa Alpha.
It was the same day that Taylor Dumpson, an AKA member, became the first black woman president of the Student Government Association at the school. Per NBC News, "this is at least the third time in the past eight months that bananas have been used to harass African-American women on campus."
Dumpson released a letter addressing the incident, writing, "As the first black woman AUSG president, I implore all of us to unite in solidarity with those impacted by this situation … We must use this time to reflect on what we value as a community and we must show those in the community that bigotry, hate, and racism cannot and will not be tolerated."
The university president, Dr. Neil Kerwin, also responded on Monday evening. "We strongly condemn what happened," he wrote in a statement, adding, "Racially charged acts of bigotry are done to instill fear and inflict pain in our community — especially at stressful times, such as at the end of the term."
American University's administration is currently investigating the incident, and has released video footage of a suspect in hopes of finding the perpetrators.