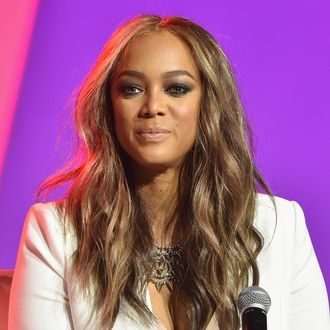 Photo: Paras Griffin/Getty Images for 2016 Essence Festival
New America's Got Talent host Tyra Banks has hit an early bump in the road, with a lawsuit filed against the show on Tuesday. According to Deadline, a contestant, identified only as Jane Doe, is suing the reality show over Banks's treatment of her daughter, "Mary Doe." The contestant and her husband sang an original song about motherhood and Mary's birth for the show, but the judges were not feeling the love. The singers, however, were not the only ones being ridiculed.
As if your parents bombing on national television while singing a song about you wouldn't be embarrassing enough for many a child, Banks allegedly made it worse offstage. The suit claims Banks "physically manipulated and verbally abused Mary." It adds, "Banks also insinuated that Mary was accidentally conceived, made fun of the performance and ridiculed [the song] in front of Mary, all in front of active cameras that were filming Mary." As a result of that alleged bullying behavior, the suit claims Mary "was traumatized and became deeply depressed."
Most people who appear on such shows normally sign waivers acknowledging the very real possibility of public humiliation, but the suit argues that Mary, who is a minor, entered into a contract with the production company without her parent's consent. The suit says that AGT agreed to not televise or publish Mary's reactions to the song, but the plaintiffs want the show to also pull the performance in its entirety to avoid further "distressing" their daughter.