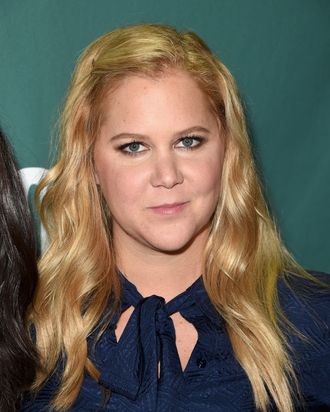 Amy Schumer.
Photo: Michael Loccisano/Getty Images
Ah, the kiss cam at a baseball game. It's the perfect surprise moment at a game where fans get a glimpse into exactly how comfortable a couple is with a little PDA in front of the cameras. Now, if you're an ordinary couple, maybe you'll settle for a quick peck of a kiss. But, if you're Amy Schumer, you don't settle for a short kiss — you go all out.
At a Sunday afternoon game for the Mets, Schumer was caught on the kiss cam between innings and she took the moment to give a kiss to two important men in her life: her dad and her boyfriend, Ben Hanisch. Schumer shared a video on Instagram of the whole thing, writing, "I have always wanted to be on the kiss cam! My dad and my man!! #letsgomets." In the video, upon realizing she's on the kiss cam, Schumer gives a quick kiss on the cheek to her dad and then turns to Hanisch for something a whole lot more.

Papa Schumer didn't need to turn to see the couple happily making out next to him. By the looks of him pointing into the distance, he seems to have captured it all on the big screen.