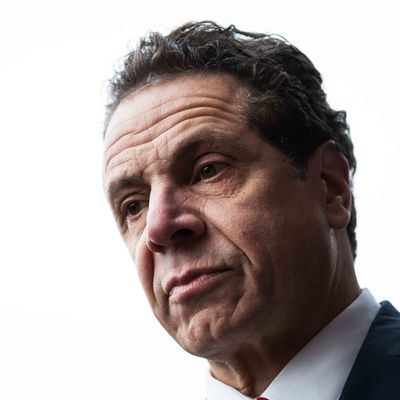 When you ain't afraid of no ghost.
Photo: Drew Angerer/Getty Images
Following news that Brazil's president, Michel Temer, moved out of the presidential palace because of bad "energy" and "ghosts," comes another tale of a powerful political man and his maybe-haunted house. And this time it's Governor Andrew Cuomo, right here in New York. Ey!
According to the New York Post, he talked about the possibility that the Albany governor's mansion is haunted on Thursday, saying:
So, it's me alone, when I'm in the house because my family is in Westchester … and there are stories that this house is haunted. Now, I don't believe in ghosts, and I'm a big, tough Italian guy, but I'll tell you, it gets creepy in that house, and there are a lot of noises that go on and you are very alone.
Per the Albany Times Union, he touched upon this during a Harlem visit earlier in April. That time, he also used the line about being a "tough guy," but implied that he did believe in said ghosts.
It's a creepy house. I'm a big, tough guy so I don't get afraid of ghosts, but I'm not enamored with them anyway. So I don't sleep much when I'm in that house because there are a lot of noises going on, and it gives me a chance to read up on past governors and what they've done in New York.
But regardless of what Cuomo thinks, one former governor came forward to tell the Post that yes, they absolutely do exist and yes, they are absolutely haunting the governor's mansion. David Paterson relayed a story about hearing something smashing one night and the staff telling him it was the ghost, which is believed to be the mansion's former groundskeeper.
"Governor Cuomo should be relieved," he said. "It's a friendly ghost, like Casper."
Can't wait for the end of this Scooby Doo episode, when they rip a white sheet off a figure waving its arms and yelling "wooooooOOooooOOoo" to discover Bill de Blasio underneath.