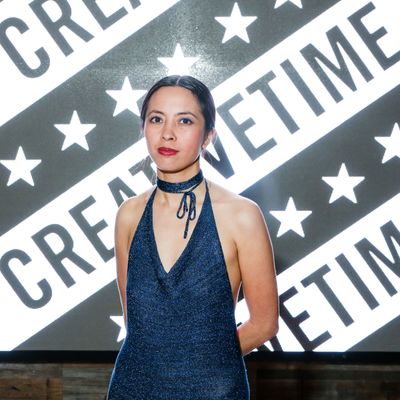 Angela Dimayuga.
Photo: Benjamin Lozovsky/BFA.com/Benjamin Lozovsky/BFA.com
When Mission Chinese Food's executive chef Angela Dimayuga publicly shared her response to Ivanka Trump asking to feature Dimayuga on her website, she had no idea it would be a big deal. "It was kind of just a friend update," she told me at the Creative Time gala on Wednesday night. "'Hey, this thing happened to me, and here I am standing in solidarity with the messages we put on our protest signs over the last few months.'"
Dimayuga's Instagram post, which was picked up by the New York Daily News, Elle, Bustle, and the Daily Mail, featured a handful of screenshots showing her response to a request from IvankaTrump.com's contributing writer Adi Heyman. "As a queer person of color and daughter of immigrant parents," she wrote, "I am not interested in being profiled as an aspirational figure for those that support a brand and President that slyly disparages female empowerment."
She didn't expect her Instagram post to go viral like it did, and she definitely didn't expect Ivanka Trump to start following her.
"I was completely surprised by it because it was never my intention to get that much reach," she told me. "At first it was kind of nerve-racking because my phone was blowing up. Ivanka Trump started following me on Instagram, too. One of the founders of the Ivanka Trump website said in a comment, 'I'm really glad that you said this. I was the original founder of Ivanka's site before Trump got elected. I'm glad I don't work for them anymore.'"
Since the post went up, three weeks ago, Dimayuga has received a "global response," sometimes even in handwritten fan mail. "I didn't ever feel like I had to identify my sexuality or where I come from," she said, explaining that she felt she had taken her visibility for granted. But when she heard from queer girls in places like Alabama, she started to really consider how important it was to be vocal. "I'm able to move around in a way that feels more purposeful now," she said. "When I vocalize my ideals, people who are paying attention know what I stand for."
"As a woman, as a queer Filipino with immigrant parents, all the things within my personal politics are important to me: women's rights, immigrant rights, gay rights," she said. She hopes that Ivanka will see people fighting those battles against her father's administration and start speaking up in her role as his adviser. "If she is trying to move in a positive direction, we need to see action faster," Dimayuga added. "I feel like there are these small steps but just barely. I want her to acknowledge that she hears us."
Asked whether she would continue to be vocal about what she believes in, Dimayuga didn't bat an eye. "I've already been doing this. And at this point, I have nothing to lose."