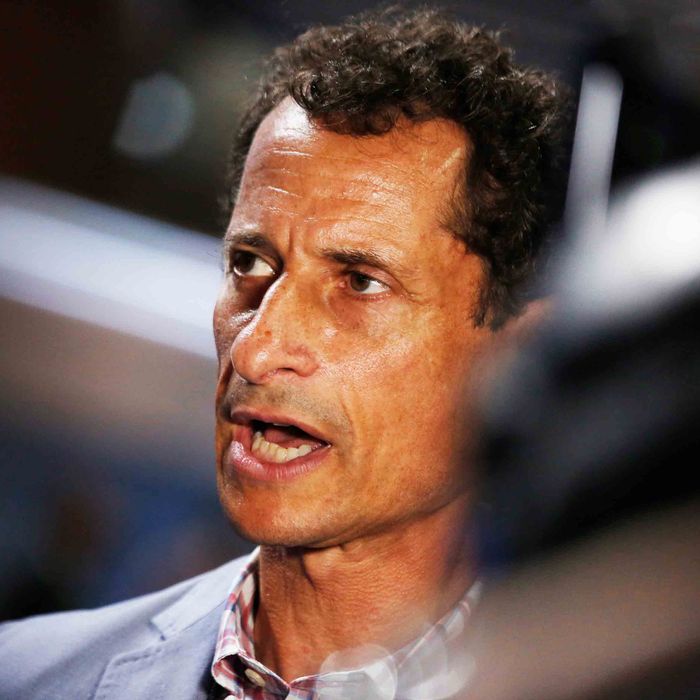 Anthony Weiner.
Photo: John Taggart/Bloomberg via Getty Images
Shortly before the presidential election, former FBI director James Comey announced that the bureau would be investigating new emails from Hillary Clinton's private email server, which had allegedly been uncovered during a separate probe into claims that former New York congressman Anthony Weiner had sexted with a 15-year-old girl. On Friday, Weiner will plead guilty in New York federal court to end the inquiry into his alleged underage sexting, the New York Times reports.
Weiner, 51, is set to appear in Manhattan federal court to enter a guilty plea to one charge of transferring obscene material to a minor, two people briefed on the matter told the Times. As part of a plea agreement with the U.S. attorney's office, Weiner reportedly surrendered to the FBI early Friday morning, and will likely have to register as a sex offender (although a final determination over that matter hasn't been made yet), also according to the Times. He also faces a potential sentence of zero to ten years in prison, which means he may avoid prison time. A judge will make the ultimate decision on his sentence.
Reports surfaced in September that Weiner, the estranged husband of senior Clinton aide Huma Abedin, had spent months sending text messages and photos to a 15-year-old girl in North Carolina. Screenshots of the exchanges between Weiner and the girl — including images and explicit messages — were initially published by the Daily Mail.
Shortly afterward, the FBI began an investigation into the alleged sexting. In October, Comey told Congress that the bureau "learned of the existence of emails that appear to be pertinent to the investigation" in Clinton's private email server. The new emails were reportedly linked to electronic devices that belonged to Weiner and Abedin, which were seized during the sexting probe.
Update 12:00 p.m.: NBC News reports that Weiner pleaded guilty on Friday. Weiner must register as a sex offender, and prosecutors have asked that he serve 21 to 27 months in prison. Weiner was released on bail, and his next hearing is scheduled for September 8. "Weiner's conduct was not only reprehensible, but a federal crime, one for which he is now convicted and will be sentenced," acting Manhattan U.S. attorney Joon Kim said in a statement.