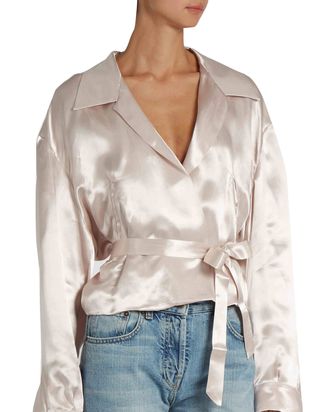 After I got engaged I found myself gravitating toward the color white more than I ever had in my life. There's nothing practical about this — white gets dirty fast, and the color often fades — but lately I've been dreaming of it, craving things like this Alexander McQueen bag with gold hardware, a luxe white T-shirt, and the perfect white summer dress. But nothing compares to this waist-tie satin blouse by Attico. Not only does it come in my new favorite color, but it's equal parts sophisticated and sexy. The sharp collar makes it feel a little business, while the V-neck and shimmering fabric feel a tad racy.
The shirt still fits into the ultrapopular robes-for-daytime category, but the minimal details make it not too trendy. I love that it's more of a very light champagne color rather than a stark white, thereby complementing my paper-bag brown skin. I love that the loose silhouette gives some leeway in the chest area to fit my C-cup boobs. Most of all, I love that there are a million ways I can style it: I could wear it by itself or over a lacy shirt, and tie the belt in the back. Or with a snug plain white T-shirt; with cropped jeans and the sleeves rolled up, over a silk slip dress for parties, and on my honeymoon later this summer, with slim black cigarette pants and fancy heels.
$455 is a lot more than I'd usually spend on a top, but with so much versatility it feels like the perfect splurge — something that's both incredibly beautiful but also really practical.
If you buy something through our links, New York may earn an affiliate commission.