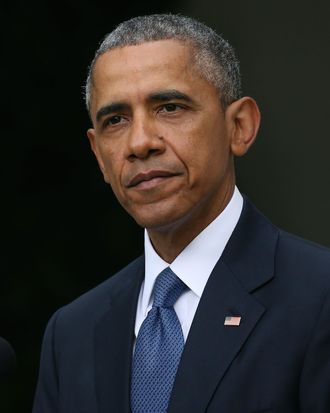 Barack Obama.
Photo: Mark Wilson/Getty Images
We know that since leaving the White House, Barack Obama has embraced vacations, street style, and steep Wall Street speaking fees, but we don't know much else about his new life. In its new cover story, People dives into Obama's life as a private citizen, including his (unsurprising) opinion of Donald Trump: According to friends the magazine spoke with, he thinks the new commander-in-chief is "nothing but a bullshitter."
As People notes, both Barack and Michelle Obama have stayed relatively silent about their thoughts on President Trump since he took office. Even when Michelle recently spoke out against Trump's attempt to take down her school-lunch policies, she never actually mentioned him by name. People notes that the former First Couple has been trying to bite their tongues out of respect for tradition.
Obama's "bullshitter" comment wasn't made directly to the magazine, but People claims he said it to two friends in early November, right after his Election Night phone call with Trump. Furthermore, a "source" told People that Obama's opinion of Trump hasn't changed much since then. "Well, it hasn't gotten any better," the source said.
Per People:
A third source close to Obama tells PEOPLE: "He's deeply concerned with what he's seen. But he's also optimistic and heartened that citizens aren't just watching it happen but engaging with neighbors and elected representatives at town halls."
Former Obama senior advisor David Axelrod told People that the ex-president believes he shouldn't be commenting on every decision Trump makes. "Obviously, this now is a unique set of circumstances, but my sense is that he's going to try and respect that tradition while reserving the right to speak out in given moments when things rise to that level," Axelrod said.
However, People notes that while she may be staying mum publicly since the election, Michelle Obama has no problem sharing her opinion of Trump privately, going so far as to tell her friends she needed to pick up some mourning attire for what she called "the black series." Michelle reportedly joked, "I'm going all black for the next couple of years."