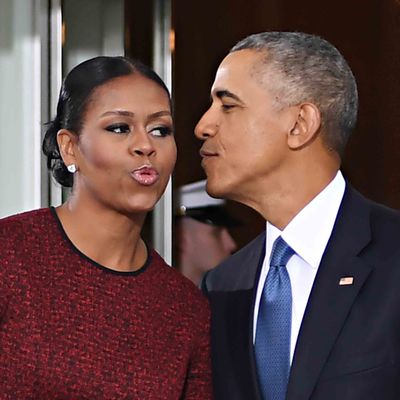 Barack thanked Michelle for sticking with him while receiving the Profile in Courage Award on Sunday.
Photo: JIM WATSON/AFP/Getty Images
Now that Barack Obama is out of the White House, he's trying some new things: leather jackets, Tahitian vacations, and paid speeches, to name a few. But one thing that's remained constant is his wife, Michelle. And during a speech in Boston after receiving the Profile in Courage Award Sunday night, he thanked her for sticking around post-presidency.
"I want to thank Michelle Obama for, after the presidency, sticking with me," he said to laughs. "Because I think she felt an obligation to the country to stay on, but once her official duties were over, it wasn't clear."
Once the laughter died down, Barack switched back to serious mode and added, "I love my wife, and I'm grateful for her, and I do believe that it was America's great good fortune to have her as First Lady." If only she could've stayed that way.