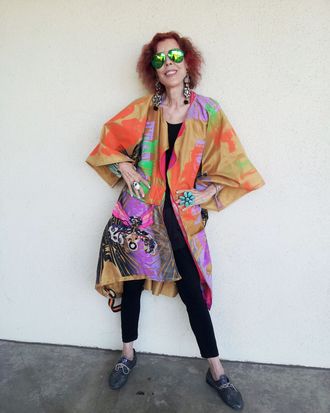 Barbara Flood.
Photo: Suzi Click
How does one to begin to explain the force of nature that is Barbara Flood? The flame-haired fashion maven is a New York personality to rival the best of them, dashing about the Upper East Side in wild and wonderful, often one-of-a-kind, bespangled ensembles and enough loud (literally) jewelry to announce her approach from a block away.
A bit about Flood's pedigree: While she demurs to "do age or time," she will tell you that she was raised on Central Park West, "a real Marjorie Morningstar," as she describes herself, and grew up to be an "It" model and actress in the '60s and '70s. Flood worked alongside the likes of Oscar de la Renta, Valentino Garavani, and Rudi Gernreich in fashion and Jack Nicholson and Dennis Hopper in Hollywood, among many others. (Look her up and you'll find a famous photo of Flood with Peggy Moffitt and Ellen Harth "tits hanging out" in unconventionally cut Rudi Gernreich fashions.)
It was during that same era that Flood met her now-longtime beau, Top of the Pops director/producer Stanley Dorfman, with whom she's carried on a decades-strong, long-distance relationship. Flood is dedicated to her life in New York, while Stanley is firmly ensconced in Hollywood. (Their romance is the subject of a recent short film, Barbara & Stanley: A Modern Romance, which debuted on Nowness this year.)
A true New York original, Flood is known for her bold, eclectic sense of style (the heft of her bracelets could rival any weight-lifting regimen), which she also brings into homes of a few lucky clients through her Flood's Closet personal-styling business.
Below, Flood spoke to the Cut about her closet, the contents of her handbag, and the enduring appeal of the landline.
Tell us more about Flood's Closet. When did it start?
It was really a question of when I stopped modeling, when I stopped acting, what am I going to do? I was getting divorced and I needed to pay the rent. For my modeling career, you had to bring your own accessories and I had that sort of instinct. They said, "No, we don't need our stuff. We need your stuff." I thought, "Well, I'll just get a bunch of stuff together. Find an artist or two and see what I can do." Then someone called to do an interview on me and my closet, and I thought, "Flood's Closet. Of course." That's how the business started.
How do people find you?
It's a word-of-mouth thing; I have a Flood's Closet telephone number which is 212-348-7257. For example, I was at the Drama League luncheon the other day and people came up, "Where did you get this?" I said, "Well, just give me a ring." I'm a traveling service. I'll go and I'll charge a fee and I'll consult — I style the house and the person.
What are some of your favorite things in Flood's Closet right now?
I'm a big fan of costume jewelry, particularly Eisenberg jewelry. It was a great jeweler to the stars in the 1940s, like Bette Davis and Loretta Young and all those people wore his big rhinestone pins on their suits. That's something I absolutely always have a collection of — I'd like everybody in the world to have an Eisenberg pin.
Who are your other favorite designers?
My favorite designer, of course, is not around anymore, Rudi Gernreich. I did the topless bathing-suit pictures with him. The stuff that he made in the '60s and '70s is still perfect for today. The couture is great, but who can afford the couture? I just like to find artists [who] are not particularly well-known, but they have a look and a style that is just great and make one-of-a-kind pieces. And of course I love all the Balenciagas and the Donna Karans; I love Donna Karan because she had people dressing like dancers because she had the original leotard and tights and easy pieces. I base my whole wardrobe on the basic underpinnings and then everything else goes over it.
Who are some of the under-the-radar designers you work with?
Sonia Boyajian is definitely one of the major jewelers. She designs how she feels. It's a funny story on how I found her. There was a shop here called Linda Dresner on Park Avenue. She always found pieces. I used to go there and shop when they had the sales. There was this incredible collection of Sonia's jewelry, bracelets. I said, "Who is she?" I found her number. I looked her up. I said, "My name is Barbara Flood. I'm a stylist in New York. I'm a model, actor. I love your things. I'm coming to California and can I come see you?" She was a little hesitant at first, but then I sent her some pictures of me and what I wore. And she said, "Okay." I came up to her studio then wearing a lot of jewelry that she said clunked as I went along. She heard me coming before she saw me. We walked in and we've been best friends ever since.
What's on your bedside table?
I always have a painting of some sort and I always have a bunch of books. The painting is a nude drawing by my friend William who I used to model for. I like nude drawings. The books are mostly Chanel books, fashion books, phone books, address books. On Stanley's side is a Rudi Gernreich book in which there are some pictures of me in. He's got the me pictures and I've got Chanel. And then I have a little resin container from an artist called Gaetano Pesce. He made these little vases and I have all my pens in one of the vases. I like to have things in things. I have little fancy dishes for all the lipsticks for when your mouth is dry. I always have a clock, and a lot of purple pens. I write everything in purple. There's a Gae Aulenti lamp from the 1960s that just says who I am — it has little fun to it.
What's in your handbag?
The kitchen sink is in my handbag. I have a vintage Vuitton bag that is hand-painted by my friend Michael Calloway. I said I didn't want to wear plain vintage, but can you paint on this or do something? So he painted the bag. I've got a lot of Stephen Sprouse graffiti items inside. From the Marc Jacobs period, I've got a little card holder that has all my charge cards. I've got an original graffiti wallet. My checkbooks, my money, my mini things for my makeup if I need it, my purple pens, my extra reading glasses. It's all heavy, but it's necessary.
What can't you leave home without?
My Jimmy Crystal magnifying red glasses because otherwise I won't see things too clearly. And lip gloss. And everything I like is always discontinued, so I very carefully keep them to the last squeeze. And all my vitamins — I take a lot of vitamins.
How many phone calls do you think you receive a day?
Well, I might receive 50 phone calls a day. It's really important everybody has to keep their landline. As much as they like to text and as much as they like to email, the connection between the phone on one side with me and on the phone on the other side with someone like you is really important because then you have a personal connection. I just feel like the phone is the last physical connection we have in this new world of technology and I want to hold onto it. And so do my friends because my late-night customers who call up for the brain, it's on the phone. And Stanley and I are always on the phone — we talk maybe 20 times a day.
Tell us about your fashion uniform
Well, the leotard and tights are my basic for everything. Usually it's black. If I go away and I'm in the South or something it can be white as well, but basically it's a basic black leotard, tights. Over that, like a dancer, you put on your things whether it's a skirt or a dress or shorts or pants. The underneath part is like a mannequin. Even when I was modeling, I didn't wear bras because I didn't have any tits, but I always wore leotards and tights. I got a lot of that from Rudi Gernreich. He had a dancer's mentality. The underpinnings need to be the base for the painting that you do when you put on the rest of your clothes. Basically, you're creating a little piece of art when you dress. If you're very overloaded with color underneath, it's really hard to do the rest of it.
What inspires you?
Everything inspires me. Light inspires me a lot. Movies inspire me. Paintings inspire me. Theater inspires me. Concerts inspire me. Creative people inspire me. When I see something like Michael Calloway who I just love, or JoAnn Berman who paints on fabric and designs her own things. Another great creative person is David Mandel, who is a fantastic jewelry designer. Now he's doing jewelry on paintings, he and his partner.
What's your astrological sign?
I don't know a lot about the signs. But I know Scorpio and I know Aquarius because all the relationships I've been through in my life, except Stanley and my ex-husband, have been Aquarius. They were all creative guys. They were all in the arts, except for my husband who was in business. He was Leo. Stanley is Sagittarius and I had never been with a Sagittarius before. But he has something in Scorpio because he's November 24 and I'm November 7. Scorpios are very wild people in some areas. Sexually they're very wild. He's got that wild side in his Sagittarius also. The creative side of Scorpio is really interesting to me.
How are you and Stanley different from each other?
We're so different and that's what makes it so good. If you met us, you would never think we would be together I'm about, "run, run, run;" he's a "stay, stay, stay." The fact that we've managed to be together and, well, I think it's also because we're long distance. So stay, stay, stay all the time at home would not be good for me. And run, run, run for him all the time would not be good for him.
What's your spirit animal?
Probably an ocelot. I like the spots. I like the look of it. They're very glamorous. I'm not basically an animal person, but I guess an ocelot would be interesting to me.
What are you reading right now?
I go in spurts. I could be reading fashion one day and politics the next. But at the moment, I'm completely glued to the television set because of the craziness that's going on. I'm putting on CNN or MSNBC all the time. I used to put on music. But because of the political situation in the world today, I'm glued to the set.