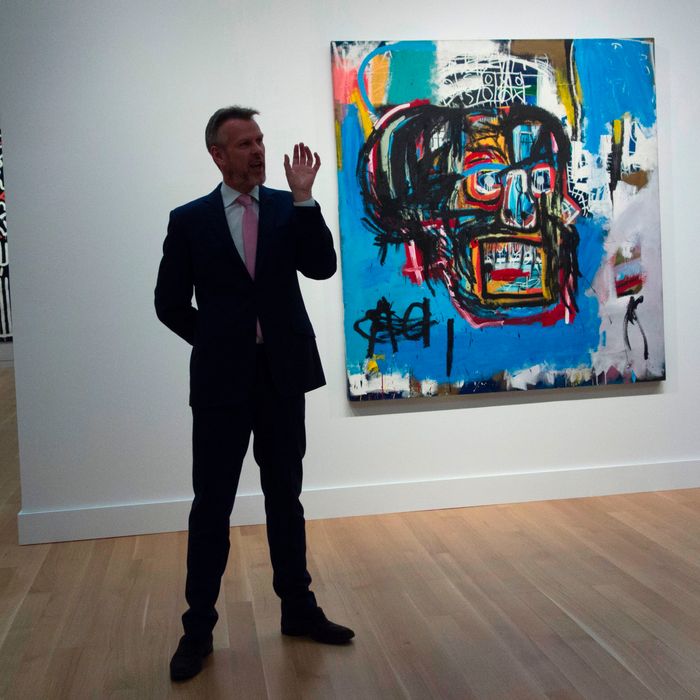 "Untitled."
Photo: DON EMMERT / Staff/Getty Images
A 1982 piece by Jean-Michel Basquiat sold for $110.5 million at a Sothetby's postwar and contemporary art auction last night. The sale nearly doubles the previous highest price for a Basquiat work.
"Untitled" joins ten other works that have sold for over $100 million. But the sale also sets the record, "for a work by any American artist, for a work by an African-American artist, and as the first work created since 1980 to make over $100 million," according to the New York Times.
The oil-stick-and-spray-paint work went to Japanese e-commerce billionaire Yusaku Maezawa, following a ten-minute bidding war with dealer Nicholas Maclean. Maezawa (clearly a fan) also set the previous record for a Basquiat painting just last year at $57.3 million.
Brooklyn-born Basquiat began as a graffiti artist but is known as a neo-expressionist. He created politically charged works, particularly of racial and economic inequalities, until his death in 1988 at the age of 27. He was close friends with Andy Warhol (whose most expensive painting sold for over $105 million).