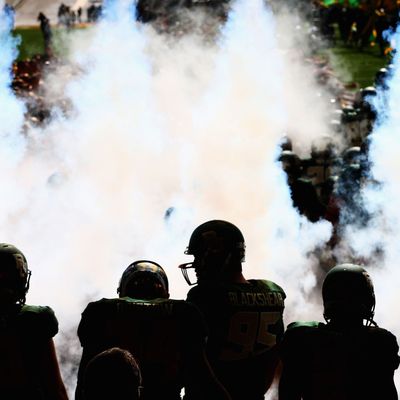 Several Baylor football players have been accused of sexual assault.
Photo: 2014 Getty Images
To say that this has been a difficult year for students at Baylor University would be a drastic understatement — over the past 12 months, one of the worst campus sexual-assault scandals in history has unfolded on their campus. What began as a story about one football player on trial for sexual assault (he was later convicted, although that conviction was recently overturned) gradually ballooned to encompass at least 52 claims of rape committed by at least 31 players and revelation after revelation about how officials at the school failed to address the complaints that women brought forward. Ultimately, those allegedly responsible for the oversight were punished: University president Ken Starr was demoted and then fired, and head football coach Art Briles was let go, too. But the scandal is ongoing — just last week, a lawsuit was filed alleging Baylor football players regularly gang-raped women as a "bonding experience."
In the midst of all this, almost 10,000 women carried on at Baylor — they went to class and taught auditoriums full of students and strove to finish that famously arduous first year of law school. The scandal affected each of them differently: One stopped going to football games. Another started calling her boyfriend on the walk to her car at night. And another stopped mentioning her place of employment when she traveled for work. The Cut spoke to four women — a recent graduate, a law student, a senior, and a professor — who've watched the scandal unfold firsthand about the way it's impacted their lives.
The senior: "I felt dirty for going to football games."
My dad is the one who first told me about the allegations, and I remember thinking, maybe people are making way more of a big deal about this than they should be. But then I started researching and fact-checking things and thought, this is actually real, and it's so bad. I felt dirty and gross for going to football games or supporting the school; I stopped going to games after my junior year.
I went to a protest on campus led by one of the students who said she'd been assaulted, and listening to her give her testimony was so disappointing. I got really upset that a place that's supposed to have this moral brightness brushed [these women] off. I tried to put myself in their shoes, and I thought about how it would feel to know the perpetrator wasn't going to face any consequences. That was the main thing the girls were scared of: these people were just out there, and nothing was being done. I'd never thought about that before. Not to speak for the whole of Baylor, but I think it opened a lot of people's eyes to that, too. [Now] I'm never really alone at night; I always have a friend with me.
When people hear I go to Baylor, they usually ask me how the investigation is going. I tell them it's still a really good university — we have a new president, and the freshmen go through a lot more Title IX training. But I never say, 'Oh yeah, it wasn't a big deal,' because it was. You can't just brush it off.
— Abigail, class of 2017
The law student: "I tried to avoid staying at the school after dark."
I first started hearing about it because [my boyfriend] reads sports articles, and he would send them to me; I was not hearing it from the school. When it started to come out, some of my professors would [make] little sacrilegious jokes; they'd say things like "our good Baptist institution," and there was just a level of acrimony to it. Then there was a report that it was this huge number, and it felt like the hammer came down.
I talked to a good amount of people about it, and the tone I felt was frustration — the law students felt like their law degree was being cheapened by the scandal. It's frustrating to be tied to a school that's so obviously misogynistic. A lot of it was us being like, 'Are you serious? It's 2015, '16, '17; it's an actual joke that people still think we can favor football over the safety of women on campus.' The law school is right next to the football stadium, so there was also a sense of, 'We don't want to walk to our cars at night.' We'd joke about it and say, 'Ha-ha, I had to call my boyfriend when I walked to my car,' but we all knew we were really doing it. I felt uneasy. Honestly I tried to avoid staying at the school after dark.
I don't think anybody at the school would say, 'It feels like there's an open but unspoken culture of misogyny.' But obviously there was, and it took very specific actions to unearth. It's weird when you think about like what's going on, what's surrounding the school, versus your individual experiences there. It's a little bit of a tightrope walk.
— Stefani, Baylor Law class of 2018
The recent graduate: "It's very hard for me to say I went to Baylor."
In my freshman year, my best friend and I were walking to class. As soon as we went our separate ways, I got a text from her saying Tevin Elliott, a football player, asked her out on a date. I added him on Facebook, and that's how I found out he'd been accused of sexual assault. A couple of months later it was all over campus that he'd been arrested, and we were like, 'Oh my gosh, what if you'd gone on a date with him?' After I'd graduated and everything came out, it really made me think about that. It made me wonder, if anything had happened to me, would I have the same story as [the victims]? Would it have been ignored or discounted?
It's very hard for me to say that I went to Baylor in '15 and '16 — to look at my diploma on the wall of my office that has Ken Starr's signature on it. I want to believe they weren't covering these things up, but part of me thinks that they did. I had several uncles tell me that they're never sending their daughters to Baylor. And that's a hard position for me to be in because I went there, my mom went there, two of my aunts went there, but that's not really a good argument against them saying, 'Here's a list of girls who were attacked.' What can you say to argue against that?
My years at Baylor were the best four years of my life. So at times I found myself having [defensive] thoughts, and I had to catch myself. I had to remember, no, these are sickening acts that happened, and we need to know the truth.
— Shelby, class of 2015
The professor: "There's a certain sadness on campus now."
When I heard about the allegations, my first thought was, 'Oh my god, I hope there's a good explanation for this.' I was out of town, and when I got back, for me it was business as usual. I had a job to do — the students were there for a purpose — and that needed to be my primary focus. It was very much like national news: it's happening, there's discussion about it, but it's not the main focus — at least, it wasn't for me and the students I was teaching.
There's a certain sadness on campus now. Football was fun, and it's not as much fun anymore because it's like, look at what some members of the football team have been accused of doing. For me there's also some frustration there because we have a really good product in the education we offer our students, and it's like, 'You all tarnished that.' When people hear 'Baylor,' they think about the football team. Our reputation has been tarnished, and it shouldn't be.
When I travel, I tend not to say 'Baylor' a lot unless somebody asks me where I work. If I do name the school or Waco, Texas, I brace myself because I don't know if the response will be, 'Oh Waco, we love Fixer Upper. Do you know Chip and Joanna?' or if it's going to be, 'Oh, Baylor. I don't know how you still have a football program at all.' But I have no doubt that Baylor will come through this — I haven't sent out my resume. As a mother of children that are college-age, there's nothing that would make me say, 'Don't send your children to Baylor,' or, 'Don't send your daughters to Baylor.'
— Baylor professor
These interviews have been edited and condensed for clarity.